As the current Broadway season draws to a close -- shows must open by April 29 to be eligible for the coveted Tony Award this year -- it looks like it might be the year of rock and roll, or at least a season that took some chances on heavier musical stylings.
Last season had rock music, in one form or another, getting much deserved attention from Tony voters and ticket buyers, including the now Pulitzer Prize-winning musical Next to Normal, Rock of Ages and the spruced up revival of Hair, the musical that kicked off the first generation of rock musicals.
Now comes the highly-anticipated American Idiot, a show built around the sounds of Green Day; Memphis, a production that, if not sporting an actual rock score, at least tells the story of rock music from a racial point of view; and the recently opened Million Dollar Quartet, a musical based on early rock and roll.
Watching Hair last season gave a look back at the birth of rock on Broadway, something that many younger theatregoers were unable to experience first hand. What has now become acceptable to Broadway audiences, in various degrees, wasn't so easy to digest when Hair transferred from the Public Theatre to Broadway in 1968.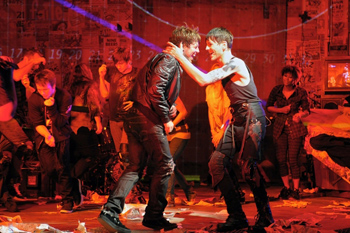 American Idiot is the most in-your-face musical to hit Broadway yet, with a pure rock sound that makes previous "rock" musicals look tame. Rent might have introduced the idea of a contemporary rock musical to twentysomethings, but Green Day's opus goes one step further by force feeding its raw sound and energy down the throats of theatregoers. The MTV generation, if it still exists, will find plenty to cheer about, as should all Broadway onlookers. This kind of show has the potential to inject new life into New York's creative community.
On a similar note, most Green Day fans weren't around to hear what radio stations sounded like before rock and roll took over the airwaves. With the latest form of anthemic rock getting ready to take over Broadway, there couldn't be a better time to look back at the genre's birth, and that is exactly what both Memphis and Million Dollar Quartet are doing, with the latter musical taking the more historical route to educate and entertain.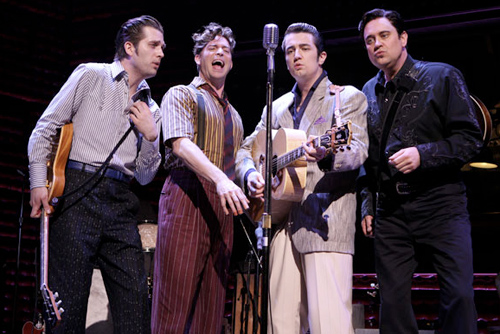 Million Dollar Quartet tells the story of an actual recording session in 1956 that gathered the likes of Elvis Presley, Johnny Cash, Jerry Lee Lewis and Carl Perkins at Sun Studios, the legendary recording studio that launched the careers of these musical heavyweights. While Green Day and the various bands currently making the Billboard charts are inspired musicians, it was these four men that laid the groundwork for current rock artists.
In the new Broadway musical, currently playing at the Nederlander Theatre, audiences are able to listen as each of the four that make up what would be known as the Million Dollar Quartet -- the real-life name given to the recording that surfaced after the 1956 gathering at Sun Studios -- play through their early hits and argue over contractual disputes with the man behind the magic, record producer Sam Phillips.
All of the actors starring in this musical have mastered the energy and sound behind their characters without becoming a complete parody. Taking on a role like Perkins, as performed by Robert Britton Lyons, might not be as difficult, seeing how the musician didn't become a cultural phenomenon like Presley -- now a fixture of Las Vegas impersonations -- but even Eddie Clendening (Presley) keeps most of the schtick out, as do Lance Guest as Cash and Levi Kreis as Lewis. The energy these four actors, singers and musicians -- they all play their own instruments -- put fourth each night in Million Dollar Quartet is enough to get the foot tapping and hands clapping.
After all, a musical including such hit songs as "Blue Suede Shoes," "Folsom Prison Blues," "Hound Dog" and "Great Balls of Fire" couldn't succeed without an authentic sound. And, unlike last season's Rock of Ages, Million Dollar Quartet is a juke-box-musical that uses its music not only to entertain, which it successfully does, but also to educate on rock's birth on radio.
While Presley, Cash, Lewis and Perkins are the names sure to drive audiences to the theatre, the man that tied this star-studded quartet together deserves equal billing, as both historically and in this musical, Sam Phillips -- smoothly played by Hunter Foster -- was the man with the vision. He gave all of these once unknown artists a break. Without him, there is no telling what modern music would have sounded like, or what Broadway would sound like, as Green Day and their peers wouldn't have had such strong musical roots to grow from.
One can only hope that the future crop of Broadway producers has someone like Phillips amongst them, because just like the music industry needed someone to take a chance on a bunch of southern rockers in the 1950s, Broadway needs to begin taking more chances on new kinds of musicals. While American Idiot shows the future of Broadway musicals, Million Dollar Quartet provides the backstory to the long hard journey that the music industry took to get us to this point. Here's hoping U2 can swoop in next season with Spider-Man the musical and reaffirm that rock music belongs on Broadway.
American Idiot photo courtesy of Allesandro Mello. Million Dollar Quartet photo courtesy of Joan Marcus.
FOLLOW HUFFPOST