If there's a "street view" of your home on Google, and you have an unencrypted wireless network, then you have been wire tapped.
Google WiSpying scandal is one of most shocking betrayals by the Internet Goliath. Now we know that the data of members of Congress, and potentially national security secrets, could have been sucked up by Google's street view cars.
Rep. Jane Harman, D-CA, a current member of the Homeland Security Committee, and former member of the Intelligence Committee, has at least one unencrypted wireless network in her Washington, D.C., residence that could have been breached by Google.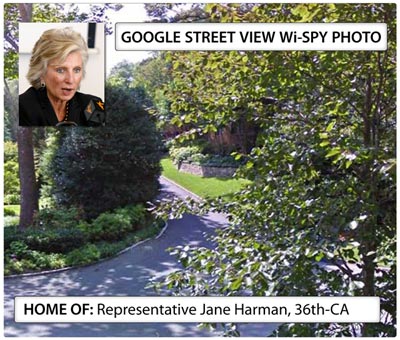 Consumer Watchdog has written Harman and 18 other members of the House Energy and Commerce Committee whose homes are pictured on Google's Street View and called for immediate hearings.
The Inside Google project sent technicians with equipment similar to Google's to five members' homes depicted on street view to see if there were open WiFi networks that Google could have tapped into and recorded communications. Unlike Google, Consumer Watchdog did not record any network communications, so-called "payload data."
Of the five homes our consumer group checked, one, Harman's, had a clearly identifiable and vulnerable network. The other four residences had open networks in the vicinity that may belong to the members of Congress. Consumer Watchdog found vulnerable networks near the Washington residences of Rep. Henry Waxman, D-CA; Ed Markey, D-MA; John Dingell, D-MI and Rick Boucher, D-VA that could have been breached by Google. The networks could not be definitively tied to the Congressmen, however, since data packets were not downloaded. Read a report about the members' networks here.
Google now admits that its Street View cars snooped on private WiFi networks as they prowled streets in thirty countries photographing people's homes over the last three years. The company acknowledges it recorded communications picked up from unencrypted WiFi networks.
This is the most massive wiretapping scandal in American history, yet the House Energy and Commerce Committee has not held a single hearing. Whether it's national security secrets, or personal financial data, that Google stole, the American people deserve answers as to the extent of the violation of our privacy and our government's security.
Google CEO Eric Schmidt should be sworn in under oath and forced to answer tough questions about how Google could download packets of data from hundreds of millions of people without executives' knowledge, as Google has claimed.
There's a lot more than meets the eye here. Google has a government contract with the National Security Agency and its mapping of wireless networks across America could have as much to do with domestic surveillance for intelligence reasons as with commercial gain. The answers could be embarrassing, but the American people deserve to know the truth.
A committee that's not been shy about taking on big industries has been remarkably tolerant of the massive wiretapping breach committed by Google. Maybe now that Congressional representatives realize that their private data, and potentially national security secrets, could be in Google's servers, there will be more urgency to getting to the bottom of Google's WiSpying.
Google's been spending millions on lobbying and political contributions to spin its way out of big questions about its monopolistic practices and privacy breaches. For members of Congress, the WiSpy scandal should now hit home. It, in fact, already has.
SUBSCRIBE TO & FOLLOW THE MORNING EMAIL
Get top stories and blog posts emailed to me each day. Newsletters may offer personalized content or advertisements. Learn more