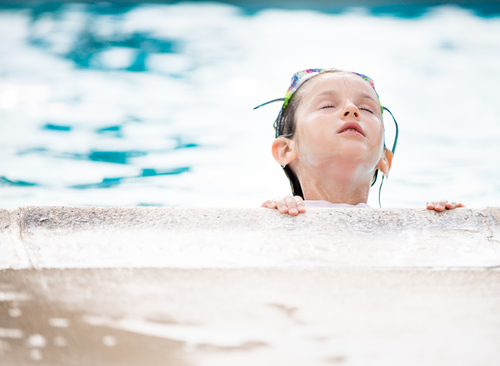 Summer means a change in routine - and needs - for the littlest people in our lives. Travel expert and MyBuckleMate founder Meghan Khaitanhas shares her tips for making travel with kids a little easier.
• Make Your Suitcases Stand Out from the Crowd--Use a colorful suitcase or buy a suitcase belt. Another option is to use a colorful ribbon to tie around your suitcase handle.

• Check the Weather for Your Destination--you may think it's always hot in Florida in August but every once in a while the temperature may dip at night. A simple check of the weather a day or two before you leave will help ensure everyone is comfy at your destination.

• Pack Clothes That Mix & Match--Choose clothes that are good mix and match pieces like leggings, jeans, khaki shorts, and plain shirts to give more outfit options, especially with kids who may spill or get messy. Dark colors are easier to wear more than once.

• Packing for Kids--Use a large ziplock to pack a full outfit down to socks and undies for each child. That way kids can easily dress themselves while away and you will be sure not to forget anything.
• Personal Backpacks-if the kids are old enough, give each of them their own small backpack with snacks, activities, and other essentials. Kids will like the responsibly and parents will appreciate not being asked for something every two seconds. They can use this as their carry-on for flights and as a place to keep what's theirs while on the road.


• Important Odds & Ends--Make a list of the odds and ends you will need, like chargers. Consider a packets of Pedialyte in case someone gets sick and duct tape for use for everything from taping up a ripped suitcase to babyproofing outlets.
As a Mom of four there are some items I consider essential for travel.
Stroller: One thing can make a big difference for babies spending lots of time in their strollers - being up high. The Cybex Piam has a seat up much higher than most that, when in a pinch, can even pull right up to a table when highchairs aren't available. It also has a big basket, lies flat, and has a surprisingly flat fold for such a sturdy stroller. Or, if you need a smaller and lighter option, the Nuna Pepp is a great solution for a small stroller that still has a flat recline for naps and can be pushed with one hand. If you have an infant, it pairs with the Pipa infant seat, which is incredibly light and easy to carry. For any stroller, invest in some accessories to help keep you organized, like the Buggy Tech Tote from Diono that has room for your drinks, phone, and other odds-and-ends you want to keep at arm's reach.
The Perfect Bag: Choosing a bag for summer is always hard - adding little hats and sunscreen to the already long-list of things kids need on a daily basis can stretch your current diaper bag's limit. But, who wants to look frumpy with a big duffel bag? I went to the awesome Baby Cubby's Diaper Bag Buying Guide and checklist to hone in on what I really needed to both look good and carry everything plus the kitchen sink when traveling both in my hometown and around on vacation. The MZ Wallace Large Abbey Tote. It looks like a purse but has an easy-to-clean interior and exterior plus tons of pockets.
Travel Toys: Travel toys don't have to be simple. My kids love Ozobot, which is a tiny robot that can perform a variety of activities. Use on a cookie sheet in the car or pack for downtime in the hotel for a great option that won't take up a lot of space but will provide lots of options for play and learning. Non-messy art projects, such as the Simple Needlepoint kits from Alex allow kids to be creative in the air or on the road without risk of mess. Another popular travel toy are dolls or figures that allow for lots of imaginative play. My daughters' current favorites are the easy-to-pack Royal Princess Shimmer dolls that don't make a mess and don't have little pieces that are easily lost.
Swimsuit: Wherever you go there is likely to be a pool, ocean, or some other form of water. I want my kids to look adorable and stay safe. For this reason, I love Snapperrock. While we try to be diligent about using sunscreen, I love that Snapperrock has built-in UV protection and shirts for that offer great coverage from the sun. As a bonus, they have adorable coordinating hats.
Watershoes: I learned the hard way that water shoes really are a necessity during the summer. Kids flock to water and their "regular" shoes will start showing wear (not to mention start to stink) if they get too wet too often. For the best, check out Keens that are not just super-comfy (my one year old seriously likes to sleep in his) but are available in cute sandal and sneaker styles.
Sunglasses: I don't leave home without sunglasses in the summer and my kids need some shades too. Babiators are the best for kids since they offer UV protection, are flexible, and are hard to scratch. What's more, Babiators will replace any pair that gets scratched or broken making them as kid-friendly as possible. My tween thinks he looks pretty cool in his and my little girl loves her pink pair!
Books: When all else fails, books are the answer to easier travel for all ages, from babies on up. There is no shortage of great, new books to choose from this summer. Try the adorable Maggi and Milo books for great adventures about a young girl and her awesome best friend/dog Milo, read the original The BFG (before or after seeing the movie), find a great picture book with a strong message about being small in Poor Little Guy, or go exploring with the fun read-aloud A Dark, Dark Cave. Vehicle lovers will love With Any Luck I'll Drive a Truck and Blue Boat. Budding scientists should check out Ada Twist, Scientist. Or, laugh along with a mystery-solving Venus Flytrap in Inspector Flytrap by popular authors Tom Angleberger and CeCe Bell.
Travel Gear: One of my kids' favorite things about travel? Their very own kid-sized gear. They love the kid-sized rolling suitcases from Skip Hop along with coordinating neck pillows. Another plus is leaving a big booster behind and using just the seat with booster like the Montery Booster from Diono that allows for easy removal and re-attachment of the back. For my little one, he loves the Lil' Sidekick "leashes" we use while on the road for everything from sippy cups to toys to make sure whatever he throws overboard stays with us. This is especially important while traveling since we don't have spares.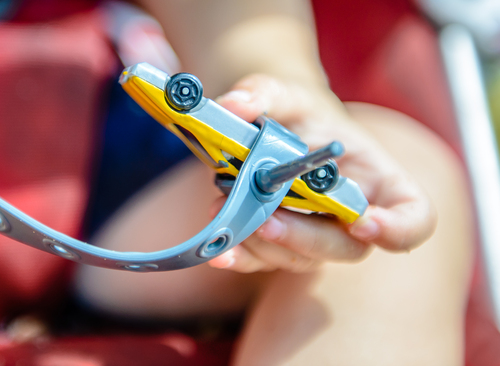 Even tiny toys stay put with something to secure them like the Lil' Sidekick.
Keep Track: For important items you are worried about loosing, try a TrackR that can ring anything from your camera to your suitcase to your keys to your little one's favorite toys. Or, your TrackrR can call your phone. It's great for peace of mind.
No matter what you do this summer, have fun and make some memories!
SUBSCRIBE TO & FOLLOW PARENTS
HuffPost Parents offers a daily dose of personal stories, helpful advice and comedic takes on what it's like to raise kids today. Learn more