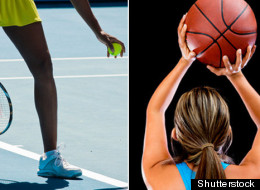 fit·ness
/ˈfitnis/
Noun
1. The condition of being physically fit and healthy.
2. The quality of being suitable to fulfill a particular role or task.
Maybe it's just me, but this seems pretty ambiguous. What "role or task" am I about to perform, exactly? Two hours of tennis? Okay. Bench press my own bodyweight? Sure. Ten handstand pushups? I can pull that off. A 1,000m swim? Hmm... What about a half-marathon? Or 90 minutes of Bikram yoga? Uh-oh.
I've chosen this particular attempt at defining fitness -- thank you, Google -- because it's suitably vague and because it highlights the fact that your fitness level depends largely on the challenge at hand.
Like me, there are probably certain sports and activities at which you excel, and others that you'll go out of your way to avoid. It makes sense that we put time and energy into getting better at the things we enjoy or that we feel we need to do to stay "fit" and healthy. After all, it feels good to be good at something.
But what about the things you're not so good at? Have you neglected certain facets of your fitness? Are you just plain unaware that there are more to ways to define your fitness than maxing out on a treadmill? In this article I want to draw your attention to 10 physical skills that we all posses to one degree or another. Overall fitness doesn't just come from doing one activity over and over and over. If you want to be a good all around, chances are you'll benefit from diversifying your training a little.
When most people think of fitness, they probably envision someone killing it at cardio. Endurance of this nature can be defined as your body's ability to take in oxygen, process it and deliver it around the body. Running, cycling, rowing and circuit training will all help improve cardiovascular fitness if performed at the right intensity level.

Another familiar component of fitness, strength is basically how much force your muscles can generate. Strength training builds strength -- sounds obvious, right? Getting stronger means adding resistance training, or if you're already hitting the weights, lifting heavier. Try dropping the number of reps and bumping up the weight a little. Your body will respond and start getting stronger to meet the new demands you're placing on it.

Your stamina is dependent on how well your body delivers, stores and processes energy -- basically, how long you can keep going at any given activity. Cardiovascular activities like running or cycling can improve your stamina. Try lowering your intensity level but increasing your time or distances.

Oh dear, range of motion. We all know the importance of stretching, but could we be doing it more consistently and regularly? I'm guessing yes. Static stretching, dynamic stretching and foam rolling should be built into your workout regimen if you want to improve your flexibility, which, of course, you do.

If you participate in a competitive sport, chances are you'd like to increase your speed somewhere along the line. To improve your speed, look to the football field, soccer pitch or athletic track for inspiration. All those bounding, weaving, jumping, accelerating and circuits they're doing are designed with improved speed in mind.

Now, power and strength are a little different from one another. Think of power as how much you can lift and how quickly you can lift it. Power tends to involve more skill than pure strength alone. To work on your power output, look into trying your hand at Olympic and power lifting, but please make sure you get professional instruction and supervision.

Being agile is about how quickly you can transition between movements. Improving your agility involves moving in multiple planes of motion in varied patterns and speeds. Tennis and soccer are great for this.

Picture a gymnast on the high beam with both feet on the beam. How well they balance is defined by how well they can control their center of gravity over their base of support. Improved balance comes down to practice and concentration. Yoga is an excellent activity for those seeking better balance.

If you're coordinated, it means that you can take multiple movements and combine them seamlessly into a single movement. Jump rope and racket sports are prime examples of activities that require coordination. With these activities, practice makes perfect.

To be accurate, you need to control movement and its direction at varied levels of intensity. Think of boxers, archers, basketball and baseball players. All of them have a target of some description, and their success relies on hitting it. Repetition and form are key to improved accuracy, as is diversity of training. Boxers will train with a bag and a variety of sparring partners to improve reaction times and accuracy.
Mastering all of these would be a massive undertaking, and maybe even an impossible task for your average fitness enthusiast. However, challenging your body in multiple and varied ways improves overall fitness and can even help you make gains in your chosen sport or activity.
No one wants to be a one-trick pony. Mix it up, try something new and push yourself towards a better, faster, stronger and more balanced you.
-- Jamie Galloway
http://www.trainwithjamie.com
http://www.facebook.com/trainwithjamie
For more by Jamie Galloway, click here.
For more on fitness and exercise, click here.
Follow Jamie Galloway on Twitter: www.twitter.com/gallowaycoach