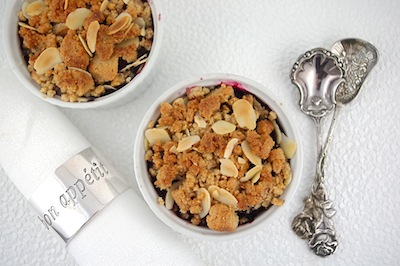 How many days into Passover do you get tired of the same old same old? Matzoh smeared with jelly, canned coconut macaroons and packaged sponge cake? These are the holiday foods of my youth and I wonder if, over all of these years, anything has changed. For several years when we lived outside of Créteil, the Parisian suburb that boasts a huge, thriving Jewish community, I would take the bus over to the neighborhood around the synagogue and stock up on kosher for Passover treats at the tiny épicerie and at the supermarket where an extra space was opened up once a year just to stock with Passover foods. I would carry my prizes home, the cookies and cakes, candy and chocolate-covered matzoh, and fill the cabinets clean of their Hametz, any and all foods not allowed on this holiday.
The first day or so after our Seder celebration, the excitement would begin to fade, the intrigue of these new snacks would often turn to disapproval and the boredom would set in. Don't get me wrong, there was nothing irreligious about the rejection of these store-bought cakes and cookies but rather the realization that most of it was overly dry or simply tasteless. I would think back to my own youth and I had to agree that even as accepting as I was to the change of diet and the limitations of what foods were set before us, as happy an eater as I always had been, I, too, turned my nose up at most of what mom brought home for us to eat: the dry sponge or honey cakes that tasted of little more than artificial sweetener, the chocolate candy that didn't quite taste like chocolate, and the ever-present coconut macaroons. Rare was the homebaked goodie, so we all had to just settle for matzoh and jelly.
All grown up and with a family of my own, once too often I ended up with a pantry full of packaged cake that no one would eat, and it was then that I began looking for recipes that I could make myself. Why, indeed, is this night different than any other night? So the cookbooks were pulled off of the shelf and riffled through in my search for Passover-friendly treats: flourless, containing neither cornstarch nor yeast or leavening, I slowly discovered so many wonderful things that could be made for this holiday that would keep my family happy for the 8 days and 8 nights of Passover. How many of us, creative and imaginative all the rest of the year, fall back on the store bought or the traditional baked goods that we grew up on when Passover rolls around? And when looking for something special to make ourselves, do we not tend to search for specifically Passover recipes?
These Almond Macaroons are a recipe I have made for the past few Passovers and are loved by one and all and are a fabulous change from store bought and coconut. Drop the cookie dough loosely on the baking sheet for lighter cookies, tap gently into a ball then press into a disc for a slightly denser, chewier cookie. Rolled in cinnamon-sugar, these taste so much like Snickerdoodles or Cinnamony Sugar Cookies and are just perfectly crispy on the outside, chewy on the inside yet still light. And for a special dessert, use the macaroons as a scrumptious crumble topping over your favorite fruit, baked or served as a fresh fruit salad. I have made Mixed Berry Crumbles topped with the Macaroon Crumble; without the addition of forbidden flour or cornstarch, this is more like a rich fruit soup and absolutely fresh, tangy and delicious. Feel free to add Amaretto or a splash of fruity white wine to taste. This Crumble recipe can also be a great way to use up all the store-bought macaroons no one wants to eat! And go ahead and use any combination of berries you like, either fresh, frozen (no need to thaw), jarred or even canned!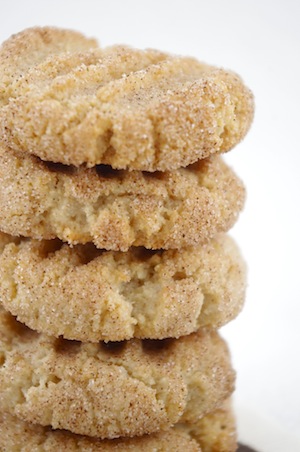 Both of the following recipes are adapted, twisted, tweaked and personalized from Jayne Cohen's marvelous cookbook The Gefilte Variations. Gluten free, dairy free and so simple to make!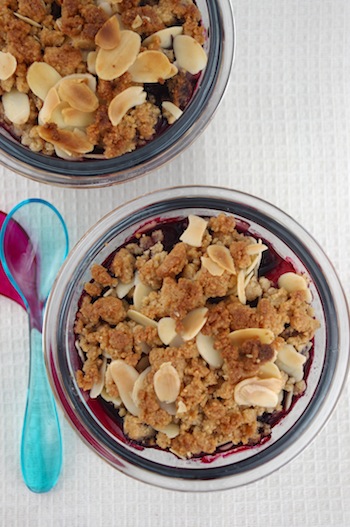 HOMEMADE ALMOND MACAROONS
12 ounces (340 g) finely ground almonds or half ground almonds + half ground hazelnuts
1 cup (200 g) granulated white sugar
2 Tbs (30 g) packed light or dark brown sugar
½ tsp ground cinnamon
½ to 1 tsp vanilla
3 large egg whites
2 Tbs cinnamon-sugar for coating (2 Tbs white sugar + 1 tsp ground cinnamon)
Preheat the oven to 350°F (180°C). Line a baking sheet with parchment paper.
Blend the ground nuts, the sugars and the cinnamon in a large mixing bowl, whisking to combine. Add the egg whites and the vanilla and, using a wooden spoon, stir until all of the dry ingredients are moistened and make a smooth paste-like dough.
Place the cinnamon-sugar in a plate or bowl. Lightly scoop the macaroon dough out by teaspoons (more or less depending on the size of cookie you like) and very gently and lightly press into a ball - you want to keep the dough light; if you pack it together the cookies may turn out dense and hard. Drop the ball and lightly roll in the cinnamon sugar to coat. Place the sugary balls of macaroon dough on the lined baking sheet about 2 inches apart. Very gently, using your fingertips, the back of a spoon or fork or the bottom of a glass, press the circle into a disc (not too flat).
If you prefer, you can simply drop spoonfuls of the dough onto the lined cookie sheet and dust with the cinnamon-sugar.
Bake the macaroons for about 15 minutes until the cookies are just dry to the touch and the bottoms are golden brown.
Remove from the oven and slide off onto cooling racks to cool completely.
MIXED BERRY CRUMBLE WITH MACAROON TOPPING
5 to 6 cups mixed berries, fresh, frozen or jarred*
3 Tbs juice, either orange juice or liquid from jarred fruit
1 - 2 Tbs sugar to taste (if the berries are sour or not sweet enough)
Macaroon Crumble Topping
* I used jarred cherries, frozen blueberries, blackberries and raspberries and fresh strawberries (trimmed and quartered). You can also use frozen rhubarb.
Preheat the oven to 375°F (190°C). Place 6 ramekins on a baking sheet.
Prepare the Macaroon Crumble Topping:
2 cups Almond Macaroons (recipe above) or your own
½ cup slivered blanched almonds
Large pinch fleur de sel
3 Tbs (45 g) unsalted butter, slightly softened
½ tsp ground cinnamon ONLY IF you are using macaroons that have not been rolled in the cinnamon-sugar
Coarsely chop the Macaroons in a food processor in batches until you have coarse crumbs; they should not be too finely ground but you don't want large chunks either. You will have about 2 cups coarse crumbs. Place the crumbs in a large bowl with a pinch or two of fleur de sel and the cinnamon if adding. Add the butter cut into pieces. Rub the butter into the crumbs until it is completely and evenly rubbed in. You will have wet crumbs! Toss with the slivered almonds.
Toss the berries together with the juice and sugar. Spoon into the ramekins, evenly distributing the fruit, filling in gaps and filling to the top of the ramekins; the fruit will shrink when baked. Divide the Macaroon Crumble Topping evenly among the ramekins, spooning onto the fruit and pressing down gently to pack it onto the fruit.
Place the baking tray with the filled ramekins in the oven and bake for 30 minutes, covering the top loosely with a piece of aluminum foil about halfway through the baking if the crumble seems to be browning too quickly.
Remove from the oven and allow to cool to room temperature. Serve with ice cream or whipped cream (only for a dairy meal if you keep kosher).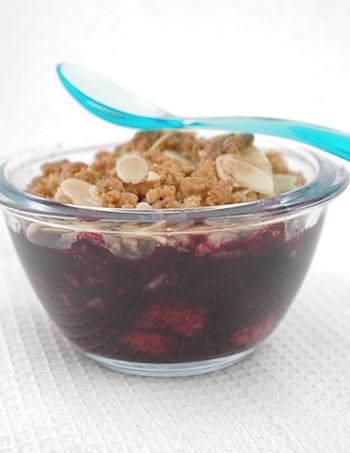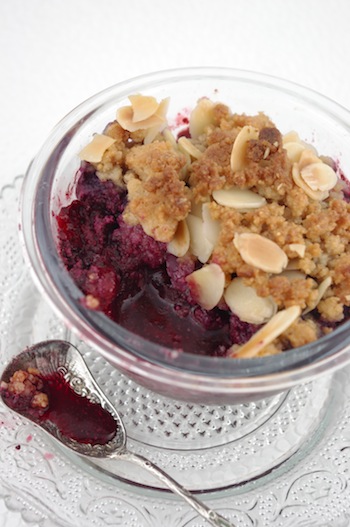 Jamie Schler lives, eats and writes in France. To read more of her work visit Life's a Feast.
SUBSCRIBE TO & FOLLOW THE MORNING EMAIL
The Morning Email helps you start your workday with everything you need to know: breaking news, entertainment and a dash of fun. Learn more