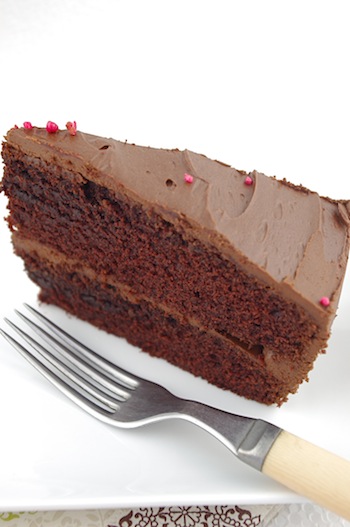 I miss him. It's as simple as that. No long, rambling stories recounted, no wisps of nostalgia or idle memories rekindled. I simply miss my brother. As ALS Awareness Month comes to an end in the United States and begins in both Canada and France (les Journées d'Action), I have decided to join together with other voices and help spread awareness of this destructive, devastating disease. I lost my brother Michael to Amyotrophic Lateral Sclerosis, ALS, more commonly known as Lou Gehrig's Disease after the famous New York Yankee whose career and life were cut short by this terrible illness. ALS is a progressive degenerative motor neuron disease characterized by muscle atrophy, weakness leading to the near or complete loss of motor function and mobility, increasing difficulty in swallowing and breathing and eventually leading to a complete shutdown of the body. To put it in simple terms, the connection between brain and muscles dies, the messages for control no longer get through and involuntary muscle functions (beating heart, working lungs) slowly fade away. Unlike the more famous, long-term sufferers of ALS such as Stephen Hawking, my brother withered away from a rare form of this disease in a mere two years; and unlike Mr. Hawking who continued his brilliant career despite ALS, my brother was crippled by dementia as well. And although my father had been diagnosed with Alzheimer's Disease, we suspect - and fear - that he, too, succumbed to the same rare strain of ALS as did his son. Much too often, as was our case, the disease swallows up the loved one both physically and mentally, allowing us, the family, barely the time to prepare financially, legally, emotionally or psychologically.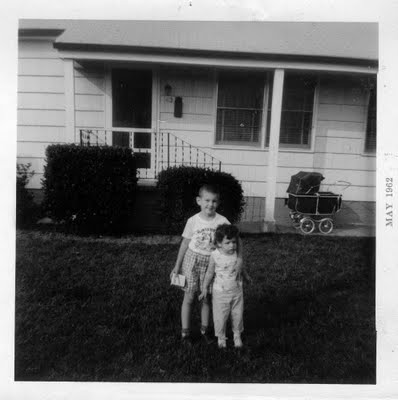 But why discuss this on the Food page? ALS is a rare and rather unknown disease and a worldwide campaign to bring awareness into the public eye, informing them as well as expressing the desperate need for the funding of research is an absolute must. Although I could add to the discussion, describing both my brother's terrible battle against this debilitating disease and our family's helplessness in the face of something so little understood, I will not. Although haunted every single day by images of a brother frail and thin, unable to accomplish many of those small, daily tasks that we so take for granted, a brilliant mind and talented man withering away into emptiness, I struggle to remember the good times and hold onto the happier memories: the silliness and laughter, the jokes and the creativity and all that he taught me as an older brother should.
Thoughts of food are gracefully intertwined with memories of my brother: baking our first muffins from scratch or pulling taffy across our childhood kitchen as we attempt our first homemade sweets; sneaking handfuls of purloined candy and marshmallows into the tiny bedroom we shared on visits to our grandparents, scrambling for them in the darkness as they tumble from our fingers across the floor; baking our first yeast bread in our adjoining apartments in Brooklyn for our first joint Thanksgiving dinner; eating soft shelled crab sandwiches surrounded by the noise and bustle of Italian street festivals honoring so many Saints or platefuls of Mussels Fra Diavolo and coffee granità in Little Italy; his own vegetable lasagna eaten amid soulful strains of jazz and dimmed lights. He was a fabulous, passionate gourmet cook, and food connected us in so many ways. My very first cookbook was a gift from Michael. Our phone calls were filled with reports of restaurants discovered, meals enjoyed, recipes created, desserts baked. Food infused with memories; memories infused with food.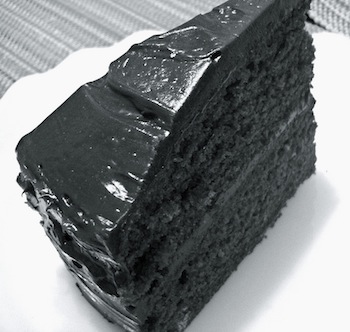 Red Velvet Cake. One of my brother's favorite cookbooks was Joan Nathan's wonderful The New American Cooking, one thing that I inherited at his passing. Tattered bits of yellow, pink and white sticky notes and strips of paper stick willy-nilly from the pages, many of which are stained, none more so than the page on which is printed the recipe for Red Velvet Cake. He made this every year for his own birthday, sharing it with close friends after a homecooked meal and expounding on how great it was whenever he made it. He even photocopied this recipe and mailed it to me. And this is the cake I baked for him, one last time, during that final visit I made to him a few months before he slipped away. He watched silently as I measured, chopped, blended and baked, shaking his head vigorously or nodding, that old, familiar smirk playing on his lips, each time he felt I needed guidance or correction. He showed me how to use his incredibly complicated fancy digital oven and he joyously licked the bowl clean. And I served him thick wedges of this chocolaty, dense, moist, fabulous cake dressed to perfection under thick layers of deep, dark, rich chocolate ganache frosting, making sure that he ate it all, leaving not one crumb behind on the plate in my unsuccessful but hope-filled attempts to plump him back up. Sustenance and love was what I fed him during that last, sad visit.
I pulled up the photos that I took during that baking session with Michael as I flipped through the much-loved cookbook in search of the recipe. Sadness blended with joy inspires me as I make this cake yet again, now for my own family. The wedges I slice are a tad thinner, the cake just a bit less beautiful to behold as if the precious time I shared with my brother infused the cake with perfection. Mine is dense where the one I made for Michael was light and fluffy, but I can honestly say that both were outrageously delicious, moist, full-flavored cakes that we all love. Ms. Nathan's perfect Red Velvet Cake - although no red in sight! - is the best chocolate cake in my repertoire and now even more special to me for the connection to a much-loved brother.
As I honor ALS Awareness Month and the memory of both my father and my brother, as I make a small attempt to spread a bit of understanding, share our own family's experience with this mysterious, destructive disease, I offer you a now-favorite recipe, one handed down to me by Michael, a cake filled with love and chocolate and memories, one of his many gifts to his little sister. At the risk of sounding trite, life is filled with many things and not all of them happy and good; my brother's loss has left a dark, gaping hole yet I try and fill that empty space with fond memories, laughter and our shared love of food.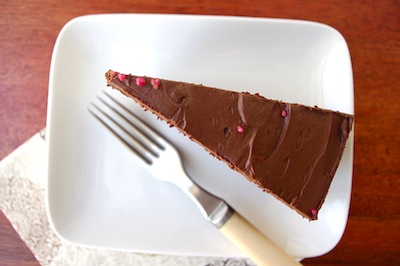 CHOCOLATE RED VELVET CAKE with Chocolate Icing
Reproduced with the kind permission of Joan Nathan from The New American Cooking
The red in this fantastic chocolate cake is from either canned beets or red wine vinegar, adding nothing unnatural to a perfect cake; the beet juice or vinegar deepens the chocolate flavor as well as the color. This cake is less sweet than the Red Velvet Cake more commonly known and it is complimented by a very adult dark chocolate ganache frosting. My brother always used pickled beet juice while I made mine using red wine vinegar. I also used a total of 2 cups (280 g) French flour, which may be closer to American cake flour, which may have added to the difference in texture than the one I made in New York along with my quirky, unpredictable oven.
1 cup (225 g) unsalted butter
½ cup (125 ml) water
½ cup (60 g) good quality unsweetened cocoa powder
2 extra-large eggs
1 tablespoon vanilla extract
1 cup (250 ml) buttermilk
1 ½ teaspoons baking soda
2 tablespoons pickled beet juice or red wine vinegar
1 ½ cups (210 g) all-purpose flour
½ cup (70 g) cake flour
½ cup (60 g) cornstarch
1 teaspoon salt
1 ½ cups (300 g) granulated sugar
Preheat the oven to 375°F (190°C). Grease two 9-inch round cake pans (I greased then lined my two cake pans with parchment paper).
Melt the butter in a small saucepan over low heat. Remove the pan from the heat and add the water and stir in the cocoa powder until smooth. Allow the mixture to cool.
Beat the eggs in the bowl of an electric mixer, then add the vanilla, buttermilk, baking soda and beet juice of vinegar and stir well.
Sift together the all-purpose flour, cake flour, cornstarch, salt and sugar into the bowl. Pour in the butter and then the egg mixture and blend thoroughly on low speed.
Pour the batter into the prepared cake pans. Bake for about 20-25 minutes or until the cake pulls away from the sides of the pan and a toothpick inserted in the center comes out clean.
Cool the cakes for a few minutes then turn them out onto wire racks. Frost with the prepared and cooled Chocolate Ganache Frosting (recipe follows).
CHOCOLATE GANACHE FROSTING
Prepare ahead of time as this frosting needs time to cool and thicken.
1 cup (250 ml) heavy cream
½ tablespoon (7 ½ g) unsalted butter
2 tablespoons sugar
8 ounces (230 g) bittersweet chocolate, finely chopped
2 teaspoons vanilla extract
1/8 teaspoon salt
Place the cream, butter and sugar into a small saucepan and heat, stirring, over medium heat until hot and bubbly. Pour the hot liquid over the chopped chocolate in a heatproof bowl and stir slowly until smooth and silky. Stir in the vanilla and salt. Taste and adjust the sweetness to your taste.
Allow to cool to room temperature until spreading consistency.
Jamie Schler lives, eats and writes in France. To read more of her work visit Life's a Feast.

SUBSCRIBE TO & FOLLOW THE MORNING EMAIL
The Morning Email helps you start your workday with everything you need to know: breaking news, entertainment and a dash of fun. Learn more