I once asked Nelson Algren what he thought of Naked Lunch. He was living in Hackensack, N.J., getting by on Social Security and whatever he won at Aqueduct. He still wrote the occasional book review and received small but steady royalties from his two most famous novels, The Man With the Golden Arm and A Walk on the Wild Side, but his glory years were long past. He grinned at me, as though he were being entertained by a wiseguy. I knew he had no love for any of the Beats. He had derided Jack Kerouac as a blowhard and Allen Ginsberg as a publicist -- and he knew that I knew that. So his answer surprised me, because he meant it as praise. William Burroughs, he said, wrote "half of a good book." I didn't ask which half. I didn't have to. I could easily guess. Algren had no use for cut-ups.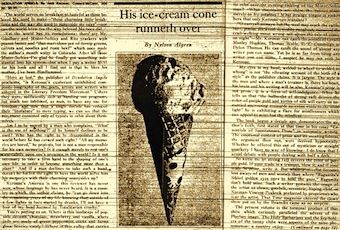 The other day I dug his review of Kerouac's Desolation Angels out of the microfilm files at the New York Public Library. Kerouac's prose left him cold, colder than cut-ups -- colder even, if that were possible, than Kerouac's unbearable Momism.
The cultural references in the review are especially telling for the context they give, this one in particular: "no Congresional investigator is any more likely to ask anyone whether he knew Allen Ginsberg than he is to ask whether one knew Hugh Hefner."
Algren had gone through a hellish period during the McCarthy era. He was under FBI surveillance. His passport was withheld by the State Department, which kept him from going to Paris to see Simone de Beauvoir at a crucial time in their affair. At one point he attempted suicide and committed himself to a mental ward (eventually fleeing out the window and down a fire escape in his hospital robe).
By the mid-'50s the establishment critics were crowing that Algren was a has-been, citing A Walk on the Wild Side as evidence. A wronger call on that novel they could not have made, but it put a severe dent in his confidence. Having gained literary fame just before the Beats arrived, Algren might have felt upstaged. But I don't think he would have minded had he believed their output merited their publicity.
SUBSCRIBE TO & FOLLOW CULTURE SHIFT
Every Friday, HuffPost's Culture Shift newsletter helps you figure out which books you should read, art you should check out, movies you should watch and music should listen to. Learn more