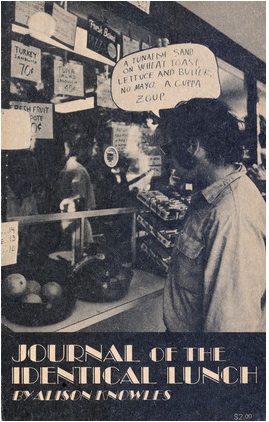 Have a look at the Web site for the Fluxus exhibition Experimental Women in Flux at the Museum of Modern Art Library. The curators write:
In the spirit of MoMA's publication of Modern Women: Women Artists at The Museum of Modern Art in June 2010, the Museum Library features experimental works by women that form part of the newly acquired Silverman Fluxus Collections Reference LIbrary. With a focus on artists' books, event scores, exhibition catalogues, periodicals, and examples of the alternative press, the exhibition includes publications by Alison Knowles, Takako Saito, Mieko Shiomi, Yoko Ono, Dorothy Iannone, and others.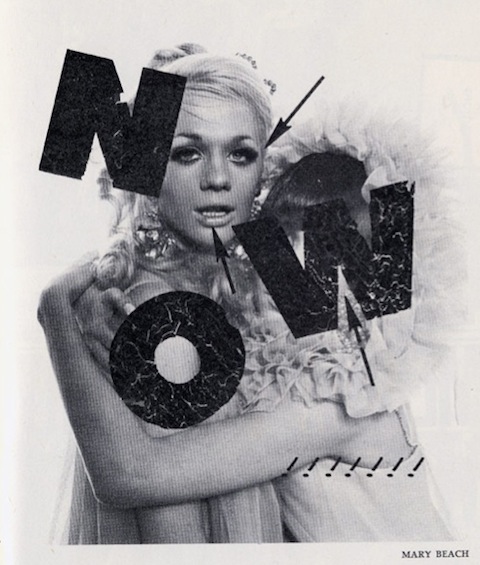 The exhibition -- organized by Sheelagh Bevan, with David Senior -- sounds pretty cool, especially since they had the wisdom to include lots of Charlotte Moorman, Mary Beach's provocative "Now," originally published in the little magazine The San Francisco EARTHQUAKE No. 3 ... way back in 1968 it was ... as well as Alison Knowles' book, Journal of the Identical Lunch, also published in the Stone Age ... back in 1971 ... by Nova Broadcast Press. And check out this terrific commentary-cum-video about the show.
This Blogger's Books and Other Items from...
SUBSCRIBE AND FOLLOW
Get top stories and blog posts emailed to me each day. Newsletters may offer personalized content or advertisements.
Learn more