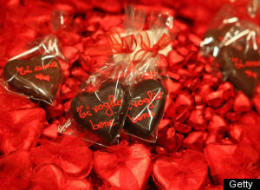 I don't know how she does it! No, not the book, how Lea Redmond makes these beyond adorable mini letters complete with address, note, and magnifying glass to read it. She also has little parcels with a clever saying and small surprise. You're sure to get a BIG thank you! $22.95 World's Smallest Postal Service, by Lea Redmond.

There's bling, and then there's bling that's good for your health. With new studies showing that it's important to use a headset with your mobile phone, Abigail and Francesco introduced these glamorous Swarovski decorated radiation-free phone handsets that will make you eager to pick up -- no matter who's on the line. Plus you can get a $100 DISCOUNT if you enter the code HUFF at checkout. www.blingblingemporio.com. $345

It may look like a romantic novel, but even better it's a case for your iPad... Let them brag about you whenever using their tech! $79.99 with optional $9.95 monogramming. Vintage Love DODOcase for iPad2 http://www.dodocase.com/products/the-vintage-love-dodocase-for-ipad2, $79.99 with optional $9.95 monogramming.

Since you're probably not ready to shell out the big bucks for a bag, she'll be just as smitten with what's in this little black box. It will -- literally -- bring color to her cheeks! $58 Blush Horizon de Chanel, by Chanel.

This exclusive set from NYC's Chocolate Bar and Refinery 29 is anything but your usual box of chocolates -- with fabulous packaging and tempting flavors including dark chili and dark salty pretzel, you better hope your valentine is willing to share! $29   7-Piece Chocolate Bar Set, R29 Reserve, $29

Want to leave em tingling after that first kiss? Well, this delicious mango-peach lip balm isn't just moisturizing for your own lips, but contains a numbing agent that will make sure this is a kiss he never forgets! $20 Numbing Lip Balm, by Morphine Lips,

You'll be right on target with this set of "dirty darts." You'll have fun just fooling around -- WITH THE GAME! $24.95 www.redenvelope.com.

Proceeds from the sale of these crafts designed by women of Haiti go right back to the people who need them. Heart of Haiti has a heart, shouldn't you? $35 www.macys.com

Whether you enjoy your morning coffee together or apart, you'll be thinking of your valentine with these geeky chic bow tie mugs.   Charlie Dexter Mug by Peter Ibruegger, $18

If a picture's worth a thousand words, a great card is worth a million. Banish boring V-day cards and embrace this unique boutique stationery from Rifle Paper Co. $4-16   Assorted Valentine's Day Cards, by Rifle Paper Co.

For those that have tried Christina Tosi's lust-worthy Momofuku Milk Bar cookies, they know there is no equal... until now! Share the gift of gooey goodness with the one you love... or just reward yourself! At Williams-Sonoma, $16 Momofuku Milk Bar Cookie Mix.
Follow Jane Buckingham on Twitter: www.twitter.com/jane_buckingham