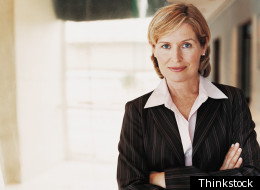 'Tis the season to give to others. Worldwide, the holidays are known as the giving season. People's happiness during this time of year is measured not by the gifts received, but by the gifts given. Giving gifts, in some sense, is our attempt to connect with each other and express deep bonds -- which are intangible -- in tangible terms. There is nothing more magical than seeing a smile on a loved one's face when he or she opens a thoughtful gift or bites into a tasty treat this time of year. And in the true spirit of the holidays, it is important to give back wherever possible. This is where the real connecting and bonding take place. I encourage you to find a philanthropic cause that provides meaning in your life. For Dermalogica, and for me personally, it has always been about women entrepreneurs.
As 2012 dawns, joinFITE, the global philanthropic women's empowerment initiative powered by Kiva and championed by Dermalogica, nears its one-year anniversary. To date, the program has funded more than 8,000 microloans made to entrepreneurial women in small businesses across 52 countries. Below is the current breakdown of joinFITE microloans by country:
North America: 602
Central America: 628
South America: 980
Africa: 1,923
Eastern Europe: 236
Middle East: 512
Asia: 1,119
While these numbers are encouraging, it's now time to really turn up the heat -- the goal is to fund a total of 25,000 women entrepreneurs in the next 12 months.
You may ask yourself, why choose to align yourself with a cause that focuses on women entrepreneurs? Well, the obvious answer is that I am a woman entrepreneur. I founded Dermalogica 25 years ago when the unemployment rate was 10 percent, so helping to empower future entrepreneurs is a cause that hits very close to home for me. The World Bank recently conducted a study which concluded women perform 66 percent of the world's work, produce 50 percent of the world's food and invest 90 percent of their income into their families. And according to Kiva, women entrepreneurs who have received a microloan have a repayment rate of 98 percent. After hearing these statistics, the question for me is simply "Why not invest in women?"
The beauty of joinFITE is that the initiative does not require any huge leaps of imagination to make a difference. joinFITE can be personalized based on where you feel compelled to help, whether it be in your backyard or across the world. Even in the United States we have women who are being empowered by joinFITE loans. With today's economic climate, the need to receive a hand up is felt even in our own backyard. I recently met with two joinFITE microloan recipients in San Francisco, both of whom were able to gain greater financial independence as a result of the program.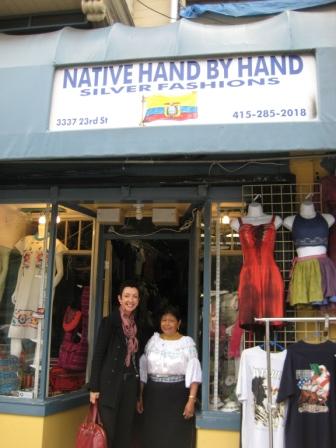 Jane visits joinFITE loan recipient, Rosa Anrango, outside her gift shop, Native Hand by Hand, in San Francisco's Mission District.
joinFITE makes it easy to unlock a code that triggers a donation from Dermalogica, but you as the redeemer of that code have the power to select the recipient based on the country and industry of your choice. As a result of this simple act, which bears no cost to you as the code redeemer, you will help a woman entrepreneur become financially independent and you will learn her story -- the type of business she has and how it will benefit her family.
In this interconnected world, no man, or woman, is an island. People thrive on the help of others. It has been proven that children learn faster in the presence of other children and injured soldiers heal at a faster rate when in the company of other people. We are hard wired to be interdependent and to rely on others, especially in times of need. Helping friends, family or strangers fills us, nourishes us and sustains us with a sense of purpose broader than ourselves.
This holiday season, if helping to empower a woman entrepreneur is a cause that brings meaning to your life, I encourage you to seek out a joinFITE recipient in the location where you want to make a difference. Some people find it gratifying to fund a recipient in the city where they currently live, or in their hometown. Or if your travels take you across the world, redeem a joinFITE code to make a difference even before you land. My attitude is that it doesn't matter where we start; it's simply important that we start somewhere to keep the ripple effect of change moving forward. So whether it is your own town, a city you have come to know and love, or the next country you plan to vacation to, unlock a code today to a woman entrepreneur. And, if you happen to travel to the city where she lives, visit her business when you get there to say hello. It will change her life, and it may just change yours, too.
Unlock your free code today! Simply click the "Lend Your Hand" button at http://joinFITE.org/lendyourhand and follow the three easy step by step instructions.
Follow Jane D. Wurwand on Twitter: www.twitter.com/Dermalogicajane