This month's 90th birthday party for renowned avant-garde choreographer Merce Cunningham attracted a multi-generational galaxy of stars.
Not surprisingly, many were artists who collaborated with Cunningham or people close to these artists; among the former were the painters Jasper Johns and Terry Winters.
Dorothy Lichtenstein, whose late husband, Roy, also worked with Cunningham, was a vice-chair of the party, a benefit for the Brooklyn Academy of Music and Cunningham Dance Foundation that featured the world premiere of a new, evening-length Cunningham work, "Nearly Ninety."
Lichtenstein, who described a set her husband had painted for Cunningham as a "Chinese landscape, very much unlike his usual work, very poetic, moody, a lot of atmosphere," said she and her husband bought a building across the street from Cunningham's studio in Westbeth in the late 1980's.
"We saw a lot of Merce, we'd usually be competing for taxis," she said.
Asked what she attributed the dancer's longevity to, she suggested, "maybe his optimism, his spirit. And he probably has good genes."
See photos from the event below:
PHOTO GALLERIES
Merce Cunningham's 90th Birthday Party
The actor Parker Posey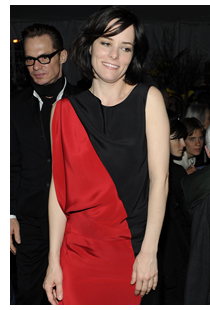 said she planned to autograph a copy of "Best in Show," the Christopher Guest dog show mockumentary in which she starred, for Cunningham; she said she had learned it was his favorite movie.
"I'm from Louisiana, I'm a southern girl, my first love was dance," said Posey, whose escort was Todd Thomas, designer of her red and black dress, which resembled an old-fashioned typewriter ribbon. "I knew all about ballet, went to the North Carolina School of the Arts. So when I went to SUNY Purchase for acting school, I heard the names of choreographers, dancers and got into modern dance," she said.
Also celebrating Cunningham's birthday was Audra McDonald, the actor and singer, who serenaded him with Dr. Seuss' "Happy Birthday to You!"
Others attending the gala were Kim Gordon, Thurston Moore, Lee Ranaldo and Steve Shelley, members of Sonic Youth, instrumentalist John Paul Jones, and mixed-media composer Takehisa Kosugi; all wrote and performed original music for "Nearly Ninety." Also there were the Italian fashion designer Romeo Gigli, who created the costumes for "Nearly Ninety"; choreographer Trisha Brown; Darryl Pottorf, partner of the late artist, Robert Rauschenberg, another Cunningham collaborator; actors Steve Buscemi and Marisa Tomei; and socialite Anne Bass.
Cunningham himself offered perhaps the last word about the celebration: Speaking softly from a wheelchair on the stage of Howard Gilman Opera House, after many speeches by an assortment of dignitaries, he talked about his youth in Washington state and early study of dance.
"At the end of the first year, I went home for the summer to my family in Centralia. One sunny day, I was sitting outside, wishing, frankly, I was back at school. At the same time, behind me, without their being aware of it, my parents were discussing my schooling. My mother was quite worried, because she didn't see much future in work in the dance. My father said, 'Listen, that fellow, if he didn't have that dance game, would be a crook.' I chose the other way," he said.
All photos in slideshow courtesy Brooklyn Academy of Music; Parker Posey photo above courtesy Patrick McMullan