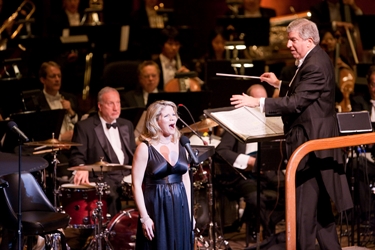 The cockeyed optimist portrayed by Kelli O'Hara in her starring role as Nellie Forbush in the Lincoln Center Theater revival of South Pacific doesn't seem to be entirely an act.

O'Hara, an Oklahoma native who is expecting her first child this summer with her husband, singer Greg Naughton, waxed rhapsodic recently about her pregnancy and how it has changed her voice and made her a better performer.
Interviewed before singing at the New York Philharmonic's spring gala at Avery Fisher Hall in New York, O'Hara said her pregnancy had "opened up my high voice, it's changed my tessitura, my breaking point. It has made it higher. So a lot of my stuff, especially South Pacific, became very difficult for me to sing, so I had to rethink it, but I did."
O'Hara, who had a cabaret show last month at Manhattan's Café Carlyle after taking a maternity leave from South Pacific, said, "Singing cabaret, it's a much more intimate thing, and so you can kind of float around certain notes that may have given you trouble before."
Pregnancy, she added, "does change you. Change can be for the better, because you can find little tricks that help you."
O'Hara said she hoped the change in her voice is permanent, "because once you learn something new and adapt and change your technique to fit something, you hope that you can go from there and not have to start over again."
"When you're pregnant, things at least for me get very sincere and very wholesome, and it's about family, and singing becomes about warmth. This is kind of where I am right now. After I have a child, I'll get back to whatever other journeys I'm going on.'
O'Hara said she had discussed her pregnancy with fellow performer Audra McDonald, who has a young daughter. "She was telling me about the joys of having a child and how it opens up your breath," O'Hara said. "You look at people like that that sing as well, and you say, 'Well, they've still done it, and they can still do it, and their voices are still huge and strong, so it obviously only adds to your singing.' I think anything emotional adds to your acting and singing, no matter what it is that you go through. It will always add to it, never take away."
Next up for O'Hara, after the birth of her baby: Two more weeks at the Café Carlyle in September, then a return in early October to South Pacific, through the end of the year.
After that? "Get back into the world of performing, get back on my feet, try to be a mom, and then I'll see what's going on."
O'Hara performed at the gala with her South Pacific co-star, Paulo Szot, though they sang a song from another Rodgers and Hammerstein musical, "If I Loved You," from Carousel. Conducting the New York Philharmonic was composer Marvin Hamlisch, who wrote the score for O'Hara's first major role on Broadway, J. J. Hunsecker's younger sister in the 2002 musical, Sweet Smell of Success.