When you're in the closet, you feel like the sky will fall down if anyone finds out. A lot of the fear is self-generated. While it's certainly good for a day or two of gossip, given all the other cataclysmic events around us, an admission of gayness is usually old news in a week.

I was doing a lot of freelance work during this time, including some radio. One night, in the late summer of 2007, I was on KABC-AM talk radio with a delightful late-night host by the name of Al Rantel. Al is one of those Log Cabin Republicans, which is to say a gay conservative. We were talking about the latest scandal to hit Washington.

Senator Larry Craig had been caught in a men's room stall in the Minneapolis-St. Paul International Airport making what an undercover cop called a foot-tapping signal used by persons wishing to engage in lewd homosexual conduct. While Senator Craig pleaded guilty to disorderly conduct, the Idaho Republican later insisted, "I am not gay."

We were talking -- on air -- about the hypocrisy of people like Craig who had a long record of antagonism to gay rights, having voted against gay marriage and having supported banning gays from serving in the Boy Scouts.

Here I was, on the radio, chatting -- at length -- with an openly gay talk-show host about Senator Larry Craig's hypocrisy, and I hadn't said a word about being gay myself. Meanwhile, Al was regaling his listeners with the story of how he came out. As the conversation wore on, minute after minute, I became increasingly uncomfortable attacking the Senator for dishonesty while I, myself, was lying by omission. I felt like I was trapped in a pressure cooker, and the force applying the pressure was my own conscience. I was torn and had no idea what to do.

Then, during the commercial break, I suddenly remembered Suze Orman. I turned to Al, with whom I felt very comfortable.

"Al, listen, I'm in a relationship with a woman, and I think I want to mention that coming out of the break."

Al grinned. "Really? Well, it's up to you!"

My mind was racing. I only had a couple of seconds to decide. "I think I should call my partner first," I added, quickly dialing Sandra on my cell phone. "Hey, Sandra, turn on the radio. I'm going to come out."

The commercial ended, and we were back, live, on the air.

"Al, considering the subject we're talking about tonight, I want to be honest. I think I should mention that I live with a woman and..."

Frankly, I don't remember what the heck I said after that. But I do remember Al joking, "Okay, is there anyone in this place who is not gay?"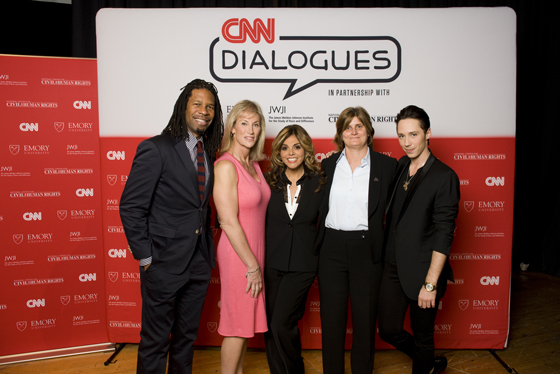 From left to right: LZ Granderson, Donna Rose, Jane Velez-Mitchell, Robin Brand, and Johnny Weir
FOLLOW HUFFPOST