Food Facts and Diet Tips - Direct from the JT360 Fat Removal Room
Ghosts, Goblins, Gremlins ... oh My!
More likely than not, you will be (or are now) tempted to indulge in (at least) one piece of candy on and/or before and maybe even after Halloween.
In other words...
... it's mid-October and Halloween fever is on the climb.
What to do?
JT360: Keeping YOU Thin! Exposing Empty Calories.
Think Ahead!
Curb the Sugar Cravings. On Halloween or on any other day, remember that balanced meals curb sugar cravings! Therefore, do not make a candy bar your breakfast. First have a poached egg, some fruit, a slice of whole wheat toast (or healthy balanced breakfast of your choice) and then ... should you indulge in a piece of candy, you will be less likely to go full tilt hog wild.
Think Outside the Candy Box. You could (yes, you could) give those adorable trick or treaters fun stickers or party favors or even rubber spiders. Now - that's lasting fun!
Last Minute Shopping. This is one exception to the rule "be prepared." Do NOT shop ahead of time. Do NOT keep bags of trick-or-treat candy in the house. HOLD OFF - till the very last second!
Yucky vs. Yummy. Another exception to the 'only eat what you love' rule. Do NOT buy, store, or house candy that you like. What are you least likely to dip into? That's your choice! Choose yucky over yummy!
Keeping YOU Honest!
Read the labels. Even those big bags of mini-bite-sized beauties have labels. Read them and know the magnitude of your sins! Keepin' YOU honest!
Save Some! Oh boy ... Now there's a crazy concept. Even though you've been careful not to buy your favorite candies - nevertheless, your favorite candies have landed in front of you! How about you choose 3 pieces (or less) that delight your sugary soul and savor them. One piece per day for 3. YES! Imagine ... setting candy limits!
Hire Dave, the Doorman. If you can't "handle" it, literally - as in handing out candy at the door without implementing the the "One for you, two for me" method ... then delegate someone else to be the one who 'mans' the door and rent a doorman costume for him/her!)
The Morning After
Give "IT" Away. Bring 'it' to the office, give 'it' to a neighbor, donate 'it' to your church! Just be sure to get 'it' out of your house!
Skip the "Day After Halloween Get As Fat As You Can for 1/2 Price Sale!" May be the hardest part of Halloween for the gifted shoppers out there, but in the end, 1/2 price candy is gonna' cost you plenty!
JT360... keeping you honest!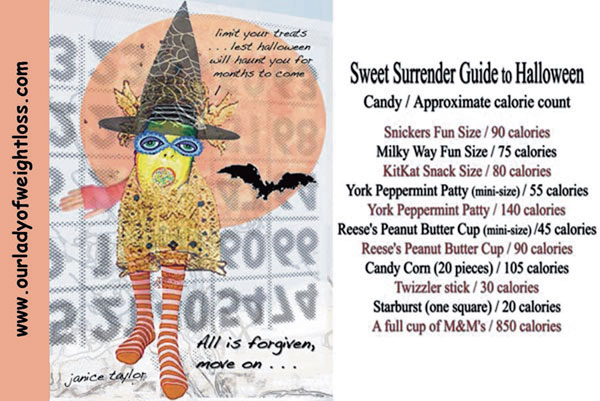 SUBSCRIBE AND FOLLOW
Get top stories and blog posts emailed to me each day. Newsletters may offer personalized content or advertisements.
Learn more