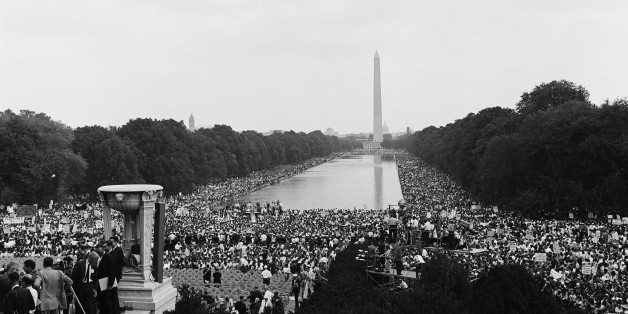 Fifty years ago this morning, I was on a bus headed to the March on Washington for Jobs and Freedom. Fifty years ago last night, my aunt put the finishing touches on a pink and white gingham sundress specially made for this momentous day. With it was a matching scarf I'd tie over a twist of braids as long and thick as questions of race.

Too excited to sleep, I was ready well before my mother and I left home in the Bronx at 3:00 a.m. for the drive to Harlem where we'd park our car then board a chartered bus for DC that Wednesday morning.

Settling into our seats, an organizer welcomed us -- inducting us for the trip ahead. It would be a day, he said, from which there would be no turning back.

Within hours, I knew why my parents had always resisted venturing south by car or bus. Traveling by train, we'd sped past the blood-soaked soil of the northern South, Maryland and Delaware; past signs "Colored" and "White"; past trees sagged low by the "strange fruit" of the lynched. By train, we'd bypass the pain for the promises Washington's architecture evokes: monuments to American freedoms built by Africans enslaved.

A northern school-desegregation pioneer at eight, this was not my first bout with racism. New York, too, had its restricted Schrafft's, segregated Cotton Clubs, and neighborhoods de facto if not de jure.

But, that bus-ride south was my first time violently denied a rest room or food we could afford to buy. It was my first time stormed by screaming White hoards as sheriff's deputies stood idly by. We, on the bus, were "outside agitators" -- "troublemakers" disrupting their "way of life." The screamers were "citizens" "defending their rights."

It was 1963. The Freedom Rides were current events then, not history. Those who attacked our bus, rocking it from side to side, intended no lullaby.

Pulling into Washington just before 11:00, our bus emerged from the raging flames of hatred (underscoring the need for the March) to the swarm of a cheering throng. So embraced, we then welcomed the next bus. They, in turn, cheered the group after them, and, on and on.

How we got ovah, the hymn is sung. My soul looks back in wonder, How we got ovah. Journeying from UpSouth or DownNorth, we'd traveled a shared route -- fought the same demons and fears. And, we'd made it through.

School desegregation had been a lonely affair: four little footsoldiers for justice against an army of unapologetic evil. Getting off the bus in Washington, I came to a mighty awakening. We were not alone. By bus, by train, by plane, people of every hue kept coming -- some, on foot, walked hundreds of miles to get to that day.

Once there, facing the Lincoln Memorial, my mother and I sat a dozen rows back and just to the right of the platform -- our privileged view, fruit of my stepfather's labors. As one of New York's first African-American firemen, he'd helped rally marchers to the cause.

For hours, speakers and singers, drum majors all, kept a steady beat until the time finally came for Dr. King to ascend the podium. His familiar baritone tuned like none other, he soothed us, rallied us, commended us on to heights untold. When he raised his hand over the crowd, invoking his Dream, I felt myself soar.

One among 250,000 united, I understood the Movement and my country as never before. I'd begun the day an innocent in a brand new sundress of pink and white. I would never wear that dress again.

Little wonder FBI Director J. Edgar Hoover called Nobel Peace Prize Laureate Dr. King, "the most dangerous man in America." We were all "dangerous" that day.

It was dangerous to threaten enforced doctrines of "white supremacy"; dangerous to meet the demon face-to-face, yet keep on keepin' on our charted route. That was the promise and the premise of the Civil Rights Movement.

If you couldn't sit-in, you could march. If you couldn't vote, you could drive someone to register. If you couldn't stand the beatings, you could tend those who had. No matter who you were or weren't, the Movement had a place for you. No matter the egregious human rights violations perpetrated against us, we, as a people, would make it through.

On this 50th anniversary, Dr. King's Dream will be summoned. We will reflect on where we were that day and where we are today. The question will be asked: could you have dreamed we'd ever have an African-American president?

Yes, I could. For, there was never a rational reason we shouldn't. What I couldn't have imagined 50 years ago, however, is how little would change. The police brutality decried then is today's stop-and-frisk. The screamers who rocked the buses then are today's purveyors of "stand your ground." The sickness that killed Emmett Till and exonerated his killer then has struck again, killing Trayvon Martin and exonerating George Zimmerman today. The voting rights we march for then are the voting rights under siege today.

And so we march on. Remembering the oratorical genius of Dr. King's Dream, we affirm his vow made that day: "We will not be satisfied until justice rolls down like waters and righteousness like a mighty stream."

My grandfather took his daughters to march against lynching. My mother took me to March on Washington. My daughter took my grand-daughter to march for Trayvon. As a people, we take our children where we must. So nurtured, fortified by the Dream and the vow, they stand prepared; tending trickling "waters" in wait for the "stream."
Historian Janus Adams is the author of Freedom Days: 365 Inspired Moments in Civil Rights History and founder and publisher of BackPax children's media.