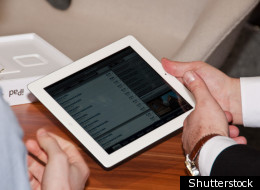 The software that Apple introduced Thursday morning at its "Reinventing Textbooks" event represents many, many great things for education in America -- none of which, alas, is a reinvention of the textbook.
Though Apple's interactive digital iBooks could, in a best-case scenario, provide the heavy artillery to force a much-needed change to the way that K-12 students learn in and out of the classroom (more on that later), it does not fundamentally change anything about the learning technology currently available to students; to wit, much of what Apple showed off will be familiar to anyone who has used Inkling, an iPad app and startup founded by an ex-Apple Education Exec named Matt MacInnis. MacInnis left Apple a few years ago to -- well, to reinvent the textbook. What he saw at Apple's education event gave him a sincere sense of deja vu.
"Imitation is the sincerest form of flattery, especially when it comes to Apple," MacInnis said -- without, it should be noted, any sense of ill will to his former employer -- in an interview with HuffPost.
"I didn't see anything this morning that Inkling doesn't already do...Nothing really blew my mind."
Indeed, of the "new" features that Apple touted in its Thursday morning press event, none were very new to MacInnis or to Inkling users. Consider this list of improvements to iBooks that Apple outed in a press release (modestly titled "Apple Reinvents Textbooks With iBooks 2 for iPad"):
With support for great new features including gorgeous, fullscreen books, interactive 3D objects, diagrams, videos and photos, the iBooks 2 app will let students learn about the solar system or the physics of a skyscraper with amazing new interactive textbooks that come to life with just a tap or swipe of the finger. With its fast, fluid navigation, easy highlighting and note-taking, searching and definitions, plus lesson reviews and study cards, the new iBooks 2 app lets students study and learn in more efficient and effective ways than ever before.
And then watch this video demo of Inkling 2.0, released by the company in August 2011. As you watch, check off all the things that Inkling's e-Textbooks have been able to do for six months that Apple's iBooks 2 can now do:
Inking - A textbook case of innovation. from Inkling on Vimeo.
The comparisons are apparent, perhaps even more so when you see iBooks 2's innovations in action.
Not that Inkling or MacInnis are threatened by Apple's new iBooks. For one, Apple seems content focusing on grade school classrooms, while Inkling, as a platform for publishers, has aimed thus far at the more graphics-intensive and technologically involved college textbooks. (It's more complex to create a textbook for molecular biology than for middle school history, MacInnis said.)
MacInnis said he takes no umbrage at the similarities between Apple's iBooks and his Inkling app, chiefly because of what Apple's initiative could mean to finally transforming the public education landscape in America. It is cause for cautious optimism, MacInnis said, adding,
I'm glad that Apple is raising awareness around the issue of digital textbooks...[I]t really does take a company like Apple to shake up K through 12. You have to deal with school districts, you have to deal with governors, state standards, teachers unions, the overall bureacuracy that's wrapped around the public school system. If there was one thing Steve [Jobs] wanted to change about the world, it would be to get rid of that stuff.
Not that change will come easily, or even very quickly. According to Tony Pfister, CEO of e-Book sales site classbook.com, the upfront cost of iPads -- at $499 a pop, with bulk-buying subsidies generally in the 8 to 10 percent range, per Pfister -- will be enough to turn many cash-strapped, budget-slashing public schools away. Add in wear-and-tear, the threat of stolen and lost iPads in the hands of youngsters and -- most importantly -- the cost of updating an entire school building's infrastructure to accomodate a school full of iPads, and you're talking a serious monetary obstacle.
And yet -- despite these obstacles, a typically hyperbolic marketing push, and the regular proprietary concerns that always surround Apple software -- the movement for a much-needed change has arrived. Apple should be roundly praised for bringing national attention to the issue in a way that only Apple seems to be able to do with its widely-watched, obsessively-followed events. As MacInnis said, it takes a mega-corporation like Apple to shift the conversation and nudge a well-entrenched, multi-billion dollar industry in a proactive direction (just ask the major record labels). And though we shouldn't imagine that every inner-city elementary school student will be flicking and swiping through the alphabet by late 2012, we should celebrate that, at the very least, the nation at large is discussing -- on Twitter, on Facebook and on major television networks -- the need for a more technologically-advanced classroom.
The fact that "iBooks 2" trended on Twitter right alongside #WhyGuysNeedPrenups and "LeBron is 9-2 vs Kobe" is not only evidence of Apple's ongoing ability to insert itself into the zeitgeist, but is also a welcome sign for a national discourse that has thus far been relegated to a too-quiet sphere.
Apple announced version 2 of its iBooks app for iPad and iPhone. iBooks 2 introduces a "textbooks" category to the iBookstore, where visitors will find media-rich educational books that offer videos, interactive pictures and diagrams, learning tools and much more. GigaOm provides an overview of the textbook experience via iBooks: Textbooks appear on the shelf, and then you tap to launch. The books occupy the full screen and can be paired with embedded video content and introductory movies. Multitouch is used to navigate textbook pages and can also help manipulate integrated 3-D models for biology books, for example. Books will be available for grades K through 12.

Textbooks downloaded via iBooks will provide students with a host of learning tools. Built-in indexes, glossaries and dictionaries will offer quick reference tools that the reader will be able to find just by typing her queries, rather than having to flip through pages or switch to another book. A highlighter tool lets the reader select important information within a text, and a flashcard tool lets her store that information for studying. According to TechnoBuffalo, readers can also search online databases such as Lexis Nexis -- right from the textbook.

According to CNET, Apple touted the idea of students receiving "instant feedback" from the new digital textbooks. With a Q&A section at the end of each chapter, the books give the students a chance to assess their own progress by reviewing recent reading materials.

Apple has partnered with publishers McGraw Hill, Pearson and Houghton Mifflin Harcourt, which together are "responsible for 90 percent of the textbooks sold," according to TechCrunch. Textbooks will be available for download via iBooks at $14.99 each (or less). Schools who buy into Apple's textbook deal will "give students vouchers/credits so they can pay for $15 books," AllThingsD's Peter Kafka tweeted after the event. Kafka wrote earlier that the average high school textbook costs about $75.

After a student downloads her new textbook, she'll be able to access it from multiple devices, as reported in CNET's live blog of the event. That way, she can read the book on an iPad her school has purchased for her classroom, and she can also download the book from the cloud for access on a device she has at home.

Apple also announced the new iTunes U app for iPad, iPhone and iPod Touch. THe updated app lets teachers create and manage course syllabi, lectures, quizzes and more. Students can also download the app to access these materials. According to an Apple press release, the new app is now open to grades K through 12, while the previous version allowed syllabi from certain universities only.

Apple also announced iBooks Author, a free Mac App that allows for easy authoring of digital books. Templates already exist for books geared toward subjects like math, science or English. But your creation doesn't necessarily have to be educational. According to Apple, "anyone with a Mac [can] create stunning iBooks textbooks, cookbooks, history books, picture books and more, and publish them to Apple's iBookstore."
Follow Jason Gilbert on Twitter: www.twitter.com/gilbertjasono