Somewhere on the placid beaches of Los Cabos, Mexico, a financial advisor lounges on a deck chair, watching waves crash on the shore. He's sipping a margarita, chatting with friends, maybe watching a video on the new iPad he just won. He's enjoying a vacation after a hectic week at the office. And the best part: it's all free. Who paid for this guy's luxury vacation? Well, if you bought an annuity recently, you might have funded that advisor's week on the beach.
Recently, two marketing e-mails from insurance companies landed in my inbox, offering incentives to persuade me to sell annuities to my clients. One of these e-mails promised a vacation to Los Cabos for brokers who sold $750,000 worth of fixed annuities, in addition to a 2.5 percent commission rate.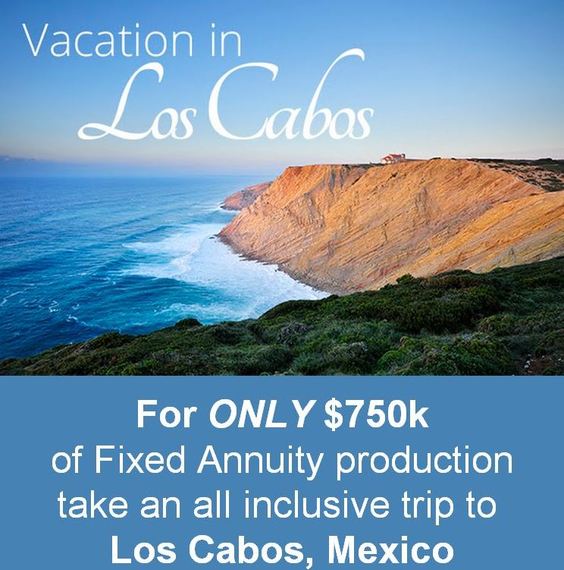 Another e-mail from a different company promised a 7 percent commission and a free iPad for selling that company's annuities. (The offenders shall remain nameless here.) Those e-mails represent a lot of the spam that clogs my inbox every week, since plenty of insurance companies offer goodies for peddling annuities and other financial products.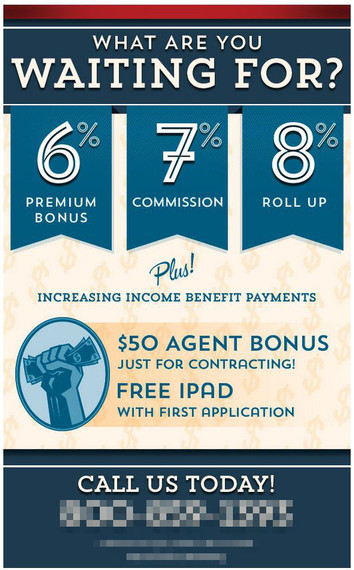 "So what's the problem?" you might ask. Other industries motivate sales reps with bonuses, since employees work harder when they reap rewards in proportion to their efforts. After all, self-interest drives everybody's behavior to some extent. The problem, however, arises when a financial advisor's self-interest conflicts with yours.
If you've ever browsed through a used car lot, then you've seen the dangers of a payment scheme based on commissions. Do you believe that car salespeople have your best interests at heart? Do they offer trustworthy, objective advice? When you apply that compensation model to financial services, conflicts of interest become toxic: making bad investments, especially late in life, jeopardizes your retirement goals.
Annuities in particular raise problems. I won't make a blanket statement and say they all suck, but I will say most annuities benefit insurance companies more than consumers. If you absolutely must buy an annuity, though, walk into the situation with your eyes open. To avoid a financial blunder, ask the insurance agent or broker some blunt questions. Here are four to begin with:
1. How does buying an annuity benefit me, as opposed to investing my money elsewhere?
IRAs and 401Ks provide ways to invest your savings in tax-deferred accounts, without the high commissions and administrative fees charged by annuities. How do annuities stack up against these tried-and-true methods? Annuity sellers claim that annuities take risk out of investing by offering guaranteed rates of return. True enough, but the commissions and fees devour much of your profit. That leads us to the next question.
2. What kind of returns will I make?
Make sure you know whether the rate is fixed or variable. In the example above, the annuity provided an annual rate of return of 3 percent. That narrowly beats inflation, but not by much --which defeats the purpose of investing to begin with.
3. How are you, the advisor, getting compensated?
You should also know how much commission the advisor makes. Again, in the example cited above, the advisor makes 2.5 percent commission in relation to the 3 percent return the customer makes. When you factor in administrative and management fees, you see that the insurance company earns nearly as much as the customer -- from the customer's money.
4. How long will my money be locked up?
An annuity is a type of contract, and like all contracts, it penalizes you for breaking it. In that sense it resembles cell phone plans and gym memberships, but raises the financial stakes. Many annuities slap you with "surrender charges" for the first five, six, or seven years. In other words, you pay a penalty fee -- sometimes as high as seven percent -- for terminating the annuity early. When you consider the compound interest that the money could have accrued over the years in another investment, those losses cut deep.
By the way: if annuities yield such great benefits, why does the company charge you a surrender fee in the first place? Maybe because they expect customers to jump ship when they see the dismal rates of return.
When you ask tough questions, the advisor can't defend products that don't serve your interest. It benefits you to put them in the hot seat. Doing so could save you thousands of dollars over the years. Then you can pay for your own dream vacation, not someone else's.
Fraudsters feigned interest in lonely online romance seekers to rob victims of about $50 million last year.

Phony debt collection agencies have pressured victims into giving up millions of dollars. The Federal Trade Commission recently closed down two California-based companies with call centers in India after they defrauded Americans out of $5 million over the past two years.

Craigslist and eBay are a playground for scammers. Consumers have sent payments to places like Nigeria for items advertised online only to discover they have been scammed. Last year, Romanians pretending to be U.S. citizens put fake ads for pricey items on eBay and Craigslist, defrauding Americans out of more than $100 million.

Canadian police arrested a man who tried to take a $70,000 processing fee from an elderly Californian woman who believed she was going to win a $7.5 million lottery prize in April. More recently, eight Jamaican swindlers accused of duping Americans in lottery scams were also arrested.

Fake charity organizations come out of the woodwork to exploit the generosity of others, especially during times of disaster. Most recently, an organization that claims to help disabled veterans called Disabled Veterans National Foundation (DVNF) took millions of dollars from donors without spending the money on veterans.

Scammers targeting struggling homeowners have offered false services to help with mortgage settlements. Mortgage foreclosure scams have shot up 60 percent in 2012 as new federal programs for mortgages have provided avenues for fraudsters to exploit.

Scam complaints related to travelling surged right before spring break last year. Crooks defrauded grandparents out of money when their grandchildren were travelling abroad. The scammers, who find out about the travel plans from places like social media sites, pretend to be the grandchild asking for wire transfers on the phone. The scams have involved scammers pretending in an email to be a victim's travelling relative who has recently been mugged or has lost their passport.

Although there isn't much data on how often it occurs, food scams can pose a tremendous health risk. The chances of dilution and counterfeiting increase when food is imported from other countries, and some foods like fish and olive oil are particularly prone to adulteration.

Scammers have sold drugs to online consumers and then posed as government agents asking the buyers to pay money to avoid jail time. A Texas woman killed herself after being caught up in one of these drug schemes.

Credit card breaches allow fraudsters to make charges on other peoples' cards after getting a hold of numbers. Global Payments Inc., a third party payment processing service for MasterCard and Visa, made headlines in April for reporting that over a million card numbers had been compromised from their system, according to CNET.