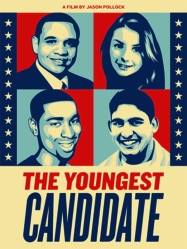 Dear Friends,
Today is a very big day for me. I have never made an announcement like this in all my 27 years on this planet. Today is a day that I have dreamed about my entire life and it is a day that I have worked for, ever since I dropped out of college 8 years ago to become a filmmaker.
As many of you know, I wrote and directed a feature film called, The Youngest Candidate. I have been working full time on The Youngest Candidate for 3.5 years now. I can't even believe that as I write it! That's more than 3 times longer than I was in college! Haha! 3.5 years of my life and now I have something that I'm so proud of to show for it.
For about a year now my producers and I have been trying to get my film picked up by a distributor. With the economy the way that it is this has been a very tough year for everyone and because of this we have still not sold my film. I can't tell you how many sleepless nights I've had wondering what the fate of my baby will be. This has been the greatest learning experience of my life and I am so grateful for everyday of it.
Ok so, here's my announcement: my film, The Youngest Candidate, will have its WORLD PREMIERE during THE LOS ANGELES FILM FESTIVAL!!!!!!!!!!!!!!!!!
The premiere will take place on June 25th at 7PM at the historic Majestic Crest Theatre in Los Angeles, California! I have been to so many films at this theater and I simply cannot believe that I get to screen my film there. I doubt I will be able to sleep until the 25th!
Here is the link to my film's page on the Los Angeles Film Festival website...
http://www.lafilmfest.com/tixSYS/2009/filmguide//films/9146
Inside this link is actually another very cool thing that no one has ever seen yet. The poster of my film is there! Legendary street artist Shepard Fairey and his team at Studio Number One created the visual campaign for my film and we will be unveiling this poster at our premiere! When I first saw Shepard's poster of Obama I had a dream to have him design my film's poster in the same style but with the portraits of my "youngest candidates". Shepard saw my film and liked it and he agreed to design this image. I can't tell you how proud I am of Shepard and everything he has achieved and I am so honored by this design. I plan to use this poster as a major part of my film's campaign and I'm so grateful to Shepard and his team for all their hard work.
I also plan to use social media in new and exciting ways to help promote my film. I will integrate my 50,000 follower twitter page (http://twitter.com/jason_pollock) into everything I do in the next 25 days. A few months ago I created a hashtag for my film on Twitter. It is = #TYC. I will be using this hashtag with all my updates for this film and who knows, maybe we can get it to be a trending topic one of these days! I'm calling on all my friends who are marketers, publicists, journalists, and TYC enthusiasts who believe in The Youngest Candidate to please help me get the word out about this event. The film will be nothing without people like you and I'm so excited to work with all my social media friends to get this film out there!
I would also like to personally thank all my producers for helping to make this dream a reality. David Letterman, Lawrence Bender, Rob Burnett, Steve Luczo, Valerie Schaer, Gus Roxburgh, and Shaun Murphy have put so much time and effort into the Youngest Candidate and I can never thank them all enough for their help and support.
Lastly, I would like to thank the two people who are making this night possible. Justin Scot and Graham Sibley run an organization called The YOUnited Foundation. They were able to secure a slot for their Donkaphant Film Festival inside The Los Angeles Film Festival. They are the ones who ultimately put The Youngest Candidate into this program and for that I am forever grateful to them. I have been working with them both for over a month now on this event and I can safely say that they are two of the hardest working people in Los Angeles!
Tickets for the event are 15 dollars and can be bought through the YOUnited Foundation website at this link...
http://www.younitedfoundation.org/sub.php?mod=news&item=88
Thanks again to everyone who is helping to make this night possible! I will be giving lots of updates as new things about this event arise so stay tuned to my twitter for all major TYC updates.
If you would like to Retweet this Blog on your Twitter page, here is the tweet to use. Just copy and paste the next line into your twitter page and hit send.
RT @Jason_Pollock: For The Biggest Announcement of My Life CLICK HERE #TYC => http://cli.gs/meP0nn
I'm so honored by all your love and support and I will talk to you all soon!
Sincerely,
Jason Pollock
SUBSCRIBE TO & FOLLOW THE MORNING EMAIL
Start your workday the right way with the news that matters most. Learn more