Kumu, a Honolulu-based software startup focused on network mapping, recently captured widespread attention when their soon-to-be-released software was used in a Forbes special report to map the tangled web of relationships among Africa's richest people.
Web-based Kumu is a visualization platform that enables anyone to map systems and better understand relationships, and then share and collaborate on those maps. The Forbes map is a great use case, but Kumu sees a wide audience benefiting from their product.
"Kumu helps anyone transform data into wisdom and share it in engaging and compelling ways," said Jeff Mohr, co-founder and CEO at Kumu. "From organizations struggling with complex, cross-sector challenges to politicians building support for legislation, Kumu lets them map relationships, understand paths of influence, and tap into a network's value."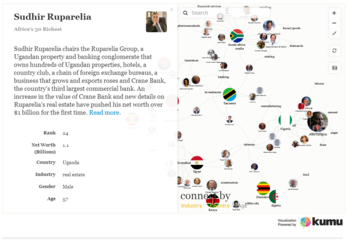 From the Forbes report, Kumu visualizes the connections between Africa's richest people, plus provides the insights behind the data.
The Kumu team, which also includes developer and co-founder Ryan Mohr (yep, they're co-founders and brothers), aims to get everyone thinking more about networks, systems, relationships, and connections in any aspect of business, activism, or life.
Some examples from Kumu on where network mapping can help include:
Startups and businesses can map out their entire team's combined network to find capital, talent, and partners.
Journalists can visually present the relational aspect of their stories to show how key players are connected.
Sales teams can easily understand complex product lines and increase their ability to up-sell customers.
Individuals can map their personal and work relationships to find jobs, build influence, and make an impact.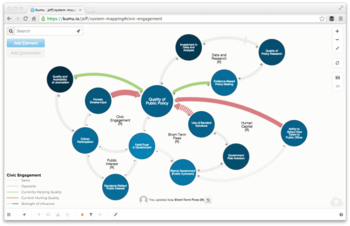 Kumu's software lets you visualize relationships and networks, which helps you literally see interesting paths and connections.
Network mapping is a growing discipline and is being leveraged in fascinating ways, from discovering the romance across Facebook connections to mapping the flow of textile trading to discovering the interactions between proteins. Researchers, business people, non-profits, community organizations, and others are creating visual views of connections and paths, which is then helping  them uncover solutions, devise strategies, and reach goals.
Here's a tip:  if you've never tried LinkedIn's InMaps, you should stop what you're doing (after you finish reading this post, of course) and check it out. You'll be mesmerized, and you'll discover professional connections and relationships that you never would have known without seeing them. Kumu gives you the power to do the same, but with any data.
Kumu is scheduled to be released next month, but you can sign up here for updates and to be notified of the launch.