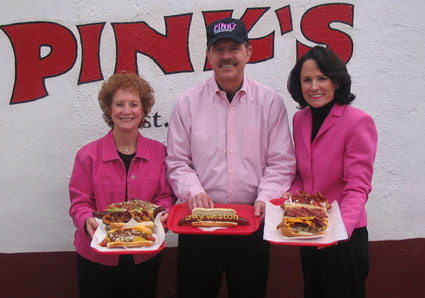 The dogs says "Jay Weston."
On this Easter Sunday I went to a lovely garden party in the valley and greeted many old friends. Ate rare lamb, deviled eggs and nasturtium salad (uggh), drank lots of red wine...and still felt hungry. Driving home, listening to the earthquake news, I obeyed a sudden urge and headed to Hollywood for a Pink's hot dog! The lines were long but Gloria Pink spotted me and beckoned me to a side terrace, where she brought me a fully-loaded dog with well-done fries. The perfect end to a lovely day!
The last time I had been there, on a Thursday evening in mid-November, I saw Bill Cosby behind the counter dispensing hot dogs to an eager, amused (and bemused) crowd of hungry diners. Co-owner Richard Pink told me that the legendary hot dog stand was celebrating its 70th anniversary and The Coz was part of a celebrity group who had joined in a charity drive for the celebration. "For that week we sold our hot dogs for 70 cents (regular price: $3.50) at 7 pm each night for 70 minutes, with 100% of the proceeds going to a charity of the celeb's choice," Richard said. The following evening our Mayor joined in, as Pink's is going into LAX at the Bradley Terminal this Spring. It's incredible that the Pink family started in 1939 with a hot dog cart bought by Richard's parents for $50 of borrowed money and have survived and thrived for seven decades. I'm pretty blasé. Been almost everywhere, met almost everyone...kings and queens, movie stars, business tycoons, revolutionaries. It takes a lot to shake me up.
Happened one evening several years ago when Ivy and Leo Chu, owners of the Hollywood Park Casino, invited me to dinner and seated me next to a charming, attractive couple. We made small-talk for a moment and I asked their names. Richard and Gloria Pink. My mouth opened: "Any relation to...that Pink?" I stammered. "Yes," she smiled, "we own it. My husband, Richard, is the son of the original owners, and I manage it with the help of his sister, Beverly." I knew my evening would be memorable (it was) and I made new friends whom have since enriched my life. They were at the dinner party because Pink's hot dogs are being served at Ivy and Leo's Hollywood Park Casino, as well as the Greek Theatre and several of the Pacific Movie Theatres owned by my long-time friend and subscriber, Michael Forman.
Made a date to have dinner with the Pinks the next evening...at their PINK'S HOT DOG STAND (709 N. La Brea Avenue, just off the northwest corner of La Brea and Melrose, (323) 931-4223.) It may be the only hot dog stand in the world that has its own parking lot attendant to guide you into a space, no charge, and I have seen Rolls Royces and Mercedes galore beside pick-up trucks and motorcycles. Martha Stewart was driving up La Brea with her camera crew to film a show. As they passed, her teamster driver pointed out the famed facility, and she insisted the caravan stop. Martha and her crew started to get on line when Gloria spotted her and invited them to a table on the patio. The beleaguered star perused the menu and...on the spot...the Martha Stewart Hot Dog was born: a 10" stretch dog with mustard and relish, onions, chopped tomatoes (a first!), and sauerkraut, topped with bacon and sour cream. (Notice: no chili, a serious omission.) It's now on the menu for $4.40, a bargain at any price.
At my dinner date with the Pinks, I sat at the same patio table and for two hours enjoyed a feast which would have gladdened the heart of any wayward boy in the Western world. They have twenty-four different dogs at last count on the menu, and I heroically worked my way through about a dozen, flagging slightly and taking only a bite here and there at the end. (But went back with a friend on the weekend to finish my research by sampling hamburgers and Mexican food...chicken fajita burritos, chili-drenched XLNT tamales, giant 12-inch jalapeño dogs and the like.) I have unabashedly claimed to be an expert on chili. I have worked my way through the state of Texas seeking the perfect bowl of 'red,' ending up in Terlingua at the world championship chili cookoff. (I even stopped off at Wolf's and bought a case of their regular chili, of course with no beans, the world's best canned chili.) I knew my chili. The late Betty Pink defeated me. I have tasted their chili many times over the years, and to this day I cannot quite put my finger on all of the ingredients in that glowing-orange goo which coats my mouth, stains my shirt, and keeps me up for hours. It is delicious. Gloria even gave me a container ($2.50) to take home, and the next morning I scrambled some eggs and dished the spicy concoction over them...heavenly. It's not the chunky chili of Chasen's, or of any other place on earth, it is...a power unto itself, probably capable of powering intersteller flight.
I'm a Brooklyn kid who grew up eating Nathan's hot dogs at Coney Island all summer long. It was in 1916 that Nathan Handwerker at his stand there coined the term "hot dog" because it resembled his dachshund. To qualify as a real hot dog, the crescent tube must be smoked or boiled, pre-cooked in some way before it reaches its final destiny by being boiled (my choice, for just a moment or three) or grilled (usually too dry), or God forbid, baked or microwaved. Today, when I visit New York, I'll head over to Gray's Papaya on Lexington for one of their Recession Specials: two snappy dogs and a piña colada for $2.45. But they're not in the same class as these from Pink's, made by Hoffy's in Chicago; they have the natural casing which snaps when you bite into the dog, juices spurting into your mouth, the rich, garlicky, beefy flavor mingling with the sour tang of hot sauerkraut (always my choice), the vinegary zip of yellow mustard, nestled in a steamed soft bun ($2.75) which cradles the gems of flavor until there is nothing left. Time for another.
Jonathan Reynolds in the New York Times once described the hot dog as "a thick, phallic crescent of chopped up but indescribable pig or cow parts, salty and delicious, at their best with a sturdy natural casing for a sheath and a soft, processed center. You do not want to know what's in them. Only know that if they're very pink they probably contain saltpeter." Our favorite, Pink's dogs, are all-beef, of course, without saltpeter, slightly garlicky and peppery, and 2,000 of them are served each day on Pink's steamed, soft roll (though, at home, I butter and grill the bread for a moment). There are dogs named after Ozzy Osborne, The Matrix, Rosie O'Donnell, Huell Howser, Harry Potter, Lord of the Rings. My secret ambition is to have a dog named after me (but then again, they don't serve ham on their dogs.) No beer or wine is served, but the Dr. Brown's Celery Tonic does just fine. Their Hispanic manager, Luz Acosta, she of the dry wit and acerbic tongue, brought me a tart lemonade, which went well with the rich dog.
By now, everyone knows the legendary story of Betty and Paul Pink, who in 1939 saw a newspaper ad and bought a second-hand hot dog cart downtown, then walked it up to the corner of La Brea and Melrose, an empty weed-stricken field; they ran an extension cord from a friend's hardware store a block away to heat the burner and were in business, selling hot dogs with chili, onions, and mustard on a bun for ten cents. Business was booming, and Betty won fans with her "secret chili formula," which is still a secret. In '41 the rent on their corner went from ten dollars to twenty dollars a month and they bought the property. But some years later the Health Department got on their case, and they had to build a more permanent stucco structure facing the street...which is still the base for their present location, adding some neon lights in the fifties to lengthen the time they could stay open. The movie studios in the neighborhood started expanding, and everyone was a Pink's fan...from crew to movie star.
Over the years, everyone, and I mean everyone, has come here. The rumor is that Bruce Willis proposed to Demi Moore in the parking lot, and the record for number of hot dogs consumed in one sitting is held by Orson Welles, who downed eighteen. (Nothing compared to that Japanese kid who has consumed fifty dogs in five minutes to win the world championship held in New York each summer.) Pink's does have fairly good hamburgers, including a monster called the Double Pastrami Swiss Cheese Burger, at $5.65 the most expensive item on the extensive menu. (Of it, Merrill Shindler said: "Never eat anything bigger than your head!") For health food nuts, they even have a turkey burger, $2.80, served with lettuce, tomato and mayo. Jonathan Gold once wrote that their fries were the worst in town, but that was fourteen years ago and they have upgraded them to very good - and an order of chili fries with cheese - $2.55, will test the cast-iron consistency of your stomach.
You know what I love here? Yes, everything, of course...but especially their guacamole ($2.50 for a full cup), chunky, mildly spiced, made fresh by one of their long-time employees early every morning. I mentioned that Mexican is part of the equation now...order a Polish dog (made specially for them in Eagle Rock) with a big flour tortilla wrapped around it, with two slices of cheese, three slices of bacon, chili and onions ($4.40; and for another $1.25 they'll add a second sausage!). That's a burrito made in heaven. Jonathan Gold wrote about coming here at 9:30 a.m., when they just open, and watching the blocks of chili slowly melting into orange grease in the steam table, then having the after-taste stay with him all day. I so enjoy standing in line at midnight with a real cross-section of people from my adopted city, exchanging witticisms in English and Spanish, watching their amazing servers take an order, prepare and deliver a dog in less than 30 seconds. (They remain open 'til 2:00 a.m. every night but Friday and Saturday, when 3:00 a.m. is the norm. And you will be stunned at whom you see standing on line in the wee hours...once I encountered Esa-Pekka Salonen and Yo Yo Ma, with a bunch of bikers!)
I've talked to some of the people behind the counter and all use the word, "family"..."We are all part of the Pink's family." And now that I have been somewhat adopted by them, I proudly wear my orange chili stains on my shirt and tie and a smudge of mustard at the corner of my lip, dreaming of the next chili dog with sauerkraut and mustard which will pass my lips. And who said that Los Angeles wasn't a wonderland!
To subscribe to Jay Weston's Restaurant Newsletter, email him at jayweston@sbcglobal.net
Follow Jay Weston on Twitter: www.twitter.com/jaywestonsbcglo