Some random observations from your enterprising reporter: The new Brad Pitt movie, Killing Them Softly, is an abomination. Senseless, vulgar dialogue and excessive violence in a small ugly movie, a rare miss from Harvey Weinstein. The only redeeming feature was two scenes with James Gandolfini (Tony in The Sopranos) as a dissolute N.Y. hitman besotted with booze and hookers. Gandolfini is also excellent as CIA head Leon Panetta in the wonderful Kathryn Bigelow-Mark Boal thriller, Zero Dark Thirty, which Sony co-chair Amy Pascal screened at the studio this week for cast-and-crew. The last 20+ minutes depicting the actual Bin Laden raid was one of the most exciting sequences ever filmed, so true-to-life you feel you were there as an observer. Jessica Chastain is superb as the relentless CIA agent who for 12 years pursues the terrorist. (Based upon an actual woman, who has faded into the woodwork.) I told Amy's playwright husband, Bernie Weinraub, that I missed the one obvious scene not there, that of President Obama sitting in the war room watching the actual mission. He explained that the filmmakers did not want to politicize the film, which is a sure contender for Oscar honors.
Katherine Bigelow directed and co-produced the new Sony film.
Andy McDowell and her two daughters, Rainey and Margaret Qualley, on the cover of Town & Country.
I met the stunning Andy McDowell and beautiful actress daughter Margaret Qualley at the pre-cocktail party right off the cover of the October Town and Country. Andy's Hallmark scripted series, Cedar Cove, has been picked up and she will be filming in Vancouver for several months. Drat...
A sophisticated, beautiful restaurant has opened in Beverly Hills at 362 N. Camden (310-277-7346), just north of Mr. Chow. Called DOMA (which is Croatian for At Home), it is the brainchild of the charming Sonja Perencevic, who also owns Dan Tana's legendary restaurant of that name. What makes it extraordinary is the delicious cuisine of fourth-generation Chef Dustin Trani, a mix of elegant Mediterranean, seafood and Italian dishes, with a hint of Asiatic influences. It will receive a full-scale review here shortly, but I wanted you to know about it now. Go once and you will see what I mean.
Sonja Perencevic, who also owns Dan Tana's, has opened DOMA in Beverly Hills.
A roasted marrow bone is one of the delectable dishes at the new eatery.
Another exciting restaurant that I have discovered is the hard-to-pronounce USHUAIA (2628 Wilshire Blvd, Santa Monica (310) 3155457), an Argentinian eatery with surprisingly tasty food. Juicy steaks, of course, with chimichurri sauce, but I was thrilled with a seafood paella and a bowl of seafood stew filled with shellfish and whitefish chunks. With many Italians living in Buenos Aires, there are also several appetizing pasta dishes. Worth a visit (or two).
On my way to the Mullin Automotive Museum in Oxnard with Ginny Mancini, we stopped for Sunday brunch at Geoffrey's in Malibu, and were vastly pleased with the many egg-y dishes, as well as the smashing view. Peter and Merle Mullin are offering an amazing exhibition at their one-of-a-kind auto museum, a place which I visit regularly for inspiration and aesthetic pleasure. One sight is the 1934 Voisin, which won Best of Show in this year's Pebble Beach Concours d'Elegance; it is the 1934 C-27 Voisin Aerodyne, an aluminum body vehicle with a mechanical-opening roof and multicolored fabric interior. Also there is the most precious car in the world, a 1936 Bugatti which recently sold at auction for $35 million. (Ralph Lauren has the only other one.) What I consider the single most beautiful car ever built, a 1938 Delahaye once owned by the Lanvin family, is also there. Make the one-hour trip and you will be rewarded with a visual experience to sing to your soul.
Merle Mullin with the prize-winning 1934 Voisin.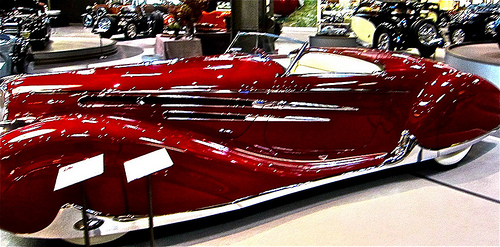 The art-deco 1938 DelaHaye convertable which I love...so beautiful.
I am enchanted with the idea of Scarlett Johannson playing the Kim Novak role of the beautiful witch in my remake of Columbia's 1958 black-and-white film of Bell, Book and Candle, which-co-starred Jimmy Stewart. Scarlet is one of the best things in the new film, Hitchcock, playing Janet Leigh in the Psycho shower scene.
Scarlett is currently appearing on Broadway in Cat On A Hot Tin Roof, but then, yes!
G.M. Sam Jagger and Sophie Winkleman Windsor at his fabulous MR.C Restaurant.
I made another visit to one of my favorite dining spots in our city: the sophisticated, fabulous MR. C Restaurant, with British royals Freddie and Sophie Windsor, and the hotel's General Manager Sam Jagger (also a Brit) joined us for a scrumptious dinner. An old friend, Chef Enrico Glaudo, is working in the kitchen there now and offered up a feast of classic Cipriani dishes. (He was brought here in the '80s by Valentino's Piero Selvaggio and worked at his Primi for several years.) MR. C is a gem of a dining room in a stunning, hip, sexy hotel, which I recommend to all. The beautiful, observant Sophie noted the Murano chandeliers, Eames chairs and Hopper-esque bar in the lobby. Congrats, Sam, on such a successful operation.
To subscribe to Jay Weston's Restaurant Newsletter ($70 for twelve monthly issues) email him at jayweston@sbcglobal.net.