I've been to a great many exclusive restaurants in my long life. Some, like Patrick Terrail's original Ma Maison, boasted an unlisted phone number which everyone in-the-know seemed to have. Some have been hard reservations to garner because of limited seating capacity and great demand, like The French Laundry. Others, so expensive they excluded all but the very wealthy, like Masa Takayama's Rodeo Drive Ginza Sushi-Ko, now in New York. But there is one which had eluded me for the past several years... until recently. Rumored about by every obsessive food-lover who frequents the L.A. Chowhound website, it's described as 'that secret Japanese steak house on Pico.'
I first heard about it from a chef at Matsuhisa, who told me that Nobu and Yoku had their daughter's birthday dinner there. When I asked more about it, he curiously clammed up... only saying that "no one can go unless the chef knows you or you are recommended by a customer." I had only once before encountered a like situation, which was in Japan during the Korean War when, in Kyoto, I was told that the old royal-style eating places were so utterly demanding of their customers that you could only get a meal if you were referred by a regular. (I had a Royal Prince intercede for me and had an exotic meal.)
I wrote about the Pico place in the Jaywalking column of my newsletter, asking for entry help from my readers, to no avail. Whenever I called their number, (310) 838-9881, a Japanese voice message was the only response, and no one ever called back. I had a Japanese-speaking friend call and she finally reached someone, who politely explained that you could only come if a current customer referred you. My friends Ivy and Leo Chu, who usually took me everywhere, never responded when I inquired if they knew about it (they know about everything). Finally, after two years of batting my head against the wall of silence, the Chus made me an offer I couldn't resist: you can come with us next week, but no writing about it! The chef doesn't want any publicity, or to have the public clamoring for entry. Agreed. Joyfully. After that first visit, they have since taken me back again... and I have visited several times on my own, last with Phil Rosenthal (Everybody Loves Raymond creator) and his brother.
So why am I writing about it? Well, it seems that on my last visit with the Chus, one of their guests was Jim Ciccolo of the local International Food and Wine Society, and at the end of the evening the chef had agreed to open on a Sunday evening for a 35-person dinner for its members. Knowing that the cat was out of the bag, Leo indicated that perhaps I could write "just a few words" in my newsletter. And the foodblogging world has now written about it extensively... Kevin Eats, Yelp, Gourmet Pigs, Urbanspoon and the like. Several celebrities have even boasted about going, including Cheech Marin in the L.A. Times.
A few words would not do justice to this extraordinary experience... I'm not sure any amount of words can do it justice. Just remember that this story is for your reading pleasure only... using my name will not get you in, and will probably get me banned forever. What's the attraction? Why so desirable? Certainly it's not the atmosphere, which frankly is surreally non-existent. It's a deceiving storefront at 10610 Pico Boulevard, across from a McDonald's, with the name Teriyaki House above the grate and the word 'deli' on the awning.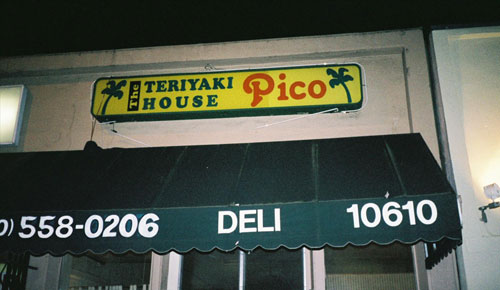 It looks closed and gated (although there is an "A" health rating in the window)... but if you knock on the door and mention the name of your host, the charming Japanese woman (wife of the chef) opens the door, holds the curtain aside, and you enter... to a narrow, dingy interior with empty wine bottles (many of famed reserve vintages) lining the shelves, with several tables of various sizes divided by Japanese tatami screens to give an illusion of privacy. Not fancy at all. Nondescript. The kitchen runs along the right side of the room, open, but a high barrier prevents you from looking in.
I have seen both Japanese and non-Japanese diners here, some suspiciously familiar entertainment types. Ivy and Leo Chu never do things by halves, so each visit was a full table of about 20 interesting people, with Taro Ito, the G.M. of their Hollywood Park Casino and a fine wine enthusiast, selecting vintages. I don't believe that they have a wine-and-beer license, so you bring your own, no corkage. I brought a few six packs of Japanese beer, which goes well with the food. The chef is a wine enthusiast, do if you have a fine bottle of red, you share it with him.
Oh, that food. Did I explain that the real name of this restaurant is TOTORAKU, and that it is Yakiniku cuisine? No menu, of course. No help except the wife and son of 48-year old chef/owner Kaz Oyama, a golfing and wine enthusiast. Once our group was settled in, the woman brings out a platter of what I can only describe as amuse bouche: cantaloupe with prosciutto; fried tofu cubes topped with a piece of grilled toro; Japanese potato salad with a sliver of fried fish; rice paper-wrapped salmon with avocado and daikon; caprese antipasto - a piece of Japanese tomato and cube of buffalo mozzarella; a hard-boiled quail egg with a dollop of caviar; steamed asparagus with a sauce, and a Japanese vegetable gelatin. My advice - knowing what was coming, go easy on these. Actually, she'll whisk the platters away and replace them with... square ceramic Japanese hibachis topped with metal grills and filled with glowing coals of hardwood charcoal imported from Japan. Three on our long table.
Then... the beef extravaganza begins. A plate of raw sliced filet, cut into narrow slices about an inch in thickness. Not particularly marbled. Ivy placed them all atop the grill and we wielded our chopsticks to assure the proper degree of doneness. (I like everything rare). We had dishes of soy sauce and ponzu sauce in front of each place. Good flavor. Before we could catch our breath, the next platter of raw beef emerged... short rib. This meat was extremely marbled, lines of white running through the thin slices. They cooked fast, and tasted rich. I asked for a bowl of rice, since I like to shovel my meat in with a taste of rice. Then came something unique, a plate of beef which could be eaten raw or grilled... it was (and she made a sweeping gesture) from the throat of the cow. Springy, and I ate it raw to get the full flavor. It was suggested that we put some of the mashed raw garlic in the soy sauce and dip it. Then came a completely different texture of sliced beef... what the waitress described as 'inside of ribeye,' a completely new taste. A dish of spicy kimchee was passed... delicious, but too garlicky for me. The flavors of each cut were distinct and come out through the level of marbling and, indeed, the way it is cut. One night it was beef tongue, slices of light pink meat of which I ate some raw and then grilled. Last night it was liver, but unlike any liver I have ever eaten. Crimson slices sitting in a thick, salty sesame oil sauce topped with green onions, so good that I was not too abashed to eat a slice raw and loved it, somewhat like a raw oyster, slippery, chewy. I cooked one, too much fire and it was livery. A big bowl of tasty Japanese Momotoro tomatoes in a light vinaigrette was brought, along with a bowl of ruffage: cucumbers, celery, cabbage and carrot slices... so much for vegetables. I was on my second bowl of the delicious rice.
Next was the 'outside of ribeye,' a different texture and flavor, dressed with what seemed to be a subtle sauce... enhancing the beef without disguising it. Smoke slowly rose and hung over the table, redolent of the odor of seared beef. Just when it seemed that I couldn't handle another slice of beef, the waitress brought out skirt steak, and I was off... grilling it for a few seconds (the charcoal was now really hot, and she adjusted the flame on the grill). Less fatty than the short rib, a completely wonderful and intriguing taste of deep, earthy beef. It seems that the chef deliberately alternated the cuts between 'fatty' and 'lean' ones. But we were not done with this meal, not by a long shot. Ivy and Leo always order a shellfish soup to finish the dinner... and out came a huge bowl of seafood broth with the thickest, most resilient udon noodles and a whole Alaskan King crab cut into bite-sized morsels. Leo did the serving honors, we all had two bowls of the crab noodle soup. The chef's wife then took our ice cream orders: I had espresso ice cream and coconut ice, a refreshing conclusion to a truly astonishing dinner. Cost? The basic meal starts at $180.00 a person, but can quickly escalate as more courses are ordered, and, if you go for the seafood soup instead of the regular Kuppa egg drop version, it is extra. Worth it? Are you kidding? I only wish I could arrange for all of my friends to experience it. But it wouldn't travel, could not be replicated, and is a once-in-a-lifetime experience. When the smiling chef, Kaz Oyama, came out to much applause, he shyly handed me his card... and he didn't flinch as I handed him a copy of my Jay Weston's Restaurant Newsletter. I'm only glad that I finally breached the curtain on Pico and have the memory of this wonderful beef extravaganza.
To subscribe to Jay Weston's Restaurant Newsletter, email him at jayweston@sbcglobal.net for details.
SUBSCRIBE AND FOLLOW
Get top stories and blog posts emailed to me each day. Newsletters may offer personalized content or advertisements.
Learn more