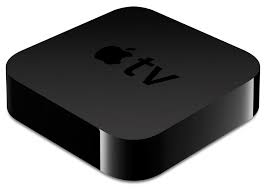 Apple TV was one of the technologies conspicuously absent from Apple's iPhone 5s announcement, which featured updates on other Mac products. However, just as we began to wonder if Apple TV was going the way of the dinosaur, an intriguing rumor bubbled to the surface about forthcoming updates. In addition to an anticipated software upgrade that's imminent this week, it's possible that Apple may be developing a new console. As I contemplate my own Apple TV, untouched except for the first time I turned it on, only to be completely underwhelmed, I wonder: who really uses Apple TV, and what's the outlook for the technology?
The current generation of Apple TV is designed to let users access digital content on their TV. Currently, without Apple TV, content is only accessible on the Apple devices themselves, as well as Windows PCs. Thanks to Apple TV, you can watch Netflix, YouTube, and other services. But Xbox and Playstation offer these capabilities as well; what capabilities does Apple TV bring that are unique? Apple TV does allow you to use AirPlay technology to stream content from your other Apple devices to your television. When initially developed, this service was innovative. But now gaming consoles, Smart TVs and other devices offer comparable functionality. The landscape is rapidly evolving, and Apple TV doesn't have a compelling unique value proposition.
Implications of the Impending Software Update
The latest iOs software update had two major implications. First, it changed how AirPlay works and how content is shared between devices. It gave users the option to select the media on their iPhone and shift it to the Apple TV. The content then streams from the cloud, saving battery life and essentially rendering the original device a remote control. Second, new functionality also allows users to send content to Apple TV boxes that they don't own.
Here's the catch: for the new functionality to work, content needs to reside in the cloud. In other words, it has to be purchased via iTunes or synced up to iTunes using iMatch.
The timing of the update was well-planned. There's a lot of innovation happening in the streaming devices space, from Spotify Connect, to Google Chromecast, to recent updates to the Roku, to the development of cheaper Smart TVs. Apple followers are suggesting that rumors of a new Apple TV console could be true. The latest guesses are that the new console could be announced as early as Tuesday, October 22nd.
So why is Apple making these investments? It turns out that the device is a big seller. It's the most popular streaming device on the market, with 56 percent market share according to the latest Global Consumer Video Devices Market report. The hottest audience is among those that have an integrated Apple suite of products, and want to take advantage of the AirPlay technology described above.
The opportunity here isn't about attracting new customers. Strategically, Apple TV represents an opportunity to further entrench devoted Apple fans into a world that blends streamlined content consumption, device integration, and connectivity. It remains to be seen whether the latest generation of Apple TV technology will encourage more people to buy or give the technology another chance. I, for one, intend to dust off the box and see whether the latest iteration of the technology sells me on a fully Apple streaming world.