With baseball's Winter Meetings only a few days away, the free-agent market is beginning to gather momentum. It's an exciting time for fans to construct hypothetical line-ups with newly added players and ponder how they affect their World Series chances. Though the buzz about adding free agents is mostly positive, there is one factor that is often overlooked: most free agents are old.
The graph below shows the number of veteran free agents available this offseason by age according to ESPN's Free Agent Tracker.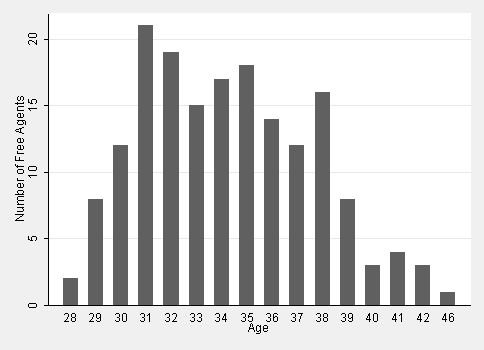 The ages of this year's free-agent class range from 28 (Rich Harden) to 46 (Randy Johnson). The average age is 34, with half of the players between the ages of 32 and 37. Some of this is a product of the system: you can't become a free agent until you've been in the league for six years, so even the best players don't get the opportunity to enter free agency until their late 20s. And some of these players are hitting the free-agent market again. But still, even the top candidates in the free agent market are thirty-somethings: Matt Holliday will be 30 and Jason Bay will be 31 for the 2010 season.
If you follow sabermetrics, you're probably familiar with the notion that the peak age for baseball players is 27. If this is the case, then the best players are several years past their prime. What does this say about how they'll perform during the long-run contracts that top free agents typically sign? For example, last year's top free-agent pitcher CC Sabathia will be seven years past his hypothetical prime once his contract expires when he's 34.
There is no doubt that age will sap players of their ability over the course of most free-agent contracts; however, the decline isn't as pronounced as many people believe. In a recent study, I examined the playing careers of many players over a span of 86 seasons to see how players aged. After controlling for a multitude of factors that might affect player performance I found players peaked around 29---and this holds for hitters and pitchers. And I've proposed some explanations as to why past studies have found lower peak ages.
More important than the later peak is the fact that the rate of rise and decline is not all that pronounced. Though old players may not be what they once were, the evidence indicates they can still be valuable. Players are who they are, and will perform slightly better and worse than their peaks from their late-20s through early-30s. I find that players perform within two percent of their peaks from ages 26 to 32. Extending beyond this range, the dropoff isn't particularly steep. According to my estimates, a hitter who has a .900 OPS at his peak would be expected to post around an .850 OPS at 35; a pitcher with a peak 3.5 ERA is expected to post around a 3.75 ERA at 35.
Player performance tends to plateau with age rather than peak---more like Stone Mountain than the Matterhorn. Therefore, a good free agent in his early-30s will likely still be a good player when his contract expires. When evaluating free-agent signings, talent difference across players are more important than the age of players. As Bill James opined in his study of aging in his 1982 Baseball Abstract.
Good hitters stay around, weak hitters don't. Most players are declining by age 30; all players are declining by age 33. There are difference in rates of decline, but those differences are far less significant for the assessment of future value than are the differing levels of ability.
There is no doubt that older players are more risky than younger players, but that doesn't mean that the old guys don't have some good baseball left in them.