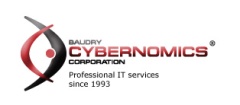 Most are not surprised when told that approximately 30% of a business's waste is paper. When asked how much is spent per annum on paper, toner and ink, the most common answer is "I'll have to get back to you on that."
As companies are cutting costs and freezing spending, the push towards paperless is more prevalent than ever.
On May 5th I attended the Greener IT event which touched on the different strategies companies can use to cut costs in their printer/paper department.
The first step is say to good-bye to personalized printers. It's just too easy to press the print button, and they are more difficult to monitor how much they are actually costing your business. By using one main multi-purpose printer per department, it makes it easier to track who is printing, how much toner/ink they use and it simply cuts down on your business power consumption.
The next step is to move to electronic filing systems. Instead of using the traditional filing cabinets, move towards using your electronic filing system. Beware! We all know technology fails so don't forget to use a backup system for important files. A USB key or an external hard drive is a perfect alternative to our paper predecessors.
The easiest step of all is having your IT guy set the default on all printers to print double sided. This should immediately cut down your paper waste by at least 30%, if not more.
Suggestions and new ideas are great when discussed in the board room, but the difficult challenge that most business face is implementation. Your staff will be less than impressed when their printers are moved from within their office to the 3rd floor, and potentially annoyed when their documents are printed on two sides and are difficult to organize. It's a known fact that people don't always deal with change as simply as we'd like. Your staff may complain at first because large documents may become more difficult to organize. Be understanding with their concerns but reinforce how these simple acts positively affect your business and the environment and they should come around.
With any green project or initiative, before you implement anything do your research. Find out how much it's going to cost, how much it's going to affect your day to day operations and think about the back drops. If you don't do the proper due diligence, your project will cause more strife than anything else and will hinder any future green initiatives that might actually benefit your business.
If your company doesn't currently have a sustainability officer I suggest consulting with a specialist before implementing any initiative. A consultant will clearly outline the appropriate steps for your business and provide you with everything you need in order to make an informed decision.

For more information on how you can green your IT usage and Green IT consulting please visit http://www.cybernomics.net.