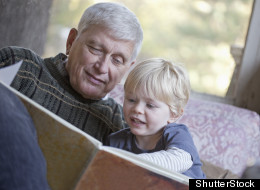 (Huff/Post50 is celebrating Grandparents Day, September 9, with a series of special stories and essays. Jean Reagan is the author of "How to Babysit a Grandpa.")
Celebrate Grandparents Day by sharing a book with a child. Or a stack of books!
What's so grand about grandparents, anyway?
Grandparents as pinch-hitters often offer the grandchild a fresh, more relaxed love than most parents can manage 24/7. The challenge of parenting a child while juggling work, community, partners and perhaps school can be overwhelming. But grandparenting is parenting with a "do-over" option. Grandparents usually have full adult lives behind them. Grandparents know it doesn't pay to sweat the small stuff, so their love can be easy-going.
Grandparents enjoy a more peaceful stage of life, allowing them the time and energy to be more playful with their grandkids. Authority and power between the child and grandparent is less defined, less one-sided, creating a more equal, playful relationship. Grandkids help the grandparents recapture their younger years, both the delights of childhood and the wonder of becoming a parent.
Grandparents are often the first window that expands a child's vision beyond the immediate nuclear family. Grandparents create an organic connection to the past which may offer the traditions of a rural life or a different culture or just an earlier time. Through family stories, children savor and preserve these roots. And through family stories, children can even imagine their own parents as children. That's mind expanding, for sure.
Grand folks, of course, need not be blood relatives to serve as grandparents. Growing up in Japan, I saw my grandparents only every five years; yet I had a slew of neighborhood grandparents we all called "Obaachan" (Grandma) and "Ojiichan" (Grandpa). Children thrive from the love and attention of a multitude of stand-in grandparents. Joyfully for us, this love and attention is reciprocated.
What's so grand about grandparents? They expand the grandchild's world of love and belonging. In return, the grandparent is reintroduced to the wonder of childhood and the rewards of parenting.
My dad was definitely one of the inspirations for this book. Watching my dad play with my kids gave me lots of ideas, but I also asked other kids, grandkids, grandparents and parents, "What do you enjoy doing with your grandpa?" This "research" created a long, long list. Of course, there wasn't room for everything, so I chose my favorites and wrote "How To Babysit A Grandpa" (Alfred A. Knopf) around these activities.
Each summer I volunteer as a wilderness ranger on a lake in the Grand Teton National Park in Wyoming. I welcome back families who stay at the same campsites year after year. Campers who brought their children now bring their grandchildren. I've even heard stories of long-ago grandparents who honeymooned in the park in the 1920s. As I canoe by the lakeshore campsites, I watch grandparents envelope kids with relaxed, playful, expansive love, and I witness that love radiated back. That is what's so grand about grandparents.
When you grab that stack of books to share with a child, you may want to try some of my favorite grandparent books -- classics and newbies, but all beautifully illustrated. And remember: don't let a narrow definition of grandparent slow you down. As a non-grandparent myself, I don't!
Wilbur, a naked mole rat, breaks tradition by donning clothes to the horror of his family and community. Finally the "Grand-pah" settles the matter by donning clothes himself.

When Mona visits Grandma in her Palestinian village, they can only communicate through gestures and smiles or when her father translates. Despite this challenge they enjoy a bond that continues when Mona returns to the U.S.

An exuberant girl describes a day spent with grandma and grandpa that ends and begins at the kitchen window which also playfully enables "everything important."

A Navajo boy hears once again his birth story from Grandfather as they sit around a cozy campfire. Grandfather reassures him of his power to survive and prevail, despite his blindness.

A delightful story of a girl telling her toddler brother about all the fun awaiting them at Grandma and Grandpa's house. The anticipation builds and nearly leaps right out of the book.

On Saturdays the child visits her grandparents from a European ancestry and on Sundays she visits her Mexican-American grandparents. The story culminates with a joint birthday celebration.

A stand-in grandmother, who is technically the child narrator's great aunt, is also known as The Lupine Lady. She beautifies their world by scattering lupine seeds and implores the children to "make the world more beautiful."

Allen Say tells the story of his grandfather's journey to the US and his subsequent return to Japan. Say, too, shares his grandfather's love for both countries.

Babushka helps Patricia overcome her fear of thunder when she was a child by rustling up all the ingredients to bake Thunder Cake before the thunder arrives.

Suhaila is magically swept away to the moon by her grandmother she has only known from her mother's stories. When Suhaila returns from the dream, she says, "Mama, I met her!"

When Eli is born and then when his little sister is born, the grandparents hold them up to the open window to show them "all the places to love" are right here on this family farm with sweeping meadows far below.