"With Sympathy"
The most indelible support system during end-of-life and bereavement is made up of nothing more -- and nothing less -- than human connections. When we cannot cure, but we can connect.
A colleague of mine recently heard Lisa Riggin, a senior writer for Hallmark, speak about how she supports and connects through greeting cards, at this year's Association for Death Education and Counseling conference, titled "Dying, Death, and Bereavement: It's All About the Stories." When my colleague told me how deeply moved he was by her story, I wanted to hear more -- about her and about how she reaches out to those who are grieving. She kindly agreed to answer some questions and discuss that human connection we strive to make in trying times.
What are your guidelines when writing sympathy cards?
"The first guideline is respect. Respect the person, respect the experience. Don't gloss over difficult feelings but use them to write something that offers a glimpse of comfort or hope -- without telling someone what to feel.
I often sit in the feeling of my own losses because that gives me empathy. When we remember, when we listen closely, we can bring together those threads that are universal and meaningful and weave them into a message that speaks to people."
How does your life experience inform what you write?
"We just celebrated Mother's Day. I'm a mother, but it took me a long time; I had three miscarriages along the way. I was recently asked to write a Miscarriage card, and I drew on my own experience. Often a miscarriage happens very early in a pregnancy, but you've already fallen in love. That's hard to explain to someone if they haven't gone through it, and I was able to speak to that in the card:
Even those closest to us
may wonder why we can't seem
to get over it.
What they don't understand
is how we already
loved that little one--
and love never ends.
It was my journey, but in synthesizing my experience and that of others who've been through it, I was able, I hope, to get to that place where we all have something in common. Many people reported back that they found the message very comforting."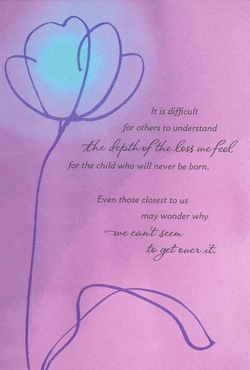 Where do you get your ideas and inspiration?
"My first husband died in 1990 after a seven-month journey with cancer. I often use his story and the experience I went through as inspiration, and not only in sympathy cards. It's his story that I tell again and again in different ways. For me, it's an incredibly healing process. My father died a while back, when I was twenty-seven. I can always recall those experiences if I allow myself the time. I remember what I felt and what I needed.
I wrote a card for Loss of Husband early on in my career. The feeling that kept coming back to me was: No one can know exactly what you're going through. That's what it felt like to me when I went through it. So that seemed like a logical place to begin."
Do you get much feedback on your cards?
"Occasionally we do. I want to share a powerful story from a colleague of mine, Jim Howard, who got a call from a man who'd just lost his three-year-old son and was so moved by a card Jim had written that the father wanted to use an excerpt for his son's epitaph.

Where I have gone,
I am not so small.
My soul is as wide
As the world is tall.
I have gone to answer
The call, the call
Of the One
Who takes care of us all.
Says Jim, 'This event changed, forever, my idea about being a greeting card writer. It reminded me in a deep, abiding way that we have a responsibility to speak as truthfully and imaginatively as we can to the essential things, the ultimate things, in life. Especially in Sympathy, where the range of relationships between sender/recipient/deceased can be so varied, we can't default to the same old shopworn phrases and must really engage that full range of emotional depth.'"
Is card writing a timeless art, or are messages and situations constantly changing?
"There are so many situations, which is why there are so many cards. One thing we've been trying to do at Hallmark is look at situations as more of a process. More and more, people battling cancer or other terminal illnesses are willing to see and speak to it as a journey. We are trying to support people through the entire journey, through the ups and down. After a death -- that's a journey, too. The people who are left behind grieve for a long time, forever in some ways. How can you support and comfort them through that journey?"
Can you give an example?
"A colleague of mine, Alarie Tennille, was going through a difficult move to another city and wrote a card of thanks to a friend who'd helped her out. That friend was terminally ill with cancer and wanted to send that same message -- beginning with, 'There have been angels in my life' -- to all the people who'd helped her on her journey. It was eye-opening to us that someone who was ill herself would want to send out a message."
How have sympathy cards evolved in the age of instant messaging and social networking?
"A sympathy card is no longer the only point of contact. Now, the first thing you send may be a text or an email, or a message on someone's Facebook page. So the card has to be cognizant of that, that this isn't the first time a sender may have reached out. I was on a project recently, a Get Well and Encouragement card that took into account that the sender had had continuous contact with someone, by whatever means, and that this card was more of a checking in. Something like, In our conversations..., or, As we've said to each other many times...
A card used to be what we called 'one and done.' It isn't that way anymore. A card is only part of the whole process."
How is a card different from those other mediums and messages?
"People like having that tangible thing to put in a file and look at later. I still have all the sympathy cards from when my husband died. This is something we hear a lot from people: a card shows someone took the time. A text, an email, even a phone call is pretty quick. With a card, you know that the person had to go and get it, put some thought into choosing the right message. A card is great vehicle for opening up a conversation. You can always add something to the card. And the recipient can respond. It opens a door that might not have opened otherwise."
What are your suggestions for writing or choosing sympathy cards?
"My biggest suggestion is do it. It doesn't matter what you say as much as that you say it, even if it's just I'm so sorry. Don't let the opportunity to show you care get past you. It's vital to your relationship, to the person who's hurting.
You don't have to be eloquent, and you don't have to go on and on. Whatever is in your heart is right. Honestly, you wouldn't be thinking about doing this at all if you didn't care. The gesture lets someone know they're being thought of and that people care.
You can't be preachy; that's the last thing you can do. The person is very vulnerable and sensitive because they've been broken open. If you have strong spiritual or religious feelings that you want to offer the person who's grieving, do it gently.
Sometimes when I shop for card, I know the person who's grieving more than the person who died. I can't send a card about someone I don't know, so I want to talk about what's most important between us: our friendship, our family relationship. I want to convey: I know you and I care about you."
Share your own suggestions or stories about sympathy cards--giving or receiving.