Are gingerbread houses really meant for eating?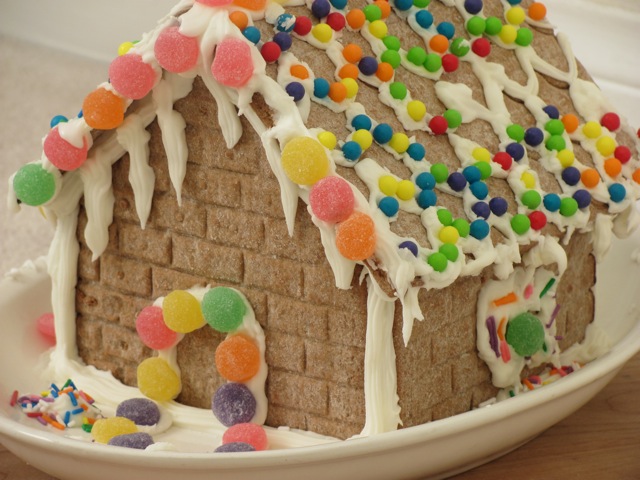 We built this candy-laden bungalow from a kit, with the intention of keeping it until Christmas as a nice holiday decoration. But ever since we put it together there's been a spirited debate going on in our house about whether or not we should actually eat it. Parents' view: No, it's meant to be looked at and admired, not eaten. Besides, it won't taste any good. It'll be stale! Kids' view: Let's bash the thing and dig in!
So we decided to take a new approach and build a second gingerbread house -- an "eating" gingerbread house, if you will. It still isn't the healthiest thing in the world, but it's sure a lot better for you than what we made the first time around.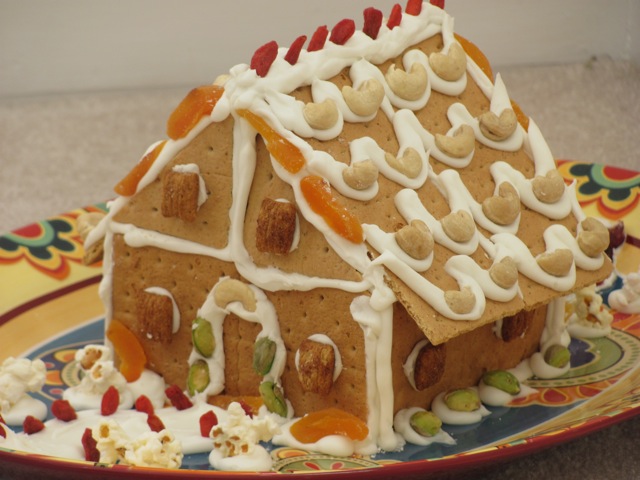 This "eating" house is constructed out of graham crackers and it is decorated with dried cranberries, dried goji berries, dried apricots, cashews, pistachios, popcorn, and cereal. It's held together by homemade royal icing (recipe below). This icing is designed to dry quickly -- and hard -- to create a firm adhesive for your walls and roof.
Thinking about making your own gingerbread house? First, decide if there's a chance you're going to eat it. If the answer is yes, you've got three basic options.
Option one: Do what most people do and just ahead and buy a kit. But keep in mind that you don't have to stick to the decorations that are in the kit. You can embellish your own design by adding your favorite dried fruits, nuts, pretzels, or popcorn. Heck, you can decorate it with your favorite expensive chocolate if you want.
Option two: Make it from scratch. We like this gingerbread recipe and step-by-step instructions from Disney's Family Fun. This recipe avoids the problem of having the walls cave in by building the walls around a cardboard "inner house" created from a shoe box. We also like this pictorial step-by-step guide from King Arthur Flour. Hint: When you position the wall and roof pieces, hold them in place for at least a minute before letting go to make sure the pieces adhere properly.
Option three: You can combine the store-bought and homemade approach by using graham crackers as we did in our "healthy" house. The advantages: Graham crackers are already perfectly square for building, and they're reasonably sturdy, so you can go crazy with the heavier decorations when you're ready.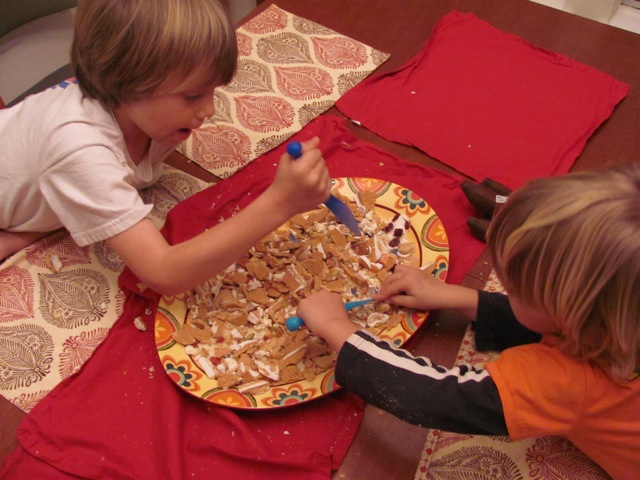 Oh -- and just in case you're wondering - there are very few things that are more fun than smashing a gingerbread house in preparation to eat it. Even though it's the "healthy" house, this is still one happy demolition crew.
And now for the icing recipe:
Royal Icing
2 1/3 cups powdered sugar
2 egg whites (we use Safest Choice pasteurized eggs)
1/4 teaspoon salt
Combine ingredients in a medium bowl and blend at medium-high speed until thick and creamy. Place the icing into a pastry bag and pipe it onto your gingerbread pieces to create a gingerbread house. If you don't have a pastry bag, scoop the icing into a small plastic bag, seal the bag, and then trim a very small corner of the plastic bag to make an opening from which you can squeeze the icing. Use immediately. Makes enough to frost one small gingerbread house.
Want to ogle some national-caliber gingerbread houses? Check out the National Gingerbread House Competition Display in Asheville, NC from now through January 1. And FYI, kids, those gingerbread houses are just for looking.
Jeanne Ponessa Fratello is the editor and founder of The Jolly Tomato, a kids' food and nutrition site.
SUBSCRIBE TO & FOLLOW THE MORNING EMAIL
Start your workday the right way with the news that matters most. Learn more