With the Arizona Supreme Court giving the final green light last week, the historic recall election of self-proclaimed "Tea Party President" and SB 1070 architect Russell Pearce has diverged into a spectacular display of high road and low road politics.
While a bipartisan community effort for moderate Republican leader and educator Jerry Lewis has grown across Mesa's 18th District, emphasizing a positive campaign for jobs, education and a "balanced approach to immigration," Pearce and his Tea Party supporters have openly flaunted a series of dirty tricks, all of which appear to have backfired.
Thanks to the legwork of Phoenix New Times reporter Stephen Lemons, legendary Phoenix videographer Dennis Gilman and a growing legion of Pearce watchers, virtually every attempt by Tea Party activists and Pearce supporters to intimidate, mislead, litigate and even plant a bogus Mexican American candidate to confuse voters and derail competing votes, have been exposed.
Take the phantom campaign of Olivia Cortes, who is officially on the ballot as the third candidate for Pearce's state senate seat, despite that the fact that she has failed to hold a single public meeting or press conference. Last Thursday, at a Republican meeting of the neighboring 19th district in Mesa, Lemons and Gilman recorded Pearce supporter and former Republican district chair Pat Oldroyd admitting that she had circulated petitions for Cortes in an effort to split the vote for Lewis. On September 9th, Lemons confronted East Valley Tea Party Chair Greg Western for planting Cortes as a candidate as he turned in Cortes' petitions at the Secretary of State's office.
In one of the more insidious developments, signs invoking Arizona native Cesar Chavez's "Si Se Puede" slogan on behalf of Cortes are now posted across the district.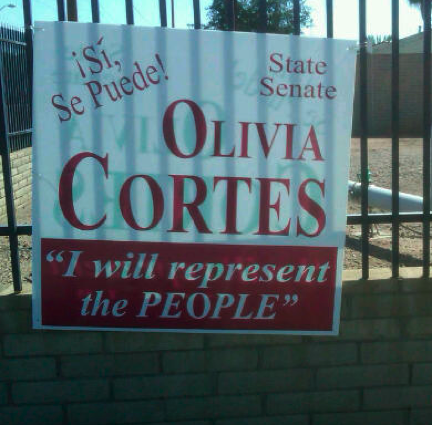 photo by Jeff Biggers
For some observers in Mesa, such a blatant move by Pearce supporters underscores his floundering campaign.
Pearce, who raised less than 7 percent of his campaign funds in his 2010 senate race from his own Mesa district, has been forced to seek out the support of anti-immigrant hardliners from around the country, including former Constitutional Party gubernatorial candidate Tom Tancredo. After Pearce's personal website was exposed for numerous copy-and-pasted texts from some of the nation's most notorious white supremacists, he refashioned his website with a banner from controversial Los Angeles activist Ted Hayes, who referred to Pearce as a "modern day Abraham Lincoln":

Meanwhile, in clear violation of Mesa sign codes, Pearce supporters are openly defying city warnings with their misleading and illegal signs against one of the Citizens for a Better Arizona recall organizers, Randy Parraz. Despite a threatened lawsuit for numerous calumnies--the signs accuse Parraz, a former US Senate candidate, of supporting open borders and the boycott against Arizona, and opposing the "rule of law"--and citations by the city, Pearce supporters have continued to place the signs around the Mesa district: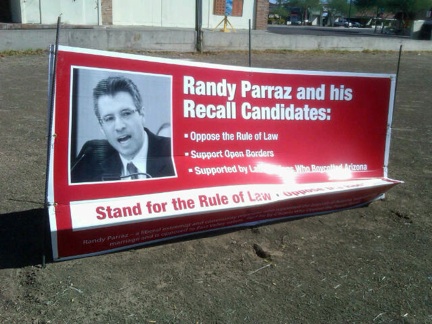 photo by Jeff Biggers
With less than two months to go until the November 8th recall election, it's hard to imagine how much lower Pearce's campaign can go.
In a sign of the times to come, right-wing Congressman Trent Franks (R-AZ) sent out a fundraising letter last week, which breathlessly (and erroneously) declared that "liberal groups from all over the country are expected to spend more than one million dollars," alongside the efforts of "left-wing open-border activists, and smearing the hard work and good reputation of our friend Russell Pearce." Calling on all patriots to "not let Senator Russell Pearce become the first State Senate President in American history to be recalled," Franks threw down the gauntlet: "They will do anything to defeat the author of SB1070."
In truth, Pearce and his Tea Party have already shown they are willing to do anything to keep him in office.