Setting a new attendance record, an estimated 150,000 book-lovers gathered on the National Mall in Washington, D.C for the 10th annual National Book Festival, organized and sponsored by the Library of Congress. I invite you to view all my images in very high resolution by clicking here.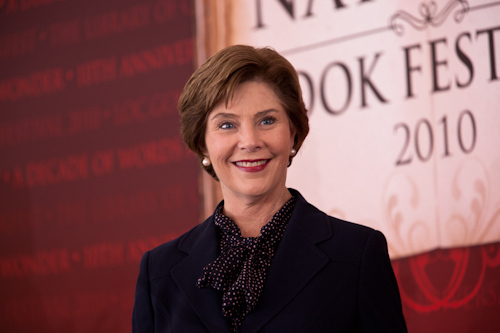 In 2001 then First Lady Laura Bush joined with the Library of Congress to launch the first National Book Festival in Washington. At this year's event, she read selections from her memoir, Spoken From the Heart, about her eight years in the White House.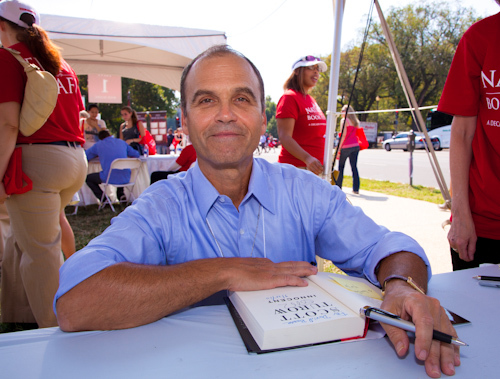 Scott Turow's books have won a number of literary awards, and his books have been translated into more than 25 languages, sold more than 25 million copies worldwide and been adapted into a full-length film and two television miniseries.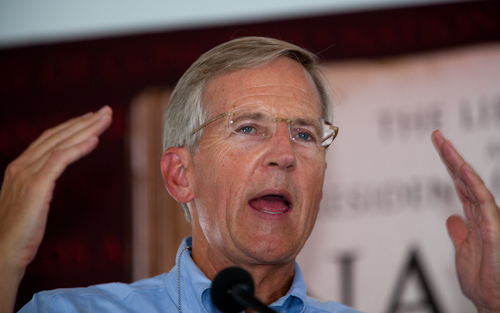 Veteran journalist Evan Thomas is leaving Newsweek after nearly a quarter-century with the magazine. He is departing to concentrate on teaching journalism at Princeton and writing books and is currently at work on a biography of President Dwight D. Eisenhower.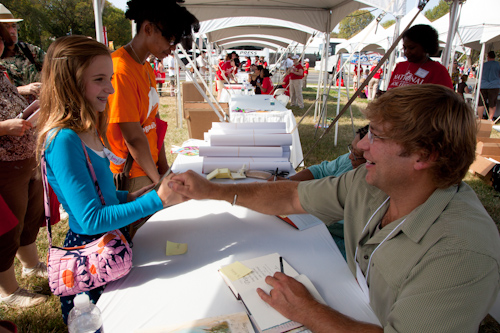 Timothy Basil Ering signs a book for Paige Young of Kennett Square PA. Ering has illustrated numerous books for children of all ages.
Orhan Pamuk is one of Turkey's most prominent novelists -- his work has sold over seven million books in more than fifty languages, making him the country's best-selling writer. Pamuk is the recipient of numerous literary awards, including the Nobel Prize in Literature 2006 -- the first Nobel Prize to be awarded to a Turkish citizen.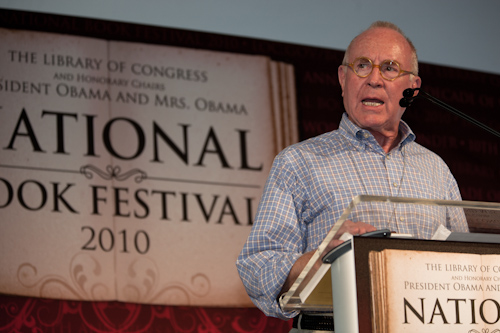 Richard Rhodes is the author or editor of more than 20 books, including The Making of the Atomic Bomb, which won a Pulitzer Prize in Nonfiction.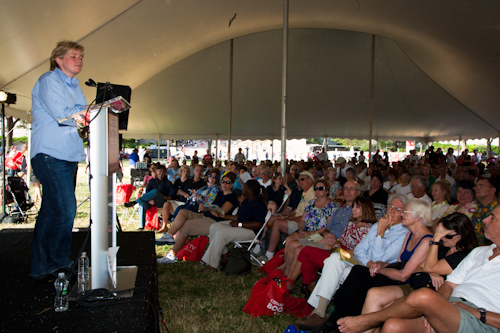 Karin Slaughter has been writing novels and short stories since she was a child growing up in a small Georgia town. Her newest book, Broken, (Random House) is the third to feature Special Agent Will Trent. Besides finding a home on the New York Times best-seller list, her books have been a Book Sense Top Mystery Pick and an International Book-of-the-Month Club selection.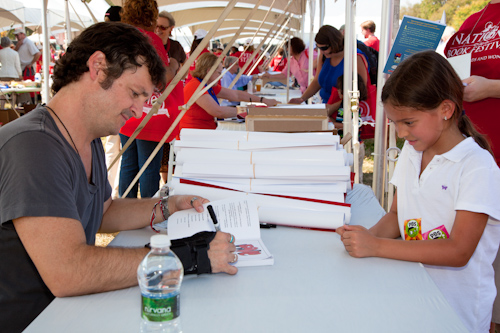 Jeff Smith signs a book for young Emma Shacochis of Herndon Va. Jeff Smith is best known as the writer and artist of BONE, an award- winning adventure about three cartoon cousins lost in a world of myth and ancient mysteries. In 2008, Smith was the subject of a documentary called The Cartoonist: Jeff Smith, BONE, and the Changing Face of Comics.
Librarian of Congress James H. Billington issues closing remarks. Dr. Billington is the 13th incumbent of that position since the library was established in 1800. Under his leadership, the library has expanded its public outreach, most notably in major international exhibits and through the establishment of a new National Digital Library and other electronic services for users in remote locations.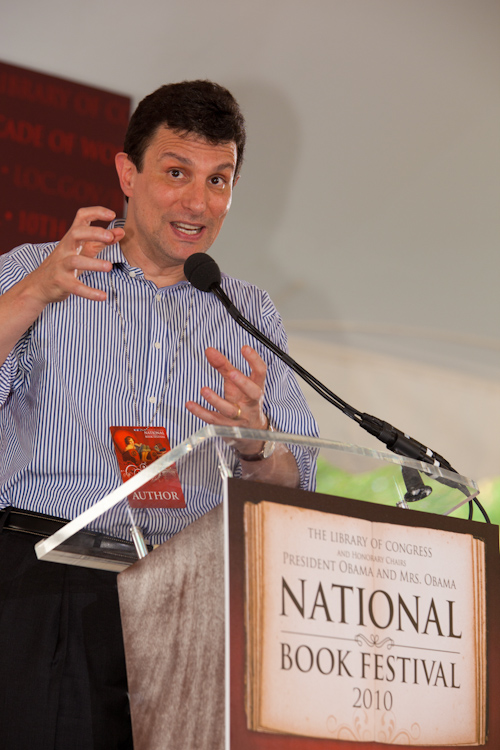 David Remnick has been editor of the New Yorker since 1998; he had been a staff writer there since 1992. Since Remnick became editor, the New Yorker has won 21 National Magazine Awards. In 2000 Remnick was named Advertising Age's Editor of the Year. His book Lenin's Tomb is an account of the unraveling of the Soviet empire and was a New York Times best-seller. His current book is The Bridge: The Life and Rise of Barack Obama (Knopf), also a New York Times best-seller.
I invite you to look many more of my images from the National Book Festival in high resolution by clicking here.