One of the most exciting times of the year for music fans is the annual South by Southwest Conference in Austin, TX. While the conference lasts about 2 weeks with the first half focusing on digital and film, the last 5 days of SXSW are all about the music. The focus is always on emerging musical acts from every style and genre, and every night is filled with dozens of performances in clubs throughout Austin. While there, you're guaranteed to see many of the artists you've been hearing buzz about for last the six months as well as discover some amazing new bands. Below are three of the artists I would be sure to catch next week in at SXSW 2011.
WHO: Ellie Goulding
WHAT: SXSW Showcases
WHERE: 2 shows: March 16th at The Bat Bar & March 17th at Klub Krucial, Austiin, TX
WHEN: Bat Bar - 12:00am, night of March 16th, 2011; Klub Krucial - 11:00pm, March 17th, 2011
WHY: If you're from the UK, you're already well familiar with Elena "Ellie" Goulding. Her album, Lights/Bright Lights, debuted at #1 in the UK and had sold over 350,000 copies by the end of 2010. Stateside, however, this talented singer/songwriter is still somewhat unknown. She's created some great buzz with her cover of Elton John's "Your Song" and her voice, likened to that of Lykke Li and Bjork, has made her a favorite of DJs for vocal remixes. I recommend catching one of her two performances at SXSW this year... guessing it won't be so easy to see her in small venues for much longer.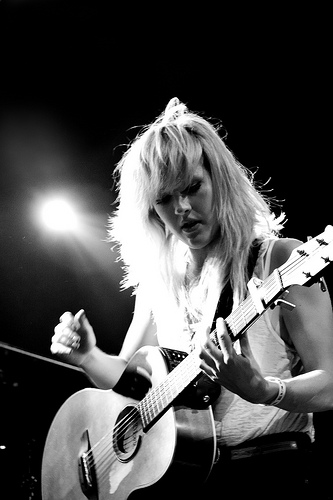 Photo Credit: Bex Wade
WHO: B.o.B.
WHAT: SXSW Showcase
WHERE: Kiss & Fly, Austin, TX
WHEN: Night of March 17th, 2011 - 1:00am
WHY: Already having multiple top 10 singles under his belt, B.o.B. (aka Bobby Ray Simmons, Jr.) is one of the biggest names to perform at the music conference, highlighting largely unknown and up-and-coming artists. He's been featured on tracks with Bruno Mars and Janelle Monae, as well as having Eminem and Paramore's Hayley Williams on his own "Airplanes" track. He can rap, sing, play guitar, and put on a great (and extremely energetic) show. He's an artist and true entertainer who's definitely worth catching (and I'd recommend getting there early).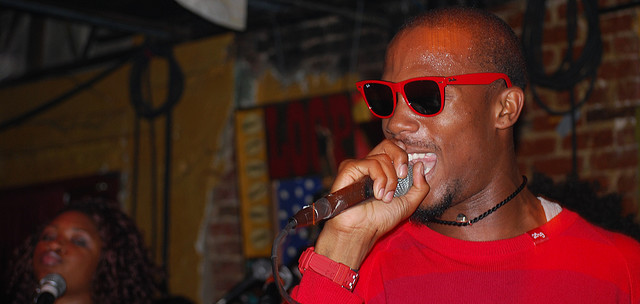 Photo Credit: Akeem Koss
WHO: Sleigh Bells
WHAT: Woodie Awards Performance
WHERE: "mtvU Woodie Awards" in Austin, TX, broadcast on MTV2
WHEN: Live the night of March 16th, 2011 - 12:00am
WHY: This duo, who created a ton of buzz at last year's SXSW, is hitting Austin again. This time to perform on mtvU's "Woodie Awards," a ceremony that honors the best among the indie and emerging music scene. A leader in the recent noise-pop resurgence, Sleigh Bells is made up of guitarist/producer Derek E. Miller and vocalist Alexis Krauss and brings a unique mix of hard guitars, punk mentality, and pop sensibility to the table. Catch them on the Woodies live at midnight performing along with Wiz Khalifa, Two Door Cinema Club, and OFWGKTA on MTV2.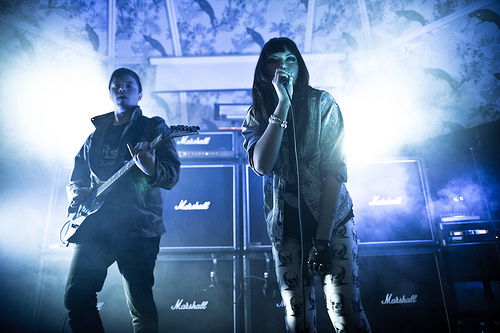 Photo Credit: blikeng
SUBSCRIBE TO & FOLLOW CULTURE SHIFT
Get top stories and blog posts emailed to me each day. Newsletters may offer personalized content or advertisements. Learn more