So which artists emerged in a huge way in 2011 and reached the top echelon of success? I focused on 10 that were standouts this year. Regardless of when the album came out, or when they got their first break, 2011 was the year that each of these artists made it big. It's a diverse list based on the sustained impact they had this year in sales, radio and video play, touring and overall buzz. Here are my picks:
Adele: This list is alphabetical, but it's appropriate that it starts with this phenomenal singer-songwriter. She has to be near the top of everyone's list of the best, most successful, and most influential artists of the year. Though we first heard Adele on her 2008 single "Chasing Pavements," it was 2011 that proved she was not only not a one-hit wonder, but one of the most talented artists to hit the mainstream in years. Her song "Rolling In The Deep" tops many of the "best songs of 2011" lists, and for good reason. Her year began with the release of 21 in January and culminates with six Grammy nominations, including song, record, and album of the year.
The Band Perry: Not many country artists can gain the attention of the pop music world with their debut album, but this trio of siblings from Mississippi did more than just gain some attention in 2011. While it's not surprising that extraordinary singles like "If I Die Young" topped the charts at Country, it's a real feat for a single -from a debut album - to hit the top 5 at pop. It's another young country act with a big future.
Bruno Mars: Bruno Mars' first album, Doo Wops & Hooligans, hit in the top three in 14 different countries, including the US, the UK, and Canada. While he had hits with his own tracks like "Grenade," "Just The Way You Are," and "The Lazy Song," the rest of the music community also took notice. He's a triple threat: artist, vocalist and producer. Aside from his phenomenal solo album, he's lent his skills to artists like Cee-Lo, Eminem, Snoop Dogg, and Lil Wayne.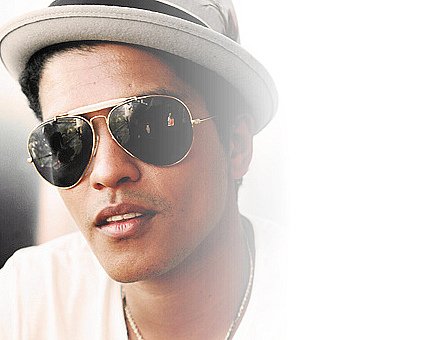 Photo Credit: Aline Camargo
David Guetta: Unlike the vast majority of this list, David Guetta is by no means a new artist. The French producer/DJ released his fifth album this year and prior to 2011, he had already been nominated for multiple DJ, World Music, and Grammy Awards. That being said, 2011 made Guetta a household name. It's almost impossible to listen to Top 40 radio for more than five minutes and not hear a track that he's a part of. On 2011's Nothing But The Beat, Guetta worked with Will.i.am, Nicki Minaj, Usher, Lil Wayne, Chris Brown, Akon, and Ludacris, just to name a few.
Foster The People: Indie rock band from L.A. led by singer and songwriter Mark Foster, Foster the People created a word of mouth following and slowly built momentum over the past couple of years, which culminated in them playing at SXSW, Coachella, VH1's Do Something Awards and other buzz gigs. The infectious sound of one of their songs, "Pumped Up Kicks", grew into one of the only successful rock singles to crossover this year. The band's overnight success may be hard to repeat, as rock artists these days have to follow a pretty pop direction to sustain mainstream success.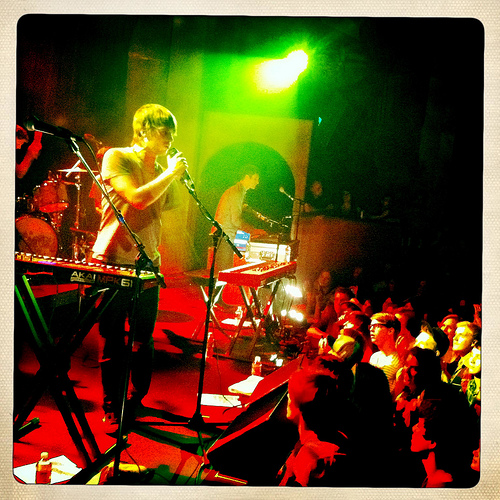 Photo Credit: Julio Enriquez
Mac Miller: Perhaps the most quintessential rags-to-riches story on this list, Mac Miller went from being unknown (at least in the business) to having the #1 album in the country in 2011. A young and talented rapper from Pittsburgh, PA, Miller's put out numerous free mixtapes over the past few years, most of which sound like complete high quality albums. He's produced videos with talented friends and no budget that gain millions of views on YouTube. Blue Slide Park, Mac Miller's first full-length album, was released on November 8th of 2011 and debuted at #1 in the US.
Mumford & Sons: To everyone's surprise, including their own, Mumford & Sons somehow became everyone's favorite band in 2011. Though their album Sigh No More, which features hits like "The Cave" and "Little Lion Man," came out a couple of years ago, it took the boys some time to build their well-deserved buzz. They went from playing small clubs in 2010 to the Main Stage at Coachella in 2011. They were nominated for Best New Artist and Best Rock Song ("Little Lion Man") Grammys in 2011, and are nominated for Record of the Year, Song of the Year, Best Rock Song and Best Rock Performance for "The Cave" in 2012. Not bad for an acoustic folk band from England.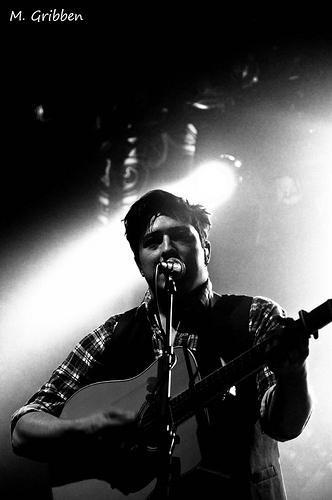 Photo Credit: Meghan Gribben
Nicki Minaj: "50K for a verse, no album out." Nicki Minaj said it herself on Kanye West's song "Monster" in 2010 - she was big even before she put out an album. Signed to Lil Wayne's Young Money Records in 2009, she's been featured on tracks by Wayne himself, as well as Rihanna, Ludacris, Usher, Mariah Carey, Drake, and Britney Spears. Aside from early mixtapes, Minaj's debut album, Pink Friday, was released at the end of last year. While she was definitely known prior to 2011, being the first to ever have 7 tracks on the Billboard Hot 100 at one time this year proved that Nicki Minaj could hold her own on an album, not just as a great guest doing verses.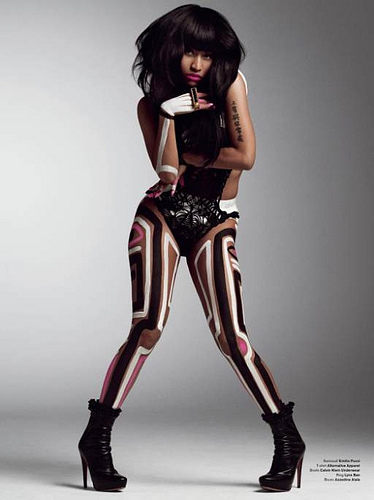 Photo Credit: Chicago Famous Blog
Skrillex: One of the most exciting areas of music in 2011 was the electronic scene. While many of its biggest artists have been around for years and well known in the dance subculture, Skrillex emerged as a newcomer to the electro world just as it started to move toward the mainstream. It's hard to find an electronic music festival that he isn't playing (or hasn't played in the past year). A producer who brings together multiple styles, including dubstep, house, techno, drum'n'bass, and remix, Skrillex is impressive both for in his talent as well as his rapid rise to popularity in the electronic music world.
Wiz Khalifa: The fact that 99% of the people reading this know how to pronounce his last name should be testament enough to Wiz Khalifa's place on this list. We first heard of him in 2010 when he was "the guy who sings that "Black & Yellow'" song; in 2011 he's a rapper with multiple hits, including "Roll Up" and "No Sleep" who's working on his next album with artists Snoop Dogg and Too $hort. He was awarded Best New Artist at the BET Awards earlier this year. Wiz is a keeper.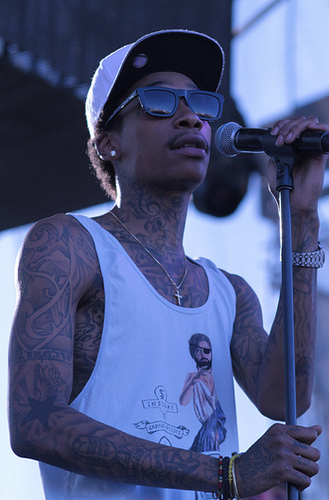 Photo Credit: Weekly Dig