2 Gays Talk People Magazine's 'Sexiest Man Alive' 2012 (VIDEO)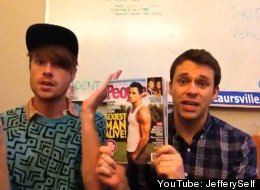 This is the time of year for reflecting on the things that we are most thankful for. For me it's a loving boyfriend, a cool city to live in, a nice family, my iPhone, The Real Housewives of Beverly Hills, peanut butter and People's "Sexiest Man Alive," Channing Tatum.
In this video Bryan Safi and I weigh in on 2012's sexy pick and his pics. See what I did there? Like picture? But pics? No? Not clever? OK. Watch this anyway.
Follow Jeffery Self on Twitter: www.twitter.com/jefferyself