Juliet Landau is a renaissance woman. She acts, writes, directs, produces, edits and for all I know, dances a mean tango, too.
So when Gary Oldman agreed to direct a music video shot entirely on Nokia cell phones for the Jewish Hip Hop band, Chutzpah he realized his three-day odyssey needed to be documented in a behind the scenes "making of" video. With that in mind, Oldman turned to first time director, Juliet Landau to capture his unique vision.
"Juliet Landau is an exceptional talent! I entrusted Juliet to make a documentary film about me and I am thrilled with the results! TAKE FLIGHT is a special film that shows me in a very different light. I will work with Juliet again without hesitation."
-Gary Oldman
What began as a five-minute behind the scenes "making of" film quickly morphed into a 25-minute documentary that is at times oddly transfixing, very insightful and mostly a joy to watch. Much of the film is told from Oldman's POV as he operates one of the "cell-cams. The cell phone footage affords a truly rare point-of-view. "It's like being inside his (Oldman's) brain, seeing through his eyes," says Landau,
She may appear delicate but Landau makes a point of letting people know that she is strong and strong willed. Editing 50 hours of footage down to 25 minutes is a daunting, exhaustive process. Like their screenwriting counterparts, documentary filmmakers strive to tell strong character-driven stories with tension, and a narrative arc that keeps the viewer engaged from beginning to end. Landau makes it look easy.
In the weeks leading up to the release of TAKE FLIGHT, Landau engaged in a whirlwind of interviews, marketing strategies and updates via social media, all the while editing a viral campaign in hopes that it would be ready in time for its target release date, February 25th.
Jeffrey Berman: Prior to shooting TAKE FLIGHT, how did you approach the story you wanted to tell and did the final product reflect your initial concept? If not, how did it differ?
Juliet Landau: Well, first of all, Gary Oldman was about to direct a music video for the Jewish Hip Hop band, Chutzpah, which he was shooting entirely on cell phones. He asked me to direct the "making-of." After I agreed, I realized that although I have been in many a "making-of," I had never actually watched even one. I buckled down and watched tons of film "making-of's," music video "making-of's," documentaries and director commentaries. I made notes about the elements that I found most interesting and riveting. The thru line of those elements began to emerge. It became clear that I was interested in seeing an artist at work, being a party to his/her process. I knew that I was going to have three cameras, and while I would catch all of the action, I was certain that I would stay on Gary as much as possible. I had 50 hours of footage that I condensed into a 25-minute film, which includes Gary's music video at the end. I watched all 50 hours three times through. Gary operated one of the "cell-cam's" which afforded us an extremely rare POV. It's as if the viewer is inside his head, seeing through his eyes. It was while watching the footage that it evolved. I asked Gary if I could make a short documentary and he gave me his blessing to do so.
JB: What was the development process like on TAKE FLIGHT? What kind of shooting outline or detailed treatment did you write to serve as a blueprint for the documentary?
JL: I made a timeline of all of the shots I wanted to be sure to get. But, I also wanted to be open to go with the surprises as they presented themselves. While I did shoot some direct to camera interviews, I always felt it would be more in the vein of verite filmmaking. My outline was two pages long. I would check stuff off as we got it, for instance, having each of the girls sing the Red Rover song. It was always my intention to try to capture Gary's incredible sense of humor.

JB: How did the editing process affect the story you initially set out to tell with TAKE FLIGHT?
JL: Initially I thought I'd cut the cell phone footage in here and there with the HD footage being the basis for the timeline. But when I saw the unique perspective I had with the phone footage, I decided it had to be the reverse. I intercut it in the following way: first we get peppered glimpses, then longer, more expansive pieces, and by the end, the viewer is completely released into Gary's view. While it all cuts seamlessly and fluidly, I decided to keep the cell footage 4X3, and everything else 16X9. Not only does it preserve Gary's framing, it makes it clear to the audience when we are "looking though his eyes." The music video is very cutty. I wanted to linger on and relish the beauty of those shots. The film starts as a chronicle of the shoot, but it becomes something more. There is a point where Gary says, "I'm just trying to find the right moment..." I think that is the pursuit of every artist, searching for the moment where everything gels, and takes flight.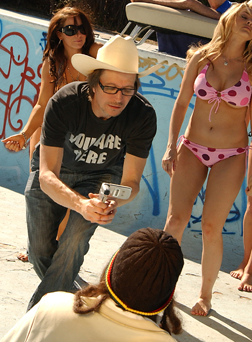 JB: How involved were you with Gary Oldman as he was shooting his video? Was there any discussion with him prior to shooting about shots you wanted or were looking to get?
JL: He basically gave me free reign so I was really nervous when the day arrived to show him my cut. I went to his house with my computer, the hard drive and a thick spiral notebook, to get his notes. I thought sitting there while he watched it was going to be the most interminable 25 minutes of my life. But I started the film, and low and behold, it was fun! He was completely engaged and laughing throughout. Afterward, I had my pen poised, ready to take copious notes. But he only gave me one note. A note about moving a sound cue, one of his comments, to a bit later, and that was it!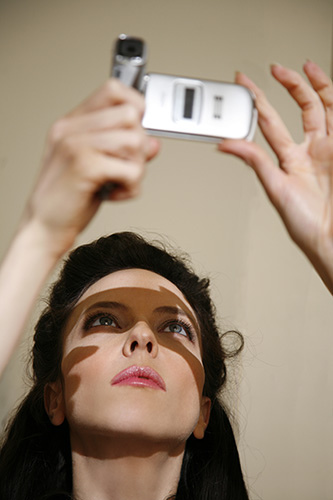 JB: As a first time documentary writer/director what did you learn from producing TAKE FLIGHT and how will this affect the next project you decide to shoot?
JL: Just like with acting, and with life for that matter, it is good to trust your instincts. They always lead me in the right direction. I was lucky to work with incredibly talented, skilled people, which I absolutely will do on my next shoot. Also, preparation is key. When I co-directed the HERO music video for Godhead or with the viral campaign I am putting together for TAKE FLIGHT, preparation makes all the difference in the world. I prepare for everything I work on, whether it's acting, still shoots, directing, you name it, and it always pays off. I find the more prepared I am, I have a fluidity and ease to flow with the unexpected. I'd like the next project to have a real budget. It is hard to work around people's paying gigs when you are pulling in favors. The process gets protracted and tiring. But either way, in the end, it is amazing to have a vision and to bring it to life!
This Blogger's Books and Other Items from...
SUBSCRIBE AND FOLLOW
Get top stories and blog posts emailed to me each day. Newsletters may offer personalized content or advertisements.
Learn more