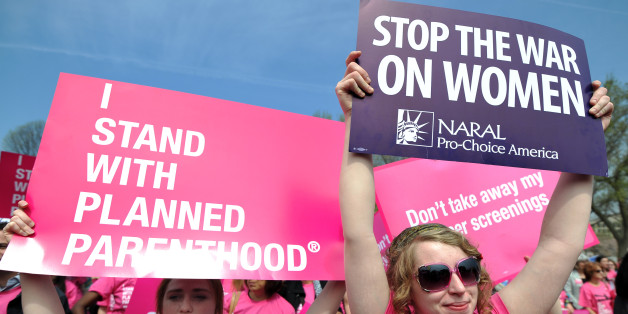 A former board member of Komen NYC, the New York affiliate of the Susan G. Komen for the Cure Foundation, is urging progressives to stay "far away" from all the Komen organizations after the foundation announced its decision to end all funding of breast cancer screenings at Planned Parenthood. Komen spokesperson Leslie Aun said the decision was in response to an investigation of Planned Parenthood initiated by House Republicans, who last year tried to defund the organization entirely.
Eve Ellis, a philanthropy and wealth advisor, who for six years was a Board member, Executive Committee member and significant fund-raiser for Komen NYC, said in a letter dated today (reprinted below) to Komen NYC's CEO, Dara Richardson-Heron, and Board chair, Blythe Masters, "It is with a heavy heart and an angry mind, that I have raised and donated my last dollar for Komen."
Pointing out the strong connections Komen's founder, Nancy Brinker, has to Republicans (she served as an ambassador under George W. Bush), Ellis concluded her letter "Komen surely should become one of those organizations that any progressive stays far away from -- if we truly believe that breast cancer affects women on both sides of the aisle and that the possibilities for cures should extend across the aisle as well."
Ellis joins a chorus of outrage erupting across the country, including petitions sponsored by MoveOn and Credo Action, urging the organization to "put women's lives before politics" and not to "cave to anti-woman extremists."
Ellis's letter appears below (reprinted with permission).
Dear Friends and Family,

I write to tell you, that it is with a heavy heart and an angry mind, that I have raised and donated my last dollar for Komen. As you know, I served on the Komen Board for 6 years, and Komen has been near and dear to me and our family in our fight against breast cancer. The stand that Komen National has taken on Planned Parenthood is not only misguided, but -- contrary to their stated remarks -- is political, or at the very least, gives the impression of being political.

Nancy Komen Brinker, the founder and current head of Komen, is a friend of George and Laura Bush and was an ambassador named by Bush. While I knew this fact in the past, I had always felt that the organization respected its 501(c)(3) status as a non-partisan organization. I no longer believe this.

I also know that Komen National is not the same as the Komen New York Affiliate. But they are connected, and monies pass between the two groups.

You have been supportive of me in the past for my fundraising for Komen, and I have appreciated your support. I apologize for this ugly turn of events.

Komen surely should become one of those organizations that any progressive stays far away from -- if we truly believe that breast cancer affects women on both sides of the aisle and that the possibilities for cures should extend across the aisle as well. I know we will all find other ways to fight breast cancer together to end this terrible disease.

In sadness, and yet, in fighting spirit,

Eve
SUBSCRIBE TO & FOLLOW POLITICS
How will Trump's administration impact you? Learn more