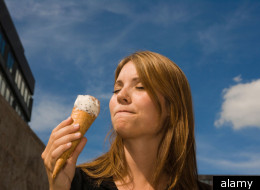 I had a makeover last night with some of my girl friends. We got our hair styled and we got our make up done and then we went out for dinner.
Sitting in the chair at the salon, the stylist noted that my hair is "cute." She said, "Do you always wear it so ... flippy?" Why yes I do, I thought flippy was in. Is it not? She said, "It's OK, we can tone it down a bit with the straightening iron." Then, she proceeded to straighten the sh*t out of my hair and make it smoke (literally). When she was done, she said, "There. Now you don't look so much like a mom!"
The makeup artist was not as diplomatic. She said, "I'm going to have to do something about your brows." Oh yeah, I need to get them waxed. "Yes, you do. Soon. I'll do what I can. In the meantime, let's draw attention to your eyes so the brows don't stand out so much." I told her to break out a new bottle of concealer, because I was gonna need it. She chuckled, but didn't argue with me.
As I sat there in the chair having all my wrinkled badges of motherhood covered up with flesh colored putty, I started making a mental list in my head of all the things I used to do before I had kids. Things like waxing my eyebrows (and my bikini area), wearing more than one color of eye shadow and picking clothes without first checking the tag to make sure something was washable with no ironing required.
Here's the list I came up. I'm sure you can add to it:
Disclaimer: Before you start commenting that I don't love being a mom, that I don't appreciate the time I have with my kids, that it's "sad" I feel this way, blah, blah, blah... That's not true, so thank you very much for your opinion, but all of this is mine.
Now I need a suitcase full of nothing but lovies, bedtime books, Shout wipes, wet wipes, anti-bacterial wipes (yes, I keep the wipes business going single handedly), coloring books, markers, games, snacks, First Aid kit, and extra batteries. That doesn't even include the additional suitcase I need if we're going to stay somewhere with a pool or near the beach.

I've started locking the door, but I think it's more annoying to have them pounding on the door while I'm trying to get my business done. So I shout, "I'm pooping and it's gonna get real stinky here in a minute. You'd better move along!" It seems to work for now.

Actually, I never did this before I had kids, because the floor just seemed so cold and hard. But now I definitely can't do it because it's still cold and hard ... and sticky and covered in crumbs.

Or, go to the bar with the girls, go to Mexico, or anything spontaneous at all. Even going grocery shopping at 10 PM has to be planned in advance.

Maybe this is why I hate my hair now. What do I expect when I go to Great Clips and color it myself?

I used to read all the time. I still do, only now I read "Diary of a Wimpy Kid" and "Pinkalicious."

...without thinking I wonder what the Happy Meal toy is right now.

I was never one to wear very high heels, but something happened after my children were born that I have absolutely no tolerance for anything other than flats. I really don't even like shoes that tie anymore either. After I'm done tying the kids' shoes the last thing I want to do is lace another pair. Mostly, I look for flat slip-on shoes.

A lot. I still swear and my mother would say it's a lot, but now when I drop something on my toe instead of yelling, "Mother f*cker!" I have to say, "Mmmmmm....fuh......ohhhh...owie, owie, owie!!"

... with dried egg in her hair, one leaky boob soaking through her filthy sweatshirt, wearing men's pajama bottoms and slippers, limping behind an overflowing shopping cart full of processed food all while towing three screaming kids under the age of five. Now I just give her the look that says, "Hang in there, sister. Bedtime is coming and there's a bottle of wine with your name on it."

I've bought two new couches since I've had children. One is dark tan and one is brown. What does that tell you? The days of white couches are behind me.

... without fear of stepping on LEGOs, Barbie and/or Monster High doll shoes, Squinkies (they don't hurt, but they scare the crap out of me, because I think they're big squishy bugs), Mighty Beans, Go Go Crazy Bones, Hex Bugs, or Littlest Pet Shop figures. Not to mention grapes, raisins, Cheerios, apple peels, or puddles of milk. Interestingly enough I've never stepped on a Cheeto; apparently, my kids hang on to those or eat them off the floor.

Now if it doesn't say "washable" it doesn't come in the door.

By the time I'm done making sure the kids have what they need, cutting up their food into manageable pieces, blowing on anything that is too hot, arguing about why they must eat what's in front of them, and blowing again, because it's still too hot, my food is ice cold.

...that isn't "Kidz Bop."

Or, current events -- anything that doesn't relate to our kids. Now we just say things like, "Did Gomer poop today? He's been constipated lately." or "I need thirty bucks. Adolpha's feet grew again."

I get in the shower now and I have two little faces peering at me the entire time questioning my actions and my body. "Mommy, why does your 'china' (vagina) have a mustache on it?" or "Are you always supposed to wash your armpits, because sometimes I forget."

Now we drive practical cars, because we're practical people.

Not potty parties or period parties. (Yes, they do exist!)

Now I'm so immune to snot, I'll wipe a stranger's child's nose with my sleeve, just out of habit.

And kind of wishing for another one (before the hubs smacks me upside the head and reminds me that I think I'm sleep-deprived now).
A version of this blog post originally appeared on People I Want To Punch In The Throat.

Follow Jen M.L. on Twitter: www.twitter.com/@throat_punch