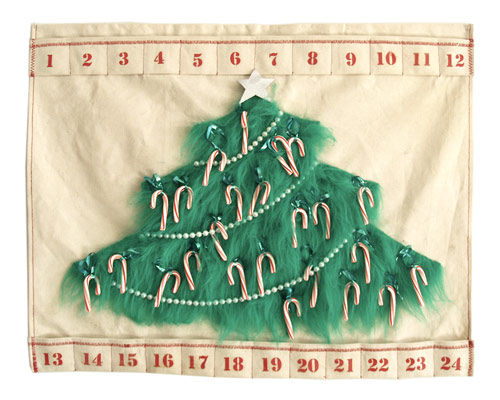 When I was little, my mom made an advent calendar for me and my sister. Hers was similar to this one expect the tree was made out of felt, she cross-stitched the numbers onto the pockets and each ornament was a tiny little gem of an object like a mini-toy soldier or a sentimental piece of my grandmother's jewelry. Each year she shuffled the contents of the calendar's pockets so each morning when we pulled an ornament out to pin to the tree we were surprised. I wish I had a picture to show you.
This is a quick and easy tutorial for how I recreated one of my favorite parts of Christmas from childhood.
Supplies for this project: - 1/2 a yard of green faux fur - 24 small candy canes - 1 strand of beads/pearls - Heat Transfer for a T-shirt - 1 yard of cotton canvas - Scissors - E-6000 glue - Box of straight pins

Print up a sheet of the numbers to be ironed on to each pocket containing a candy cane. Be sure to reverse your numbers prior to printing because the heat transfer sticks to the canvas backwards. If you do not want to make heat transfer numbers you can always make felt numbers, buy pre-made-iron-on numbers or embroider your numbers. I chose the heat transfer option because I thought it was the easiest.

These are the dimensions of your canvas pieces.

This is what the canvas calendar base should look like once you have hemmed all of the sides, added the pockets, and top stitched each 2" wide pocket down.

Draw the shape of the tree that you would like to put on your Advent Calendar and make it into a paper pattern. Use the pattern to cut that same shape out in the faux fur. Then glue the tree to your Advent Calendar with your E-600 glue.

Iron the numbers onto each pocket. Tie ribbons around each candy cane to make them into ornaments, then place them in the pockets. Finish your calendar by adding a star and a garland of pearls or beads to your tree for decoration.

For each day leading to Christmas place a candy cane on the tree. By Christmas Eve your tree will be decorated.

Merry Christmas!
This is the sameview of the diagram for the canvas piece that is in the slide show. I have listed it twice for better resolution: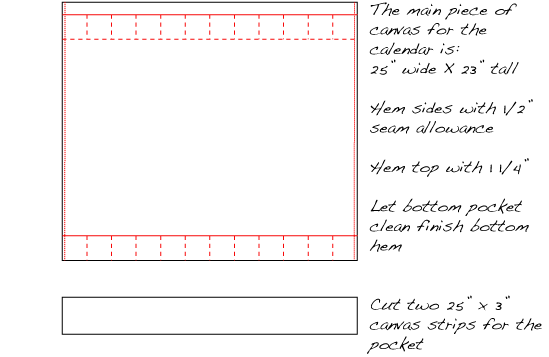 Follow Jennie on Twitter: www.twitter.com/diyrenegade