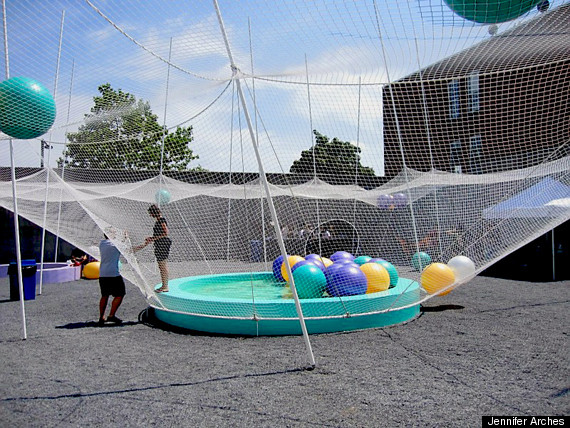 Since its inception in 1997, MoMA P.S.1's Warm Up summer performance series has seen acts from "hip-hop to electronica to lounge/easy listening to punk-inflected bluegrass". On Saturday, July 17th, MoMA members, Long Island City residents, and a throng of everyone in between flocked to the Queens museum establishment to enjoy the summer heat with P.S.1's Greater New York exhibition and an outdoor Warm Up DJ performance montage from Justin Miller, ARP, Ratatat and Air France.
The creators of MoMA P.S.1's Warm Up summer concert series could not have come up with a better name for the annual event. "Warm" being a bit of an understatement, 95-degree heat blanketed the sea of people who filled the space created by the winner of the annual P.S.1 and MoMA organized Young Architects Program. Luckily, attendees came prepared to ignore the heat and bask in the sun while listening to music and witnessing a cultural event that has become as diverse and unpredictable as the city that hosts it.
DFA's Justin Miller started off the show with a 3:30pm DJ set that set the tone of the steamy day. In a colorful striped button-down shirt and floppy brown hair, Justin appeared more suited for a beach in Nantucket rather than behind a turntable in NYC. Nevertheless, looks can be deceiving, and Miller brought the beats and mixed the music to the pleasure of all people who trickled into the venue. As they casually entered the museum, waited in line for drink tickets, and danced in the summer swelter, everyone who listened to Justin Miller seemed to get their early afternoon groove on. With the bob of a Ray-Ban clad head or the step of a sandaled foot, museum-goers reacted naturally to the concoction of sounds reverberating in the museum courtyard. Closing his hour-and-a-half set with a remix of Fleetwood Mac's "Everywhere", DJ Justin Miller immediately enlivened the audience and prepared people for a day of utmost content that can only result from an outdoor summer concert.
Following Miller, ARP's Alexis Georgopoulos transitioned into his short but melodic and zealous DJ and guitar set. ARP's wistful chords, ethereal organ sounds and climactic crescendos summoned a more pensive crowd, and catered to those lucky enough to snag a seat in an outdoor hanging hammock. Later in the day as he was taking in the crowd and listening to Air France's set, Georgopoulos admitted that during his performance he could tell that "the crowd wanted to dance, but because [PS1] is an art establishment, people came with open minds" and were able to enjoy and appreciate his warm ruminations in musical meditation.
Next to don the DJ headphones and give the crowd a plethora of danceable beats was the much anticipated Ratatat. The unassuming Evan Mast and Mike Stroud remixed Motorhead's "Ace of Spades" and Notorious B.I.G.'s "Party and B******t" to their listeners' pleasure.
The finale DJ set came from another male duo, Sweden's Air France in their first-ever US appearance. DJs Joel and Henrik emitted an ecstatic onstage presence and were warmly welcomed to Queens with dancing, clapping, singing and Long Island City fist-pumping. Throwback remixes of Madonna's "Celebrate" and The Beach Boys' "Good Vibrations" inspired the crowd to mingle with propensity. The stability balls dotting the outside venue that had earlier been makeshift chairs were transformed into volleyballs, swatted by up-air punches and toppling the heads of the unfortunate bystander engrossed in conversation. Boos and bahs from the audience mixed with the music as the balls were eventually removed by security, but that did not stop anyone from enjoying the two hour Air France set.
Overall, P.S.1's third Warm Up event of 2010 was a hot and pleasant success, even if you did get hit in the head with a stability ball, inadvertently slosh in a mist puddle, sweat off the re-entrance stamp or get bumped by an enthralled and eager dancer and manage to spill your beer.
SUBSCRIBE AND FOLLOW
Get top stories and blog posts emailed to me each day. Newsletters may offer personalized content or advertisements.
Learn more