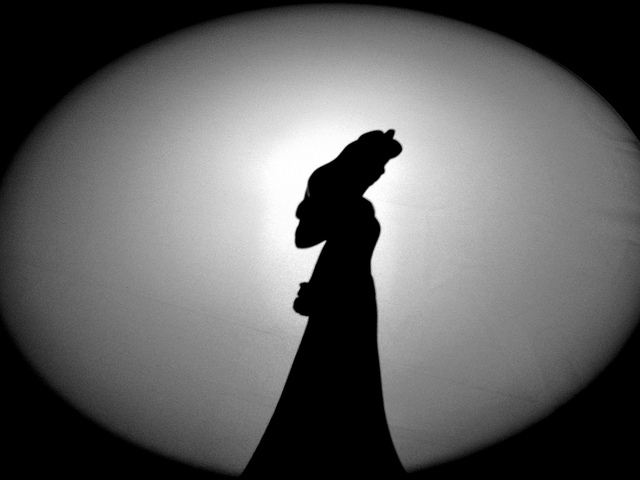 So, as it turns out, I have depression. Well, actually, I "HAD" depression, but now that I'm "all better," I can tell you about it.
The reason I didn't know I was depressed was because I was happy. Or, at least, I felt like I "should" be happy. After all, we're in our dream house now. I've never lived anywhere as beautiful as this.
And, my work is going really, really well. And I'm thrilled and humbled and blessed beyond all expectations to be able to show up and serve Beautiful You in the way that I do.
Thank you for that, by the way.
But, even though I was intellectually happy, none of it was sinking it. I felt flat. Like joy just wouldn't stick to me. The idea of joy would come to me, but then it couldn't get any purchase and it just sort of slid down the outside of me -- never really getting in.
After some months of this -- it takes me a while to stop trying to fix things myself -- I went to the doctor. And found out I was depressed.
This isn't my first dance at the Depression Ball. I remember, back in my single mom days, thinking this for a while:
"Should I die? Or, should I go to work?"
Not kidding.
Anyway, I recognized that thought as being "outside the norm," and got the help I needed.
But this time was different. Because THIS TIME, I was told that I would ALWAYS have a propensity for depression. In other words, it's gonna come back.
Even though I'm happy.
I'm a trauma survivor. And some of that trauma happened when I was very very young. The doctor explained to me that early childhood trauma is particularly damaging because your brain is being "built" at the same time. It builds itself around the trauma and thus, for the rest of your life, your brain reacts to what would otherwise be "normal" trials, with a heightened response.
This is going to sound really funny, but when I found out about this brain trauma, I was really really depressed.
And mightily PISSED.
I mean, my whole early life, the one conviction that got me through is that "they" weren't going to "break me." Whoever "they" were.
But, as it turns out, "they" did!
I've always tried to be tougher than I feel. Sure, bad stuff happened. But lots of people have bad stuff happen to them. For me, these are the highlights: Alcoholism, abandonment, dead baby, divorce -- other than the death of my daughter, there's not so much here outside the "norm" of sad stuff.
So you see I had my feelings -- which were just feelings.
Where I get into trouble are my feelings about my feelings. In other words, my judgments. (click to tweet)
As a kid, I was always ridiculed for my sensitivity. You just gotta toughen up, right?
But here's the thing: I kinda sorta really dig my "oversensitive" nature.
It is true that I feel things really, really deeply. And it is true, that that trait has sometimes caused me more pain than it seems that others feel.
But it is also true that, because of this, I notice stuff. Really, really IMPORTANT STUFF -- like underlying truths, patterns of behavior, false motives, manipulation, beauty, spirituality -- I have a deliciously heightened sense of awareness of the glorious stuff of life.
And I also suffer more acutely than others I know.
You take the "good" with the "bad." My task is to learn how to protect my beautiful heart without blocking off the gorgeous connection it allows.
And I'm still learning how to do this. I expect this will be a lifelong journey, and I'm okay with that.
Because that skill/ defect/ "oversensitive" soft spot is also why I can show up in the way that I do to serve Beautiful You. Finally, it all "makes sense" and I seek to embrace my gorgeous "oversensitive" heart -- not amputate it.
The price for that, though, is that sometimes, my feelings get "stuck," and I need a little help getting back to equilibrium.
So be it.
Here's the thing -- Whatever we resist persists.
The quicker we come to terms with the reality of our current life situation -- whatever that may be -- the quicker we can embrace solutions to the challenges before us.
I am told that depression is a pretty common "problem" for women at midlife. I'm sharing my story with you to help normalize it. I want to use my experience to serve you because I've learned that sharing the tough stuff mitigates it.
If what I've share sounds familiar to Beautiful You, if you feel "stuck" emotionally, please reach out to your medical provider.
There is no reason to suffer. And, once you lift the veil of depression, remarkable things become possible again.
Note: If you're stuck because of sorrow, worries, regrets and the like, please join more than 4000 of my readers and get your free copy of my book, Breakthrough. How to Get On with It When You Can't Get Over It. And please share this link with others who might also need support.
Photo: Flickr, Kevin Dooley
Earlier on Huff/Post50:
8 Things That Make Or Break Your Happiness: AARP Survey
Health was "extremely important" to happiness for 73 percent of respondents. People in "good or excellent" health are three times more likely to report being "very" happy. Interestingly, what may matter most is how healthy you think you are: The AARP found that the percentage of people reporting good health is relatively stable over the 35-80 age range, varying only seven percentage points. That's despite the fact that objectively, older people are in fact not as healthy: The number of people who report they are suffering two or more medical conditions increased 400 percent over the 35-80 age range. (People may be comparing their health to their peers who are in worse shape.)

Some 68 percent of respondents called relationships "extremely important" to happiness. Some 72 percent of people who were married or in a relationship called themselves "very happy" or "pretty happy" -- compared to 60 percent of singles. AARP asked respondents to rank the importance of certain activities to happiness, and many of those scoring at the top were relationship-related: 72 percent said "kissing or hugging someone you love"; 72 percent said "watching your children, grandchildren or close relative succeed in what they want to do"; 69 percent said "spending time with your family and friends such as a meal or social gathering'; and 64 percent said "experiencing a special moment with a child." However, relationships did have to be real: "connecting with friends or family on a social media site like Facebook" came in 37th out of 38 activities in contributing to happiness.

Nearly half (47 percent) of respondents said pleasure was "extremely important" to happiness. Among the simple pleasures that were most important to the happiness of people 50 to 80: enjoying natural beauty like a sunset or ocean (64 percent); having someone do something nice for you unexpectedly (56 percent); practicing religious or spiritual faith (50 percent); making progress on personal goals (47%); and being absorbed in a favorite hobby or interest (42 percent).

Four in ten of those surveyed called accomplishment "extremely important" to happiness.

Meaning and engagement were considered "extremely important" to happiness among 38 and 37 percent of respondents, respectively.

Some 31 percent of respondents said money was "extremely important" to happiness. Money was slightly more important to people who earned $25,000 or less. As psychologist and Nobel Laureate Daniel Kahneman has noted, beyond a household income of $75,000, experienced well-being no longer increases, although people's judgment of how satisfied they are with their lives does continue to increase. At the same time, severe poverty amplifies life's misfortunes, such as illness or divorce. The AARP study found similar results: Income and happiness were positively correlated; when comparing the percentage of those "Very Happy" by income ranges, the slope increases up to the $75,000 mark, then continued to rise even more dramatically. Asked how they would spend $100 on something to increase happiness, most respondents said they would spend it on their family or going out to dinner. This correlates with findings that show buying experiences makes people happier than buying things.

People who feel they are in control of their happiness report that they are 2.5 times happier than those who believe happiness is out of their control. A sense of control is linked to higher income, higher education, good health and not experiencing a major life event in the past year. This finding also mirrors decades of research suggesting autonomy -- the feeling that your actions are self-chosen and self-endorsed -- is a core psychological need. Studies have found people who lack a sense of control -- prisoners, nursing home residents, people living under totalitarian governments -- suffer lower morale and poor health, according to David Myers, a professor at Hope College in Michigan and author of "The Pursuit of Happiness." Interestingly, a sense of control over one's happiness rises with age -- with 69 percent of people age 75 to 80 feeling they have control over their happiness, versus about half of people age 40 to 54. It may be that with the wisdom of the years, people recognize that happiness is a choice.

Spending time with a pet can be a substantial way to contribute to one's happiness, the survey found, especially for older women: 81 percent of women age 66 to 80 who own pets said spending time with them contributes "a lot" to personal happiness. It was also important to two-thirds of singles.
Follow Jennifer Boykin on Twitter: www.twitter.com/Jennifer_Boykin