7 Steps To A Brand New You In Midlife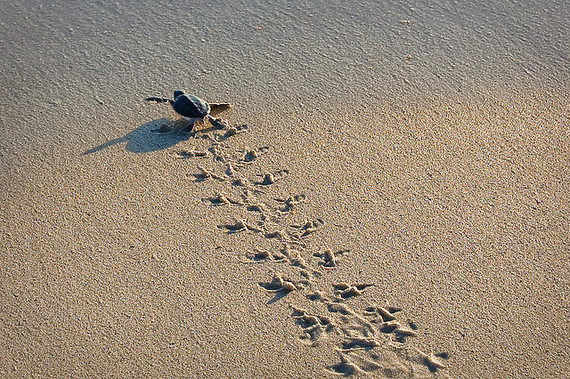 Suppose you meant to make a change in your life. Perhaps you wanted to lose weight, or write a book. Perhaps you meant to develop a better exercise routine or finish a degree.
Anyway, whatever it was, supposed this -- suppose you started off pretty well, but then, your commitment just fizzled. Or else, something else jumped up to grab your attention and -- while you really, really meant to get back to your own thing -- you just didn't.
Or, suppose you tried, but you got frustrated, because you spent too long away and couldn't find the memory clues to lead you back to where you left off.
Now, suppose you have repeated this cycle again and again in your One Beautiful Life.
And NOW suppose, that -- because you've let yourself down like this so many times before -- you no longer have faith in yourself any more.
And, maybe, because you shared your unfinished goals with others, they no longer believe you, either.
So, now, you don't trust yourself. And others don't trust you either. (Well, they may most certainly trust you about a great many things -- they just no longer CHAMPION you when you want to try something new and hard. (And, alas, perhaps some of them never did anyhow.)
What's smart about all of this is when you remember that you really really meant to do something different with your life.
But you forgot. Until you didn't. And then, regret seeped back in.
This is the time of year when people with abandoned dreams start feeling a stirring of hope again.
And, for many women our age, this is also a time of year when many women at midlife begin the rounds of self-recrimination, regrets, chagrin, and all sorts of other psychological masochism that virtually GUARANTEES failure.
After all, you're not going to TRY anything new when you don't believe in yourself, right?
Nevertheless, there are women who are breaking through this cycle. What do they have that the rest of us don't?
Well, for many, many years I was standing on the self-recrimination sidelines. And then, I wasn't.
I cracked the code -- or at least I finally figured out how to get going on my life's work AND STICK WITH IT.
Here are some of the things I've discovered:
1. Constancy trumps everything, except, perhaps, treats. It's better to work just 15 minutes a day -- each day -- than to give your project big hunks of time separated by big voids of time. It's too hard to find your "loose threads" of where you left off when you leave too much time in between your efforts.
2. Treats matter from Day 1. That's because most of us are "joy anorectic." We keep postponing our dreams, our turn, our EVERYTHING, until we cross this next hurdle, or get past this current hard thing, or help that person over there get what they want first. You MUST take responsibility for ENJOYING your life EVERYDAY even as you take responsibility for changing it.
3. So, EVERY DAY -- treats and a bit of focused work.
4. You can't do it without tribe. You need a League of Champions -- and here, I'm talking about people who are working at the same level as you. If you are currently stuck and need a breakthrough, you need a tribe who are also still stuck. It doesn't matter what you each are working on, the issue is getting unstuck, focused, and strategic about whatever project is next for each of you.
5. So, you need a tribe. But you also need a mentor. Your mentor needs to be far enough ahead of you that she knows what's she doing from experience, but not so far ahead that she doesn't still remember what it feels like to be stuck. I don't believe we ever stop needing teachers. I've invested very deeply in my own training these last few years, but I've also made a significant return on those investments.
6. Did I mention treats?
7. You must be willing to surrender the idea that you "know stuff." I knew stuff -- a lot of stuff -- for a lot of years about speaking and writing and teaching and all sorts of stuff. But I wasn't able to put it together in a meaningful way until I was willing to ABANDON the idea that MY WAY was best.
My way wasn't working. A full-scale frontal attack on my life situation never worked because it wasn't sustainable.
It was completely counter-intuitive, but what I accidentally found out is that slow, steady, incremental change is what works best.
It's that damn Tortoise/Hare thing again.
Love, Jen (a reformed Hare)
photo: flickr, chuck palmer
Earlier on Huff/Post50:
Making The Most Of Retirement
You don't have to get the new you in place tomorrow. A good first thing to do: practice some personal archeology. That means digging out the interests you used to have. Did you always want to raise orchids, sing in a choir, be an artist, take photos like Ansel, help abused animals?

Actually, that's the title of a book by Barbara Sher: It's Only Too Late If You Don't Start Now: How To Create Your Second Life At Any Age. Sher is a genius at getting people off the dime, out of their fear freezes and into new lives that fit. Certainly her books helped me go back to school in my sixties and get an MA in Gerontology, the study of older people. So any Sher book on Amazon would be number two on my get-going list.

Find someone who struggles with the same issues. This could be your mate, a former co-worker or a neighbor. It helps to know you are not alone. Exchanging ideas may result in a new perspective on retirement issues. Sometimes others can see you better than you can and might share what things they think you could do and enjoy.

Take classes in your interests at community colleges or adult ed classes in your area. Also look online. I got my degree from USC online. Warning: Degrees from established and reputable schools earned online require work and should be approached seriously. These are not degree mills. Your professors can be tough. Standards are high, exams taxing, papers arduous. Such credentials also can be expensive. Think $20,000 for a two-year curriculum to earn an MA. That's a high price, but such courses can be an investment in a new retirement career.

If you don't care about credit -- you just want the fun and challenge of the subject matter -- take free online university courses. Free online courses from major schools are a treasure chest of ideas and information and a good way to get your feet wet in any subject. For a list of high-quality courses, go to Education-Portal.com. MIT excels at this, and not just in science, but in the humanities with a wide offering of music courses. Carnegie Mellon is a leader online with many science courses. Tufts has wide offerings and excels in nutrition and medicine, both human and veterinary. UC Berkeley is not to be outdone. I had to stop writing this column just to listen to a computer class. All the links to these universities are at the website above.

It won't magically come your way. It takes effort and bravery to go down unknown paths. To his credit, my mate, Cranky Pants, ventured forth to fall in a river after a fish, to suffer through golf lessons in the heat of an Los Angeles summer and to spin out on a race track going over 100 mph. He decided who he was not: a fisherman, Tiger Woods or Sterling Moss. He found civil grand jury work instead -- interesting and done on cool dry land at zero mph. So, again, we salute him and others who get out there in retirement as test pilots of their own lives. Fly on!
Follow Jennifer Boykin on Twitter: www.twitter.com/Jennifer_Boykin