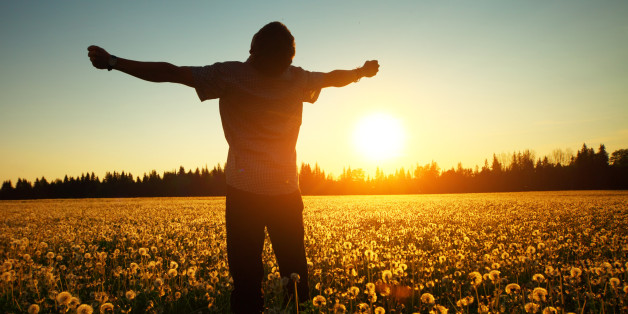 According to quantum physics, everything we think, believe and feel is being channeled through our consciousness and projected out onto our reality, thereby creating the "movie" of our life.
"If that's true," you're probably thinking, "why am I starring in this horror film?"
Too many of us star in life movies filled with evil characters, such as mean bosses, nasty ex-lovers and vengeful co-workers.
The good news is, each of us is the director of our own reality, so with help you can re-direct your film!
Even the most talented filmmakers need assistance. That's why, on every film set, you'll find a first AD (Assistant Director) and a second AD.
I call those Assistant Directors Will and Grace. (And no, I don't mean the great 1990s television show!)
The Will and Grace I'm referring to is the action (Will) required to reach your highest potential and the surrender (Grace) you must embrace after all the doing is done.
I first met Will on 1/11/11. I was in Sedona, Arizona leading a women's empowerment retreat. During a manifestation ceremony, on top of a mountain, I made this bold statement, "I feel thrilled that I am now a Hay House published author."
It was a bold statement, because I had not even written the first page of the book that had been living inside my head.
Later that evening there was a knock on my hotel door. I opened it up; it was Will.
"Hi, Jen," he said. "I happened to overhear you on the mountain top. You do know you have to actually write a book in order to become a published author ... right?"
I sighed and replied, "Yes, Will, I know... but I don't have the time to write a book."
"Jen," he said very seriously, "you will never find the time to write a book. You have to create the time."
Will was right, and I hatched an idea. If I woke up every morning at 5:30 and wrote for one hour, I could probably write 500 words a day. And if I did that every day for four months, I would have a 50,000-word book.
So I set my alarm at 5:30 for the very next morning.
I hit "snooze," 12 times.
So that night I got even more creative. I created an event on my iPhone that would go off each morning, instead of an alarm.
I asked myself: What would be a phrase that would outwit the self-sabotager living inside me, and make me get up?
Then a light bulb went off.
"Jen, do you want it or not?" my phone would ask me every day.
From the next day on, Will and I got up every day at 5:30 a.m., and within four months I had written my first draft of a 50,000-page manuscript.
Then it was Grace's turn.
After I finished my book, I thought, "Now all I need to do is get this manuscript into Wayne Dyer's hands."
My book was about manifestation, and Dr. Wayne Dyer is a Hay House author who is widely considered the godfather of manifestation. I thought he would be the perfect person to connect with.
That next morning, Grace woke me up, softly whispering into my ear, "Call your ex-husband Joe."
I allowed Grace's wisdom to guide me.
I shared with him that I had finished my manuscript and all I needed to do now was get it into Wayne Dyer's hands.
"Wayne Dyer?" he asked. "Amanda (who is his new beautiful wife) grew up in Boca next door to Wayne Dyer. She and his daughter, Serena, are good friends."
The very next week he and Amanda were going to be at a charity event with Serena Dyer, and her father was going to be there.
Joe asked if I wanted to join them.
So, that very next week, Will, Grace -- and me! -- all drove down to the charity event in Miami.
When we arrived, Will gave me a little push. I walked right up to Wayne Dyer and introduced myself.
"Hi," I said. "I'm Jennifer Grace, and I want you to know that you have been such an inspiration to me. I have just finished my first book about manifestation, and I would like to see if you would read it and give me some feedback."
He smiled and said, "I would be delighted."
The series of events that followed that evening were nothing less than miraculous. They led to a book publishing deal from Hay House on December 20th, 2011. It occurred almost 11 months to the day from when I made that powerful statement in Sedona.
I couldn't have done it without Will and Grace.
We can all work with this dynamic duo! Here's how:
Grace cannot arrive until you, and Will, have done the work. I always coach my clients to first go through the following steps:
Get clear. Use tools like mindfulness, meditation, and journaling to create a space for your dreams to arise.
Set powerful intentions, like: I feel thrilled (or grateful, or at peace) that I am now_______________________. Use the blank to fill in your dream.
Create a measurable action plan: The What, The How, The By When. Here is an example:
The What: To become a Hay House published author.
The How: Write 500 words every day from 5:30 a.m. to 6:30 a.m.
By When: Complete 50,000-word manuscript by April, 11th 2011.
Ask someone to hold you accountable. There is power in sharing your dreams; you are more likely to accomplish them when you do.
Grace will arrive in unexpected moments after you and Will have been hard at work. Grace will arrive when you believe, trust, and let go of attachments about how it will all work out.
Directing and starring in the new film of your life is an incredible journey that can literally move you from the audience to the director's chair ... and on to the life of your dreams.
SUBSCRIBE AND FOLLOW
Get top stories and blog posts emailed to me each day. Newsletters may offer personalized content or advertisements.
Learn more