This last Friday morning, after honoring a slew of talented African-American musicians for Black Music Month, and both the San Fernando High School's Academic Decathalon and baseball teams -- the AcaDeca team taking 52nd out of 7,000 plus and the baseball team taking first at CIF City Section championship, the city of Los Angeles acknowledged the winning team members from the People's Games for their hard work in beating New York City. It was a big moment for everyone. For the basketball players, Coach Lucius Allen, Los Angeles Park and Rec, and of course, the hardworking people at the People's Games, who have put their hearts and souls into changing the way America thinks of sports.
It started with a vision. An attorney that shoots threes. A tax accountant that can dribble a ball like crazy. A team of "guys next door" that didn't make the pros, but still play like they are trying to. The vision shifted, and started to match these homegrown, undercover athletes against other homegrown, undercover athletes, and games ideas ranged far beyond basketball, soccer and baseball into the realm of bands and hot dog eating competitions. Founders Armyan Bernstein and Terry Jastrow dreamt of helping the people of America, "teachers, taxi drivers, policemen, janitors, waiters, etc... to live out their dream of playing in a big time sporting event, representing their family, neighborhood, and city in pursuit of the thrill of victory." Thus, the People's Games was born.
If you visit the website, you'll see the People's Games "provides an opportunity for the common man to represent their family, neighborhood and city in sporting competition against rival cities." You can listen to Mayor Antonio Villaraigosa issue a city-wide challenge to Mayor Michael Bloomberg. You can check out the men of Los Angeles and New York that came to tryouts, that made the team, or played in the first games. You can see the excitement in a player's face or the determination in his eyes as he soars through the sky palming a basketball. You can even watch heartwarming video clips introducing the world to these hopeful, unwavering young men. It doesn't matter they didn't go pro, what matters is they love the game.
However, you won't see the hours that went into practice, the rearranging of work schedules, the pain and tears these hardworking, non-professional players gave for that court. You won't see the work the employees at the City of Los Angeles Department of Recreation and Parks put into arranging court time at the city's various basketball courts. You won't see the frustration and complications that exist when people create a conceptual platform so inspiring it can't help but make those involved better for having participated. All you will see is the beginning of something big. Something truly life-changing.
In this first round of the People's Games, Coach Lucius Allen took a team of Angelenos up against "Earl The Pearl" Monroe's New York City players, and Los Angeles took down the basketball mecca first in Venice Beach and then on New York's own territory, on a wood court in Union Square. In both cities, random passers-by gathered to watch the group of unknown men battle over a 22-ounce ball and two opposing hoops. At this morning's City Hall gathering, Lucius thanked his players, stating that "they reached competitive greatness in six weeks," and that they "came out and did this, all for the love of the game." Coach Lucius said, "It was a family that we formed. They are working people, they'd go to work during the day and come to Lucius practice during the night. And when we were standing in Union Square as champions, we knew it was all worth it."
Yet standing in the pews of the John Ferraro Council Chamber room in City Hall were the men, women and children truly touched by this new sporting concept. The families of the young men on team LA who supported their efforts, who iced knees and plugged in heating pads when bodies got sore and who cheered and cried when dreams came true. These are the people that make the People's Games inspiring. The people of Los Angeles.
I'm not sure what's up next for this company, but I do know their work is groundbreaking and they have the potential to turn aspirations into accomplishments. And if they start looking for the People's Cheerleaders, I just might tryout.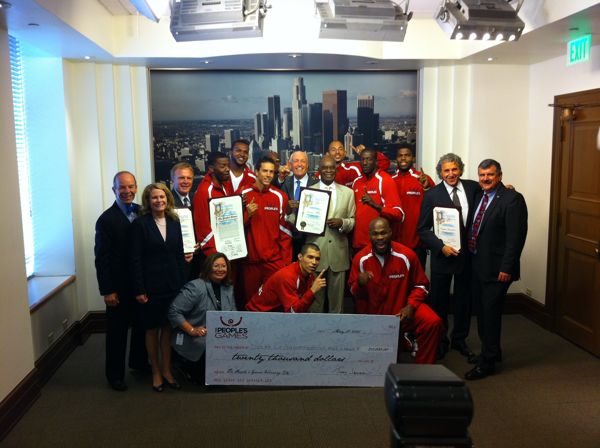 SUBSCRIBE TO & FOLLOW THE MORNING EMAIL
Start your workday the right way with the news that matters most. Learn more