Thanksgiving is a chef's holiday. I don't know a single chef who doesn't love it. Yet every year, I find myself at work on Thanksgiving instead of enjoying the holiday at home with family and friends. Such is the nature of the service industry, and most holidays, I don't much mind missing. (I'd rather bake 1,000 pies before attempting to hail a taxi on New Year's Eve in Manhattan.) But every November, when Turkey Day rolls around, I wonder when I'll get to celebrate my thanks--as in someone else cooking dinner while I sip mulled cider with a splash of rum.
So this year, I've cooked up a new plan: I've decided it best not to fight the inevitable--overseeing the production of 16 gallons of cranberry sauce and 48 pumpkin pies--and to embrace the holiday as best I can while working. And if there is any place to do that, it's at Craft.
I started my mission by teaching a recreational class at the Institute of Culinary Education (ICE). Sixteen home cooks and I plowed through recipes for pumpkin pie (made from fresh roasted sugar pumpkin, mind you), cinnamon-raisin bread pudding with bourbon sauce, comice pear-cranberry crisp and honeycrisp apple clafoutis. It was a wild mess and a true triumph. It was also the entire Thanksgiving dessert menu at Craft, completed in just four hours. Being able to orchestrate that much food production with a group of amateurs makes professional cooking seem a breeze. A nip of brandy and a slice of pie afterwards was also quite nice.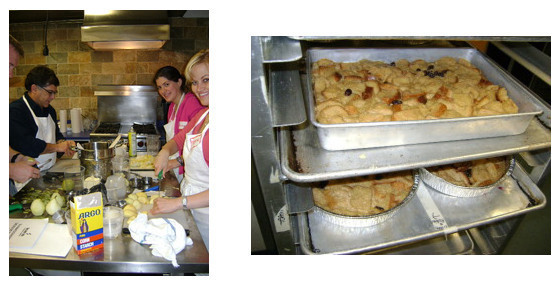 Next on the list is November 25th: A memo has just been sent out to all staff members at Craft to be dressed and ready to eat at noon on Thanksgiving Day. Sure, it's not my family I'll be sharing the day with. And yes, I will have already spent six hours baking and have about ten more ahead to get through dinner service. But, I think my coworkers are just grand and toasting the holiday (with a nice glass of Burgundy, I hope) and their likes will do just fine. It doesn't hurt that our staff meal will the same menu as our guests will enjoy just hours later. Better yet, it doesn't hurt that my chef is making Tom's famous stuffing.
And last, but definitely not least, I will be having my very own belated celebration on Sunday. I just booked a ticket home to Chicago, where I've convinced my family to have Thanksgiving dinner a few days late. We are a group of displaced southerners, which means collard greens, cornbread stuffing, candied yams and my very favorite dessert, Charlotte Russe, will be served. A lot of Beaujolais Nouveau, a full belly and the din of football from the television will certainly get me through until next year....