Want to get ahead? Or, rather, help your kids get ahead? It's no longer "excel at one thing," as Google exec Sean Harvey told a group of students at a SuperFutures "Discover Your Future" seminar over the weekend. But, rather, it's about "doing multiple things well."
It's exactly the conversation I had had with my husband just a couple weeks back: What does it take to succeed? Twenty years from now, when my daughter is just entering the work force, what will it be like? More importantly, what tools will she need to survive and thrive?
It's daunting when you think about the global environment, the automation of jobs, and the continual push to increase productivity. It's the new economy in which we live.
Harvey, who joined me along with radio exec Dick Ferguson, underscored his point with his own story.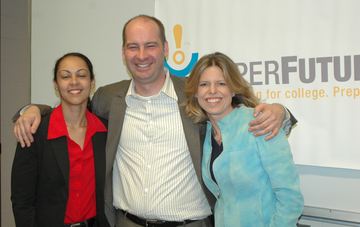 Harvey said he "used computers a grand total of zero times in high school" but says he now runs "a scary amount." It wasn't until his wife nudged him to do something more lucrative that he left writing travel books and moved onto writing tech manuals for ad giant DoubleClick. The firm was later bought by Google. Harvey now runs display ad businesses for the software giant.
Harvey said that while he got to Google in a "not-so-obvious way," he attributes his success to the fact that he got started early working hard at something that he was passionate about, and never stopped learning. "That got me very far in the job world, ridiculously far."
"This is an exciting time in the world," he added. "As long as you're excited, the work won't be painful and opportunities will open up along the way. My career is about money, but it's also about having fun and doing things I never thought I could do before."
The second key, Harvey said, is flexibility. In the "old days," he pointed out, "it used to be one job, one skill."
"Today, companies aren't hiring for a specific position but rather people who are smart and flexible. The way you demonstrate that is by showing you can do multiple things well."
I couldn't have said it better.
Harvey said community involvement is just one example where young people can show their flexibility and curiosity. That means start a project, be a leader, take on a task -- anything (check out SuperFutures Global Leader Program helping teens turn passions into impact)
"Today, it's more about: 'Am I the kind of person who's flexible and can do different things?' It's different from the world our parents were in."
A one-time musician, Harvey said that some might not see that experience as valuable. "Being a musician shouldn't have had any benefit to my job, but it has. People find it interesting and it impresses people -- and that helps me in my job today."
Key #3 -- High-end Skills
Finally, Harvey pointed out that the winners in the U.S. will be those with "high-end, valuable skills."
For young people, that means thinking about what skills are missing but needed. He said computer programming is "so desperately needed in the US that if you learn how to code and learn a computer language, it will virtually be impossible not to be working."
"We are importing thousands of software engineers because our schools are not training enough of them," he added. "It's a key toward permanent high paid employment."
This is all so different from our parents and even our grandparents' economy in that jobs aren't as secure. Harvey said being in the software business is about as secure as it gets, but "you should assume it's never secure."
Isn't that the one big lesson from this recession? And that's precisely why it's all about flexibility in today's economy.
SuperFutures will hold another Discover Your Future seminar and will be adding new online programs available nationwide. To learn more, visit www.superfutures.org or get notified here. Through classes and coaching, SuperFutures help teens turn their passions into impact and, in the process, teaches them real-world skills needed to succeed in college, career and life.
SuperFutures' Jennifer Openshaw started the organization after talking to teens about the fears and stress related to transitioning to the working world and parents' own stories of changing careers later in life because they failed to have a "SuperCoach" early on.

This Blogger's Books and Other Items from...
SUBSCRIBE AND FOLLOW
Get top stories and blog posts emailed to me each day. Newsletters may offer personalized content or advertisements.
Learn more