11 Delicious Desserts For Dad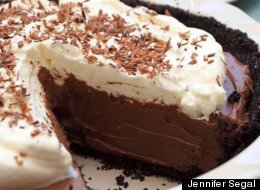 On Father's Day, the men in my family appreciate a special dessert just as much as the gifts. In fact, they could probably do without the golf shirts and ties -- just give them uninterrupted time watching the U.S. Open and a Chocolate Cream Pie and they're happy.
Here are eleven surefire dessert recipes, along with step-by-step photos, to make Sunday sweet and special for Dad.
Delicious Desserts for Dad
A chocolate wafer crust, rich and creamy peanut butter layer and smooth-as-silk milk chocolate topping make these squares irresistible! Get the recipe

Nabisco chocolate wafers and premium ice cream make delicious ice cream sandwiches that put the store bought variety to shame. Get the recipe

With a chocolate cookie crust and silky chocolate pudding center, this pie is a chocolate lover's dream. Get the recipe

Crispy on the outside and chewy on the inside, these cookies are chock-full of surprises. Click on the recipe to find out what makes them so good. Get the recipe

A crisp and buttery shortbread crust topped with a luscious lemon filling, these bars are as pretty as they are delicious! Get the recipe

Warm out of the oven, these simple Italian cookies taste like little discs of toasted cornbread. They're tender with a pleasantly gritty texture, and not too sweet... perfect with ice cream. Get the recipe

Another winning chocolate-peanut butter combination. Make this dessert, and you'll be very popular. Get the recipe

Easy to make and delicious to eat, you can't go wrong with chocolate chip blondies. Get the recipe

A whimsical and fun dessert for the Dad who's a kid at heart. Get the recipe

Chocolate chips and cocoa powder give this banana bread deep chocolate flavor, and sour cream makes it rich, tender and ultra-moist. Enjoy it by itself or top with vanilla ice cream. Get the recipe

A coconut-scented cookie crust filled with creamy coconut custard, all covered in a pillow of whipped cream and heaps of toasted coconut. This has to be the dreamiest coconut dessert ever. Get the recipe