Arriving back in Vancouver after spending three and a half months in Phnom Penh I was dazzled by how clean and functional it was. It is easy to slip back into the comforts of the Western world, and I would be remiss if I implied that the transition was tough for me. I was back in a world where the internet works, the power stays on, people stop at red lights, and I can go out at night alone without worrying constantly about my safety.
At the same time I felt distinctly dismayed at the slowed pace and normalcy of my life back home. My culture and surroundings, as contrasted with that of Cambodia, felt cold and compartmentalized. I had found work and a life that I was passionate about and motivated by, and being home - as comfortable as it was (or maybe because it was so comfortable?) - felt stifling.
Less than a month prior I had been in a classroom with about fifteen girls who had been identified as being at high risk of being trafficked. Through an organization called The Riverkids Project that works in the slums of Phnom Penh to try to prevent child trafficking, three of my fellow Bridges Across Borders interns and I had the opportunity to teach a lesson on human trafficking. The Riverkids Project works (in part) with young girls to teach vocational training skills as an alternative to the limited options that they would otherwise have.
The girls were extremely welcoming, and although it became clear early on that what we were teaching was nothing new to them, they participated enthusiastically, playing games and sharing their experiences, throughout the hour and a half that we spent with them.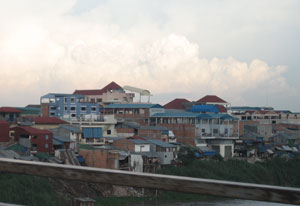 In the end, like with so much of the work I have been doing over the last year, I think it was probably more of a learning experience for me than for them. I had gone into the lesson with a certain impression of what the girls would be like and I left with a completely changed perspective. From what I knew of them: they were extremely poor, they lived in a neighborhood and came from family backgrounds (single parent homes etc) that made them a target for human trafficking - I naively thought that their demeanor and perspective would reflect the tough circumstances that they live with everyday. Looking back, it is hard to say exactly what I expected, and on some level it is embarrassing to admit what I might have expected - that they would seem dejected, defeated... or in some way tragic.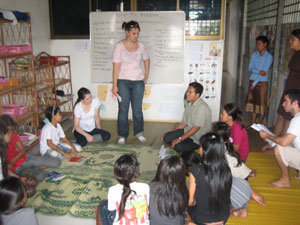 The girls were shy but energetic and confident, well informed, and eager to learn. The stories that they shared were told with calm acceptance of their reality that I was touched by. Their individual strength, and the strength with which they clearly face their reality and are not daunted or defeated by it filled me with a deep respect. I also began to distinctly see how far my perspective and understanding of something like human trafficking is from the reality of living with the possibility of being trafficked, or seeing it happen around you. Reading about it in the paper or in some U.N. report that gives regional policy recommendations is a completely different level than seeing an organization actually making a difference.
My brief encounter with The Riverkids Project left me with an optimistic outlook on the impact that an NGO can potentially have, particularly one with a defined focus and (endless) determination. The girls themselves forced me to look at myself and also at how I look at other people, and re-evaluate.
It was that type of experience that was glaringly absent from my life when I returned to Vancouver, and it was that type of experience, learning and growth that I was looking for when I came back.