Nearly one year ago, a teenage girl was shot by gunmen for defying a Taliban campaign to close schools in Pakistan's Swat Valley. Her name is Malala Yousafzai.
The gunshot wound did not stop her from traveling around the world and advocating for girls' education, though. Her story inspired millions, and in the past year she spoke at the United Nations (on her 16th birthday), was a runner-up for Time's Person of the Year and was honored by dozens of organizations for her tireless work on behalf of children's education.
"I want to speak up for my rights," she told the BBC last week. "And I also didn't want my future to be just sitting in a room and be imprisoned in my four walls and just cooking and giving birth to children. I didn't want to see my life in that way." In her recently released autobiography, I Am Malala: The Girl Who Stood Up for Education and Was Shot by the Taliban, she writes, "I was spared for a reason: to use my life for helping people." She was nominated for the Nobel Peace Prize for her commitment to educating the girls of her country, a country threatened by insurgencies and an economic crisis.
But Malala's vision to achieve peace through human development and dialogue is not hers alone; it's a vision shared by thousands around the globe, particularly the youth. She represents the millennial generation, one filled with hope and optimism in spite of the many global crises that challenge us. As a millennial, I believe our generation is profoundly affecting politics, media, business and activism. We see ourselves as integrated in the world, in our own communities.
At this month's opening ceremony of the One Young World summit in Johannesburg, former United Nations Secretary-General Kofi Annan, Nobel Laureate Muhammad Yunus, and musician and philanthropist Sir Bob Geldof addressed fervent young leaders from 190 countries at FNB Stadium. "You are lucky to have been born in an age where what was impossible is becoming possible. Each one of you is capable of changing the world," said Professor Yunus. About 1,250 of us attended the summit, the largest youth gathering of its kind, now in its fourth year.
As youth delegates, we discussed, debated and worked toward solutions on global issues such as gender equality and youth unemployment. A selection of global leaders from the worlds of business, finance, arts and society engaged with us, as our counselors. This year's leaders--among them South African politician and former political prisoner Ahmed Kathrada and journalist and activist Fatima Bhutto--hosted speaking sessions and fielded questions on matters including human rights, sustainable development and global health.
Perhaps one of the most inspiring moments during the conference was a special session in which Kathrada and former South African rugby captain Francois Pienaar, both counselors, and delegate Nobulalu Lali Dangazele shared personal insights about former South African President Nelson Mandela. Visibly emotional, Pienaar, who captained the South Africa Springboks to victory in the 1995 Rugby World Cup, discussed Mandela's humility and his deep compassion for people. "When he was released from Robben Island, he had forgiveness in his heart," said Pienaar, with tears streaming down his face.
"When we came out of prison, everything was in white hands, everything," recalled Kathrada, who was released a few months before Mandela. "The only way out was to work with our fellow past oppressors and work together to build one united nation."
Lali Dangazele, a Mandela Rhodes Scholar, beautifully described Mandela as "a beacon of hope and light" and added how visionary he is: "What his mind allowed him to do is trek forward and see 1994. He didn't give up on that vision."
Along with my fellow millennial One Young World Ambassadors, I left South Africa with goals and ideas on my mind and a strong desire to make a lasting impact in my community. I learned that to be an effective leader and agent of change, I need to be humble, visionary and compassionate. I returned to the United States realizing I am part of a movement started by the Mandelas, Kathradas and other brilliant thinkers and leaders of a previous generation, and continued by the Malalas of ours.
As Bob Geldof said at the summit: "If it doesn't work, shout louder."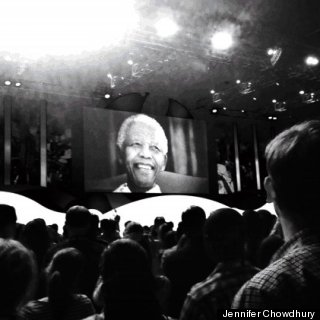 "Knowing Nelson Mandela": Special Session at the One Young World Summit 2013