Most places change over time and some change the people who visit them. Nimrod Hall is definitely the latter. In the Wood family since the early 1900s, Nimrod looks (and feels) today just as it did then. And as anyone who has ever been will tell you, Nimrod changes you.
Nimrod Hall, tucked in the mountains of Bath County, Virginia, was built as a hunting lodge in 1783. What began as a simple, two-story log cabin back then, has sprouted a motley assemblage of rooms and porches over the years. These days, Frankie Wood Apistolas and her husband Jimmy run the property, and everyone who visits is considered family.
Of course, most of the guests practically are family, returning summer after summer for a week-long retreat from the world. New guests are welcome by referral only and only if there's space, which is a big "if," since some folks have been returning, without fail, for sixty plus years.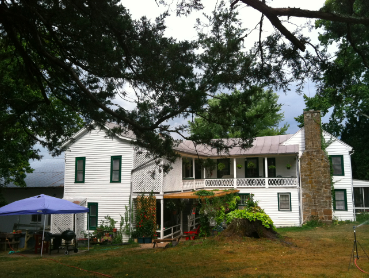 For many years, there was a boys' camp held at Nimrod, before a flood washed out the cabins and dining hall down by the river. Now a number of weeks every summer are dedicated to artists and writers who come to be inspired and live in community in the main house and surrounding cabins. A grown-up camp of sorts.
These days, the property consists of the large, white clapboard main house; a boxy second house with eight bedrooms (affectionately called "Square House"); four cabins; a wide green; and the "post office," once the real deal and now home to shelves of books, piles of board games, and a ping-pong table.
The season at Nimrod Hall officially runs from Memorial Day to Labor Day. Although its sprawling mountains, far-reaching fields, ancient trees, and meadows of wildflowers make it idyllic year round. Even if you're not much for long walks, you'll find yourself meandering up and down the shaded, gravel road, picking Queen Anne's lace and wild blackberries.
Life at Nimrod brings out the best in everyone. Maybe it's the air. Or maybe it's the way guests spend their days, eating Frankie's fried chicken, playing croquet on the lawn, or watching the kids on the seesaw. Kids who usually can't be bothered to do anything but text or play Fruit Ninja.
The younger set has a particular affinity for Nimrod, likely because it allows them to run wild, a rarity these days. The most trouble a kid can get into at Nimrod is coming late to a meal or meeting up with a skunk along the path back from the swimming hole, snapping their towels as their giggles echo in the fragrant, Virginia woods.
The Cowpasture River runs right along the property and guests spend many an afternoon tubing lazily along its banks. In the evenings, folks gather on the front porch. Bourbon is sipped from over-sized, red plastic cups; stories are unfurled; and rocking chairs creek to nature's tunes.
It's a curious place. The beds are metal framed. The home cooked, Southern meals are served at the same time every day, signaled by children clanging antique bells. The hottest nightlife for miles around is counting shooting stars. And the biggest decision you ever have to make is whether or not to have a second slice of Tollhouse pie.
At Nimrod Hall, it's as if neither life nor time exists beyond the crooked, whitewashed fence.