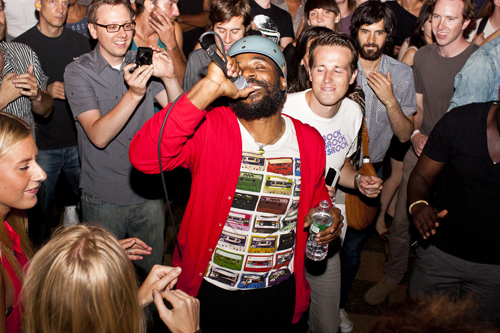 A full 10 years after his debut The Headphone Masterpiece, the soul-master Cody ChesnuTT re-introduced himself to the world Wednesday night in grand fashion with a completely brand new body of music ready to give to the people. And judging from the raucous response from the crowd of die-hard fans at SOB's Wednesday night, we are all undeniably ready. Consisting of only brand new material from the upcoming album, Landing on a Hundred, it's clear he has not lost a step; his array of honey-soaked vocals and poetic songwriting abilities were on full display Wednesday night for fans old and new to witness.
The show was billed as an official launch for his Kickstarter project, being live streamed simultaneously on his Facebook page. Getting the idea from his manager and friend who fully funded her Lebanese food truck, Cody has taken his appeal directly to the people to get the new project out. This approach takes advantage of his infectious happiness and serenity that comes with watching, listening and simply being around him. It already seems like it is paying off, considering he is already almost half of the way to his $20,000 goal with over a month from the deadline. Decked in a red cardigan sweater, high waisted dress slacks, and signature soldier's helmet (to represent his position on the front-line in accordance to Fela Kuti's philosophy that "Music is the weapon of the future"), he gave all of himself on the stage Wednesday night moving up and down the stage. Making sure to take time to connect with the crowd on an individual level, he, at one point, even jumped off stage to galvanize a dance circle to set things off.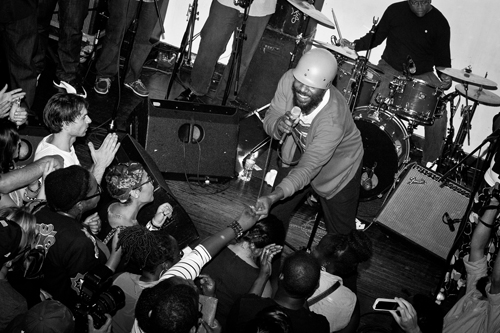 In all the years between projects (his last official release was 2010's Black Skin No Value EP released on Vibration Vineyard), ChesnuTT told us in his dressing room following the show that he was "mostly learning about being a father, being a family man. Just trying to be open for the new material, not trying to rush it... just living life & listening in a very patient way."
Gone is the lo-fi aesthetic of the first album. Instead ChesnuTT brought along a full 10-piece band complete with a multitude of guitarists and a full brass section to help flesh his vision out; the same 10 that helped him lay down the new project last April in Memphis, Tennessee. Recorded in Royal Studios, the house that birthed Al Green's Green Is Blues and subsequent legendary run through the '70s, his new direction echoes the Reverend's similar journey towards a religious calling and a more pious lifestyle. In songs like "Everybody's Brother" he opens acoustically (like so many of his other songs), foregoing any sort of distractions that remove the listener from his weathered, airy vocals and poignant lyrics. He sings " I used to smoke crack back in the day... I used to gamble money and lose... I used to talk to nice ladies, used to swindle friends... but now I'm teaching kids in Sunday school and I'm not turning back."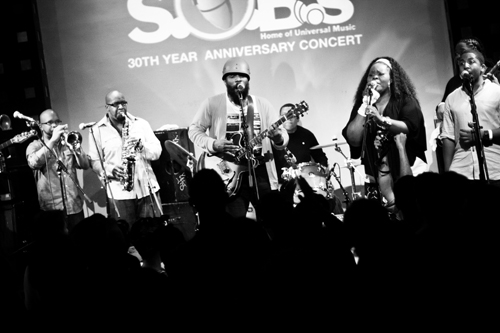 During the show, he refused to play any older material that was not "straight and consistent with the life I'm living right now." Gone are songs like "Boylife in America," "Bitch I'm Broke," and "Look Good In Leather." Instead we have "Till I Met Thee," "Do Better to the Young" and the joint for all the married couples in the crowd "Love Is More Than a Wedding Day." As he extols the virtues of hard work and commitment, the extended piano solo twinkles in and the brass section comes to life, saxophones and flugelhorns wailing and proclaiming love to the crowd.
ChesnuTT snapped and two stepped along as he implores his significant other to truly surrender and believe into that higher power. His songwriting has become increasingly pastoral and worldly, a perspective that only comes with time and wisdom. Themes of marriage, self-determination, and communities struggling with their political/economic identities permeated throughout the night.
In discussing the title Landing on a Hundred, a play on the vernacular "Keep it one hundred," he says it's about "landing on something truthful, something meaningful, something purposeful." Later on he goes into greater detail behind the philosophies and themes of the album. "Most of it is just rooted in trying to regain the humanity again. We've veered so much off the path, so engrossed in trying to find the best technological thing, but we still haven't gotten to the point where we're the best human yet. I think that's the last frontier, to really explore humanity."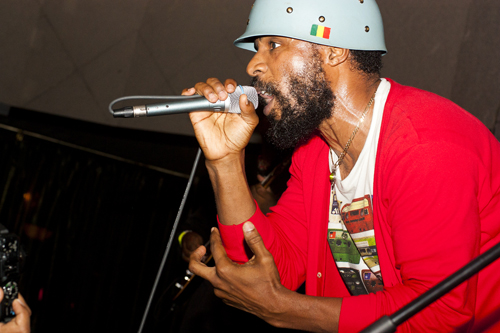 His music is dichotomous from contemporaries such as the Weeknd and Frank Ocean; choosing not to be weighed down by the negatives in life and instead empowering one's self through the positives. On the current state of affairs in 2012, ChesnuTT laid it out: "Honestly man, I just don't feel it. It's evolved into something I can't feel. It's missing soul, it's missing spirit, it's missing real love in a vulnerable sense. Not the carnal lust, physical attraction but the deep hearted-spirit of love." Nothing embodies this more than his minorly mythic song "Parting Ways," originally used as the finale for the 2006 concert documentary Dave Chappelle's Block Party, now in 2012 serves as both his encore finale and potential closing bonus track on the album after years of clamoring by the Okayplayers and stans across the Internets. A fully produced studio version recently emerged this past March (down below) and in two minutes perfectly encapsulates the warmth and love of Cody ChesnuTT embodies to the T (see what I did there?), unknowingly serving as an overall mission statement to his career. His voice saccharine sweet, his words measured and poignant, wishing nothing but the best to the soon-to-be departed and imploring one to be hopeful for a return engagement. Cody ChesnuTT has come all the way back around to us and he is back for good people, tell a friend. We are all undeniably better because of it.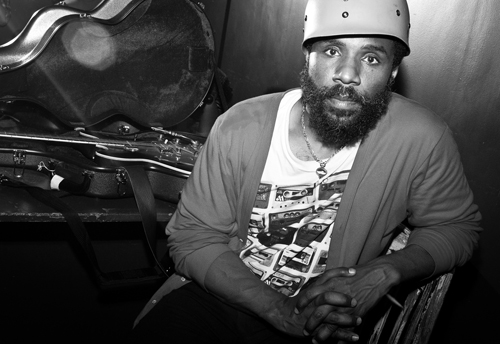 1. Til Met I Thee
2. I've Been Life
3. That's Still Mama
4. What Kind of Cool
5. Everybody's Brother
6. Love is More Than a Wedding Day
7. Sing A Way
8. Do Better To the Young
9. Where is All the Money Going
10. Under the Spell
11. Parting Ways
12. Gunpowder
13. Thank You
14. Parting Ways
SUBSCRIBE TO & FOLLOW THE MORNING EMAIL
The Morning Email helps you start your workday with everything you need to know: breaking news, entertainment and a dash of fun. Learn more