In the midst of one exciting Copenhagen Climate Conference, it's not just WildEarth Guardians calling for the retirement of coal-fired power plants in Colorado -- even the Governor's Office is on board now.
Last week, the Governor's Energy Office announced the release of a report that concluded if Colorado has any hope of reducing greenhouse gas emissions 20% by 2020, it's going to take retiring coal-fired power plants.
Cathy Proctor with the Denver Business Journal put it this way:
A new report from the Governor's Energy Office says there is no way that Colorado's utilities can cut their carbon dioxide emissions by 20 percent from 2005 levels by 2020 unless major investments are made and older coal-fired power plants shut down.
Called the "Renewable Energy Development Infrastructure" report (that's REDI, which sounds like "Ready"!), the report presents a slew of recommendations for achieving Colorado's goal of reducing carbon dioxide emissions from power plants -- the largest source of greenhouse gases in the state -- 20% below 2005 levels by 2020. Among them:
Consider decreasing the utilization factor of coal-fired generation and/or consider early retirement of the oldest and least efficient coal-fired units.
It's a welcome recommendation, but not a surprise. It's no secret that carbon dioxide emissions from power plants are on track to increase, largely due to the fact that Xcel Energy is slated to fire up the brand new Comanche 3 coal-fired boiler in Pueblo. All the renewable energy in the world can't and won't make up for the fact that unless Colorado starts cutting back on coal burning, greenhouse gases are going to keep climbing.
That's why last month, a broad (and seemingly prescient) coalition of groups formally called on Ritter to start moving toward retiring coal-fired power plants in Colorado.
To his credit, Governor Ritter praised the REDI report. It's a welcome response from the governor, especially after last month when Ritter spokesman Evan Dreyer dismissed a rally calling on Governor Ritter to start planning for the retirement of coal-fired power plants as a "ridiculous publicity stunt."
Touché, Evan.
***
Wild Bites
In related news, WildEarth Guardians and the San Juan Citizens Alliance just inked a deal with the U.S. Environmental Protection Agency to update national clean air standards for oil and gas drilling operations. The settlement resolves a lawsuit filed earlier this year and opens the door for the most sweeping overhaul of federal oil and gas air quality regulations ever.
Oil and gas industry talking head Kathleen Sgamma responded, "We're certainly not the entire problem." Exactly. When it comes to clean air, the oil and gas industry is a problem. They may not be the entire problem, but they're a problem nonetheless. Thanks to Kathleen for clarifying that.
And if you think WildEarth Guardians only cares about shutting down coal-fired power plants and the oil and gas drilling, think again.
WildEarth Guardians is petitioning the U.S. Government to end the war on wildlife. Every year the federal government spends millions of dollars to gun down wildlife from the air and plant poison traps on public lands. It's a wasteful and inhumane practice that not only puts imperiled wildlife at risk, but undermines the government's own efforts to restore populations of threatened and endangered species. The government's war on wildlife, my friends, is not a just war.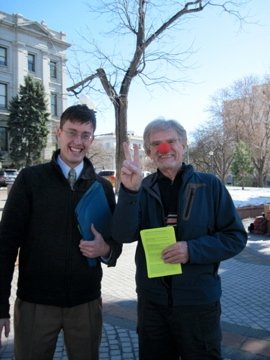 This is clowning around.